Board of Directors
Lisa Tudor
Chair
Lisa Colón Tudor has been involved with animal rescue and sheltering in the Washington, DC area for more than 10 years. As a certified dog trainer and behavior specialist, you'll usually find Lisa working with the dogs at AWLA. While she has been a long-time volunteer with the League, she is serving her first term on the Board of Directors.  She and is a chair of the Ethics Committee and serves on the Development Committee.  Lisa and her husband currently reside in North Springfield with their two adopted dogs, Jack and Betty.  She is the founder of KissAble Canine Training.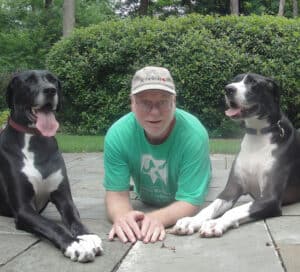 Gary Sturm
Vice Chair
Gary Sturm retired after 34 years of work at the Smithsonian Institution. He is also the founding President of the Capitol Skating Fund, a charitable public foundation that nurtures figure skating in the metropolitan DC region. Gary joined the AWLA Board in 2013 and has now logged three years as a volunteer. He enjoys outdoor sports, especially downhill skiing, and is a regular on the jogging trails in Northern Virginia.  Gary lives in Alexandria with his wife, Carlene, and two Great Danes, Danny and Ripley.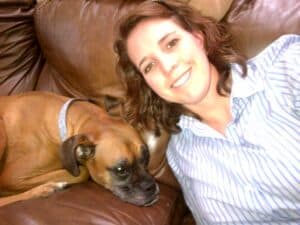 Alissa Curry
Treasurer
Alissa Curry joined the Board of Animal Welfare League in 2012 and currently serves as Treasurer, as well as serves on the Long Range Planning committee.   She lives in Merrifield with her partner, two children, dog, and cat.   Their dog, Emma, was rescued from Rockin' P Boxer in Atlanta and their cat, Molly, was rescued from Atlanta Pet Rescue where they lived prior to moving to Virginia several years ago. They have a full house, but have always enjoyed animals and could not imagine life without them. Alissa works for FVCbank as the Regional Lending Executive for Arlington.
Diane Greenlee
Secretary
Diane is a first term board member who has adopted several dogs from AWLA over the years, all of whom have been beloved members of her family. She and her husband, Allen, live in Arlington with their dogs Chloe (an AWLA alum) and Lulu, who was adopted through Homeward Trails, and beautiful cat, Isabel. Diane has three grown daughters, including one who is an Arlington teacher and who has provided Diane with her first granddogs, Maggie and Cassie, and grandson, Charlie; Emily, who lives in San Francisco; and Dana, who lives in New York. As a day job, Diane is an attorney representing a tax credit syndicator in low income housing tax credit transactions. Her other community activities include participating in the Arlington Women's Civic Alliance and working in the gift shop at Temple Rodef Shalom in Falls Church.
Patricia Ragan
Past Chair
Pat Ragan is an Arlington resident and has adopted several dogs from AWLA over the past 15 years. Pat consults to various animal protection organizations on campaign development, including the Pegasus Foundation, and the Shark Free Marina Initiative. In 1993, Pat co-founded the Arlington Women's Civic Alliance, an organization that provides programmatic and financial support to a variety of local charities and community projects in Northern Virginia. She and her husband Bob share their home with their two dogs and one cat.
Jennifer Barnes
Jennifer Barnes is in her fourth term on the Board and has been a volunteer with AWLA for the past 20 years. She has volunteered as an adoption counselor; wildlife driver; pet-assisted therapy group member; as a member of the Special Events, Development, Governance, and Ethics Committees; and as past president of the AWLA Board. She has adopted two cats from AWLA, one with special needs who benefited from the AWLA Healthy Pet Fund. She works for the U.S. Department of Justice and lives in Alexandria.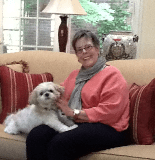 Jeanne Broyhill
Jeanne is serving her second term on the Board. She is retired from marketing and communications at Freddie Mac. She lives with her husband, Joe, and dog, Benny. She grew up with cats and dogs and has always valued the need for good care for all animals.
Carrie L. Ciliberto
Carrie L. Ciliberto, Esq. is the Senior Director and Counsel of Contracts and Construction Law, for The Associated General Contractors of America. Prior to selling her law firm and moving to DC, Ms. Ciliberto was the founder and principal of Ciliberto & Associates, LLC, a Colorado law firm emphasizing water, natural resources, environmental, real property and land use law. Her clients included municipalities, special districts, corporations, banks, developers, ditch companies, investment groups and private individuals. Ms. Ciliberto has authored articles for the American Bar Association, Colorado Bar Association, Colorado Ground Water Association, Construction Business Owners, and others. She speaks frequently at industry events across the nation
Ashley Dobbs
Ashley Dobbs has extensive experience with animal welfare issues and has volunteered for many years in animal rescue.  She has provided pro bono legal counsel to animal-related non-profits such as Jane Goodall Institute, the Animal Welfare Institute, the Humane Society of the United States, and local rescues and represented clients in animal-related matters.  She previously owned a pet services business and served on the Board of Directors for the National Association of Professional PetSitters.  While in law school, Ashley assisted the Richmond Commonwealth's Attorney in prosecuting animal cruelty cases, planned and managed first-responder seminars on domestic violence and animal cruelty, while volunteering for multiple animal rescue organizations. Today, Ashley works as an intellectual property and business transactions attorney at Bean, Kinney & Korman in Arlington. She also serves on the Board of Directors of PetSmart Charities and the INC.spire Education Foundation.  Ashley lectures on animal law issues and pet trusts for law school classes, financial planning workshops and pet service businesses. She is working on a book about animals in estate planning. She lives in Arlington with her two cats, Fatty McButter Pants and Itty Bitty Kitty, and is looking for her next dog.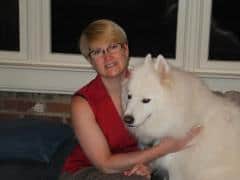 Patti Mugavero
Patti Mugavero is in her second term on the Board and is the Chair of the Long Range Planning Committee. She has a long history of volunteering with animal welfare organizations. In addition to serving on the Board of the League, she is currently a foster mom to an ever-changing group of cats and kittens on behalf of another local animal rescue group. She has also: served as the Volunteer Coordinator for MetroPets, a group that promotes adoption and provides technological assistance to local rescues; provided pro bono legal services to MidAtlantic Samoyed Rescue, Inc.; and worked with the Equine Rescue League in Middleburg. A banking regulatory attorney, she lives in Alexandria with her husband Tom, one dog, and their three cats.
Ron Novak
Ron Novak is currently serving in his first term on the Board of Directors and is chair of the Governance Committee. He also serves on the Arlington Chamber of Commerce Board of Directors and previously served on the Arlington Food Assistance Center Young Professional Board. Ron is an Executive Vice President with Segue Technologies, Inc., an Information Technology company focused on providing web and mobile application development. He and his wife live in Arlington.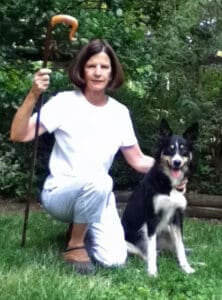 Patricia Romano
Patricia is the retired Director of the Arlington Juvenile and Domestic Relations District Court Services Unit. She has dedicated her life to working with children and dogs. She started working with dogs in the third grade and won her first obedience trial at the age of 11. She is currently active in sheep dog trialing. Patricia has been a volunteer at the League for 12 years.
Jim Whittaker
Jim joined the Board of Directors of the Animal Welfare League of Arlington in July 2012. He also serves on AWLA's Development and Long Range Planning Committees. In addition, Jim serves on the Board of Trustees of the Arlington Community Foundation and was its President in 2010-2012. He is also a member of the Board of the Arlington Street People's Assistance Network (A-SPAN).  Jim served on the Board of Directors of the Arlington Chamber of Commerce for 10 years and was its Chairman in 2003. He was a member of Leadership Arlington, Class of 2003, and also served on their Board of Trustees in 2004.