Senior Staff
Neil Trent
President/CEO
Neil has 30 years experience in promoting animal welfare. He began his career with the British Royal Society for the Prevention of Cruelty to Animals in its Law Enforcement Division. He has also served as the Executive Director of Humane Society International and most recently has run shelters in California and Colorado. Neil is the proud guardian of two rescue dogs, Zac and Abby, and two rescue cats, Dash and Daisy.
Susan Sherman
Chief Operating Officer
Susan has been with the League since 1996 in a number of roles including newsletter editor, Webmaster, and database manager. Her previous experience was as an editor and as an urban planner. She graduated from Vanderbilt University and has a Masters in Planning from the University of Virginia. She has shared her home with cats, a guinea pig, and rabbits and dogs.
Ronny Shafer
Director of Finance and Administration
Ronny has worked at the League for over 18 years starting as an Animal Care Technician. She graduated from Virginia Tech with a degree in Business Management. Over the years, she has shared her home with dogs, cats and a hamster. Currently, her home is ruled by a cat and a dog.
Alice Burton
Chief of Animal Control
Alice grew up in Maryland in a large family with lots of family pets. She joined the The Animal Welfare League of Arlington 10 years ago. Alice has been rescued by a number of animals including her current Yorkie named Bernadette.
Jennifer Newman
Director of Community Programs
Jennifer provides humane education lessons to schools and community groups, summer kids' month programs, and shelter tours. She also manages several League programs, including the League's volunteer, fostering, and community services programs. Jennifer is a 1998 graduate of West Virginia University, where she majored in Biology. She served as a Peace Corps Agriculture/Forestry volunteer in Panama from 1999-2001 and is fluent in Spanish. Jennifer has been with the League since 2003. She is a lifelong lover of all animals but is partial to dogs and birds.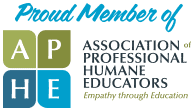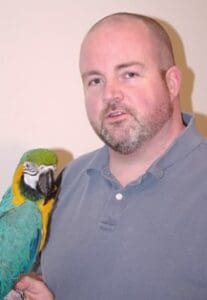 Edward Maher, LVT, MBA
Director of Animal Care and Veterinary Services
Prior to joining the League in January 2011, Ed worked in the Specialty Veterinary Field as Inventory Manager and Patient Services Supervisor for a large Specialty Emergency Veterinary Center in Virginia. Ed has been a Licensed Veterinary Technician for over 16 years. He holds a Bachelor of Science in Animal Science and an MBA in Business Management. During his free time Ed volunteers as the Vice Chair for Bird Clubs of Virginia and the Virginia State Representative for the American Federation of Aviculture. Ed and his partner currently share their home with their two Pugs named Mona and Millie, their cat that adopted them named Dr. Isis and several African Greys, Macaws, and African Brown Headed Parrots.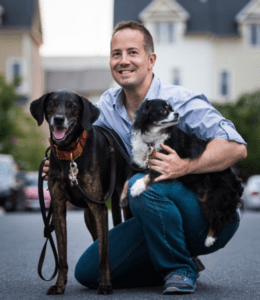 Kevin Simpson
Director of Behavior and Adoptions
Having shared his childhood with a large variety of companion animals, Kevin began training dogs as a hobby in the mid-1980s before making animal behavior and training his career in the 1990s. Kevin earned his CPDT in 2003 and, prior to joining the League, served as general manager for one of the East Coast's premiere pet resorts, as the animal care manager and then behavior director for an inner-city animal shelter. Most recently, he helped design training modules for Guiding Eyes for the Blind puppy program.
Kevin resides in Gaithersburg with his two adopted pets:  a Chihuahua/Cavalier mix named Dallas, a Pointer mix named Witten and a pup-in-program, Romy, whom he's raising as a future guide dog.
Keelee Wrenn
Director of Development
Keelee has been rescuing animals since the time she could walk, from saving abandoned frogs near her childhood home in Florida to adopting pups from local rescues. She holds a Bachelor's degree in Business Management from Seton Hall University, and an MBA in Nonprofit Management from the University of Tampa.  Keelee enjoys being able to share her love for animals with the community, and is excited to combine her passion and her career by joining the Animal Welfare League of Arlington family.  Keelee lives with her two adopted Pomeranian mixes, Hippo and Bear.