CAT Capital Campaign
C

are

A

nd

T

ransform the lives of cats and small companion animals at AWLA


When he arrived at the shelter, the orange tabby cat was on death's door – blind, sick, cold and scared. And, the worst was yet to be discovered. From head to tail, he was full of shotgun pellets. He arrived with no name, no identification, and no way to tell us who had committed this unthinkable act of animal cruelty. While the 80+ shotgun pellets that riddled his body stole his vision, they didn't break his spirit. In the days ahead, he would receive a new name—Arrow—and, perhaps, for the first, experience human kindness and care that would transform his life.

Shock rippled through the community and across the country as news that someone had used this beautiful animal for target practice went viral. And, then something amazing happened. In the wake of something so horrific, Arrow's goodness brought out the very best in people. Just as he captured our hearts, he inspired others. Caring individuals from coast to coast and as far away as the UK took action. To date, we have received almost $17,000 in donations to the CAT Campaign in honor of Arrow.

With your generosity, kindness and good wishes, Arrow received the care and medical attention he needed from our staff and volunteers. Thanks to you, just two months after his arrival at AWLA, Arrow was adopted and is now happily living in his new permanent home with two other cats to keep him company. Please take a moment to watch the video about Arrow's transformation. And, please spread the word! Your voice is powerful in raising awareness.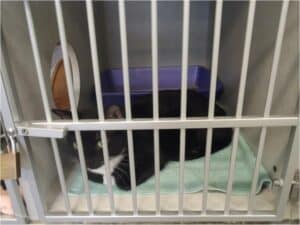 How You Helped
Imagine being thrust into an institution full of strangers and living possibly for months – eating, sleeping, exercising and eliminating – in one very small space.  For Arrow and other homeless cats this is the reality of shelter life, being confined to small cages containing their beds, food bowls, and litter box.
According to the Association of Shelter Veterinarians (ASV), poor cat housing is one of the greatest shortcomings observed in shelters and has a substantially negative impact on both health and well-being. It impacts the animal 24 hours-a-day and affects everything from anxiety level and disease, to food intake and sleep quality.
Annually, AWLA receives over 900 cats with an average length of stay of 35 days.  With no time limit for any of our animals, some cats may live at the shelter for as long as a year prior to finding permanent homes.  While the existing facility offers adequate space and enrichment for short stays, it is not sufficient to impact the overall quality of life for our long-term feline residents and small companion animals (SCA).
To best serve our animals, AWLA launched a capital campaign to support construction of a building renovation that will improve the intake and quality of life for cats and SCAs.
"We believe that while cats are in our care we must do everything that we can to enrich their lives and that includes opportunities to stretch, climb and play. By improving our feline housing, we anticipate a reduction in the average length of stay for cats, which is not only better for them, but will free space to accept more cats."   – Neil Trent, AWLA President and CEO
Through the CAT Campaign, AWLA was able to provide world-class care for cats and small companion animals with a facility that adheres to ASV guidelines. Our community joined us in bringing shelter and comfort to animals in need by investing in this important project.
The new cat facility features: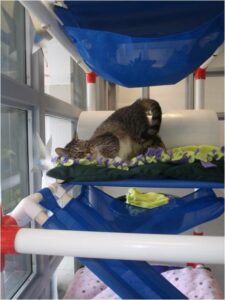 Six (6) cageless cat colonies and a separate kitten room;
Cat adoption area with enlarged windows to provide more natural light;
Larger cages with spaces for hiding, perching and stretching;
Two (2) private "get acquainted" rooms for potential adopters to meet cats;
Larger cages for cat receiving and holding rooms and two (2) cat isolation rooms for treatment of infectious disease;
Direct access to the cat room from the AWLA lobby
State-of-the-art HVAC system with individually vented cages  to promote animal health.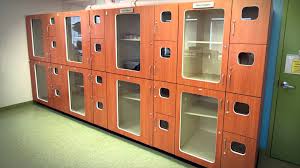 Delta's Transformation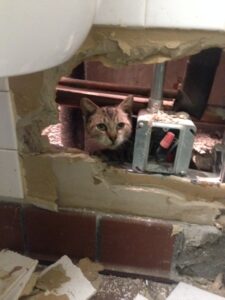 October 17, 2013, Ronald Reagan Washington National Airport: 
AWLA receives a call from a woman regarding a cat trapped in a wall in a parking garage at National Airport. Jenn, an AWLA animal control officer, races to the airport where she works with airport employees, police and fire to open up the wall and catch the frightened cat.
October 17 –  December 4, 2013 AWLA:
The cat, named "Delta" by AWLA staff, arrives at the shelter and is in good shape physically but not well socialized.  Adorable but fearful, Delta takes comfort in hanging out in the office of one of our talented animal control officers.  Staff works with Delta on his socialization skills. If no owner claims him, he will be neutered and made available for adoption.
December 4 – December 25, 2013, AWLA:
After his harrowing adventure and receiving "care and transform" services from AWLA staff Delta moves to the cat adoption room in a cat cage. Although he has improved tremendously, he is still shy and tends to retreat to the back of his cage when visitors approach.
December 26, AWLA:
Staff moves Delta to the Cat VIP Lounge (an open cat colony) in the shelter's lobby where he enjoys the bright open space with ceiling to wall windows.  With room to stretch and play, Delta opens up and his loving personality is on display.
Monday, December 30, AWLA:
Delta is ready for takeoff . . . to his new home that is!  After just three days in the cageless VIP Lounge, Delta welcomes 2014 in his new, loving home.
Named Giving Opportunities
We are honored to recognize our generous donors to the CAT Campaign with signage in our renovated space. Please come visit!
CAT Campaign Committee
Mark Treadaway, Chair
Jeanne Broyhill
Joanne Hannett
Diane Greenlee
Bob Ragan
Pat Ragan
Debra Rose