The Bob Ragan Humane Education Fund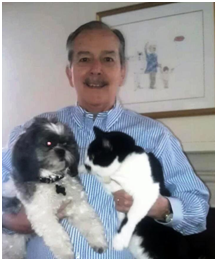 Bob and his wife, Pat, have been long time supporters of the Animal Welfare League of Arlington and are adopters of shelter animals including Noel, their three-legged dog (who came into the AWLA shelter in 2010) and Wally, their 15 year old cat. Both Bob and Pat also have an enduring respect for wildlife; especially wildlife in the urban environment.
Recognizing the critical need that education plays in understanding and respecting animals, Bob hopes to provide important support to the Animal Welfare League of Arlington to underwrite a wide variety of animal welfare activities that will stimulate children and adults to recognize and promote the important role animals play in all of our lives.
Donations to this fund will allow League staff to visit schools, scout troops, and many other community organizations to provide guidance on pet overpopulation, responsible pet ownership, preparing pets for a new baby, bite prevention, coexisting with urban wildlife and many other important issues affecting animals and people in the Arlington community. For more information on the AWLA's Humane Education program please click here.
You may make a donation to the Bob Ragan Humane Education Fund by mail or phone or donate online, simply designate the Bob Ragan Humane Education Fund on your form.
For further information please contact the Director of Development at donate@awla.org or 703-931-9241 x220.