Summer Camps are SOLD OUT! Please add your name to the waitlist below.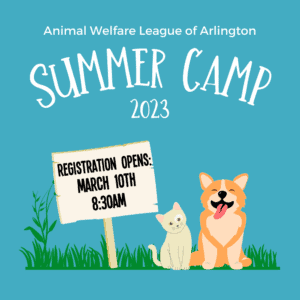 AWLA Summer Camps, for kids ages 6-13, explore the many facets of the work we do here at AWLA. Children will engage in daily activities to better the lives of our animals, including a variety of animal-themed lessons, games, crafts, guest speakers, and one-on-one time with companion animals. In 2023, all camps will be 3-day or 4-day programs that run from 9am-3pm.
"I've never seen my kid more excited to get up and go in the morning than I have for this camp!" ~ Parent of summer camp attendee.
3-day camps = $330
4-day camps = $450
Ages: 6-9
July 5th - July 7th (3-day)
July 10th-July 13th (4-day)
July 17th-20th (4-day)
July 31st - August 3rd (4 -day)
Ages: 10-13
June 20th -23rd (4-day)
June 26th - June 29th (4-day)
August 7th - August 10th (4-day)
August 14th - 16th (3-day)
Registration will open in early March. Check back soon for the exact time and date!
Full scholarships are available. For more information, please email our Youth Programs Coordinator at korth@awla.org.