Volunteer of the Month
We recognize volunteers on a monthly basis for their outstanding contribution to the League. Each month staff members nominate volunteers for consideration and take a vote at the monthly staff meeting. At the end of the year the winners will become candidates for Volunteer of the Year.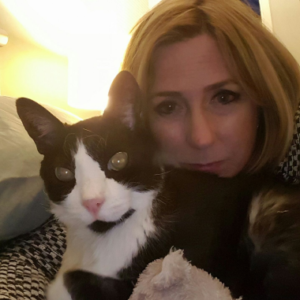 Peggy Gregory
Peggy has been an AWLA volunteer for over 8 years as a weekly Cat Room Kennel Assistant. She is also a Foster volunteer plus donates her time at various special events.
When asked what prompted her to volunteer at the League, Peggy replied, "In 2009, a good friend of mine decided he needed a pet in his life. We came to AWLA to look for a cat for him to adopt.  While he was meeting with cats, I was walking around and realized that I would really like to give back to my community and I love animals so it looked like a good fit."  Currently, Peggy does not have pets of her own. "I lost my 13 year old cat, Evan, in July 2016 and Maynard (almost 14) in April 2017. I am waiting until I find a pair of adults that I fall in love with before I adopt again.  One of the things I have really learned while volunteering is how great adult cats are.  In the meantime, I fostered 12 kittens over the summer.  It was fun and rewarding, but also confirmed my wanting adult cats the next time I adopt."
One of the things Peggy enjoys most about volunteering at the League is "helping people find a pet that they connect with."  One of her favorite experiences was "working with a woman who had recently lost her pet.  She had adopted the cat while she was working in Europe and even though he had always been a difficult (I think she described him as 'mean') cat, she had made a commitment to him and brought him with her when she moved back to the States.  After he passed away, she started to come into the shelter to find a new friend.  She would look around and meet with some cats but there just wasn't a connection.  I told her she wasn't ready yet and when she was, she would find the right match.  I worked with her a number of times always with the same result.  One Sunday she came in to see a cat that she had met on a prior visit but she discovered the cat had been adopted.  I showed her a similar (color, temperament) cat but again, no connection.  We had a cat that had been here at the League for a bit that kept getting overlooked because she was shy in her cage, but was very sweet.  I asked the woman if she would do me a favor and just meet with this cat.  She said okay and we went into the meeting room.  It was almost like time stopped when they met.  The woman looked at me and I saw in her face that this was the one.  She put a hold on the cat, went home just to think about it and came back the next day to complete the adoption.  She would come back in every once in a while to give me an update.  She recently came in on a day when I was not volunteering but she left a message for me that she was moving out of state and that Gretchen (the cat's new name) would definitely be going with her."
When Peggy is not volunteering at the League, she volunteers her time at the Signature Theater plus enjoys reading and traveling.
Congratulations again Peggy; we can't thank you enough and we appreciate all that you do for the League! 
Previous Honorees: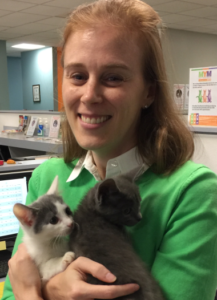 Lisa Kirschner
Congratulations to September 2017 Volunteer of the Month, Lisa Kirschner!  Lisa has been an AWLA volunteer for over 3 years.  As a former League staff member (Director of Development), she jumped right in and began donating her time monthly in multiple areas.  She volunteers at the Front Desk, at Special Events, is a frequent Foster volunteer and is a member of the Volunteer Advisory Committee.
When asked what made her want to volunteer at the League, Lisa replied, "I've always enjoyed doing something that gives back to the community.  Volunteering at the AWLA allows me to combine that passion with my passion for animals."  Currently, Lisa does not have pets of her own but thoroughly enjoys her foster kitties.
One of the things she enjoys most about volunteering at the League is "helping people find the newest member of their family and seeing how excited they are when they take their animal home.  I also enjoy seeing the staff and volunteers.  I have made friends at the AWLA that I will have for the rest of my life."
Some of her favorite experiences involve "hearing the stories of alumni when people come into the shelter to share their experiences whether they adopted 2 months ago or 20 years ago.  The joy in their faces when they tell the stories is why I keep coming back to volunteer."  When Lisa is not volunteer at the League, she enjoys being home with her fosters, hiking and going out to dinner.
Congratulations again Lisa; we can't thank you enough and we appreciate all that you do for the League!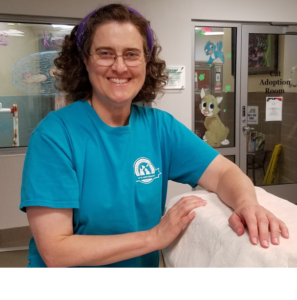 Margaret Pratt
Congratulations to August 2017 Volunteer of the Month, Margaret Pratt!  Margaret has been a dedicated volunteer with the League for over 6 years. She began as a Small Animal Kennel Assistant in 2011 and added Fostering later that year. In 2013, she expanded her volunteer role to include Animal Transport and for the past year, she appears on the "on call" transport schedule six evenings/week. So far this peak season (which started in April), she has transported injured or orphaned wildlife to rehabilitators an average of 11 times/month!
Margaret serves as support staff to Disco and Reggae, both feline AWLA alumni, and she tends a small TNR'd feral cat colony in her neighborhood. When asked how she came to volunteer at the League, she responded "I grew up with cats and dogs in the house and, more than once, my room was where our cats decided to settle in and deliver their kittens. Once I left for college, my lifestyle was too transient or my living situation was otherwise not conducive to having pets. I did lots of pet sitting, however, including during my first year of graduate school when I was temporary mom to a Malamute and a Persian cat. After moving to Arlington, I happened by AWLA while house hunting and decided to see what volunteer opportunities were offered. I will confess that my primary interest was working with cats, but have enjoyed volunteering in other areas as well."
She enjoys volunteering at the League because "it is so different from my regular daily routine, which consists of being an office scientist, and involves doing something I love, which is helping animals heal and find homes. Because I live very close to where I work, being called out to transport animals, anywhere from a couple of miles to a couple of hours out, is an enjoyable change of pace, and I get to explore the area while performing a service. I've enjoyed meeting and interacting with the dedicated employees, Animal Control Officers (ACOs), and volunteers, as well as the rehabilitators who take in the orphaned or wounded wildlife animals and care for them. I've learned that the rehabilitators are a close-knit community of wonderful people who love what they do, and it has been a privilege to get to know them and become something of an honorary member of their community. It's also very gratifying when I get to see, either first-hand or in pictures, that my transport "client" has grown up or been nursed back to health."
"When I can't be on the west coast being auntie to my 6-year-old twin niece and nephew, I enjoy exploring my surroundings on foot, by bike, and since last year, making use of my folding kayak to explore by water as well. In addition, summer is softball season and I'm quite pleased that, at my age, I'm still able to step in the batter's box and see the fielders keep their respectful distance. The past few years I've also been a part of the board of directors in my home owners association (volunteering for AWLA is much more enjoyable than the latter, however…)."
Congratulations again Margaret; we can't thank you enough and we appreciate all that you do for the League!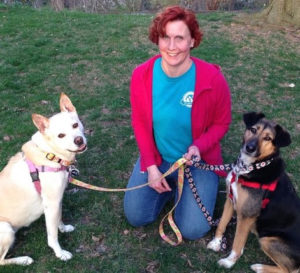 Jami Payne
Congratulations to July 2017 Volunteer of the Month, Jami Payne!  Jami has been a dedicated volunteer with the League since summer 2014. While she assists in multiple areas, her primary focus for the past couple of years has been supporting the adoptions team by conducting PAC (pre-adoption counseling) sessions with adopters in the final step of the dog adoption process. With the new adopter's permission, Jami often posts an adoption-day pic to her Facebook page with a sweet little message!
She has two dogs, Lexi and Georgi who are both AWLA alums.  Lexi originally came to the shelter in 2009 on Jami's birthday and she adopted her as soon as Lexi's stray hold expired.  Georgi had been a shelter resident twice so when Jami adopted her, she promised Georgi that she would never be up for adoption again.  When asked what made her want to volunteer at the League, Jamie replied, "I've always been very grateful to those who cared for Lexi and Georgi while they were at AWLA, and I choose to volunteer  at AWLA because I wanted to be part of the team that help the dogs staying with the AWLA until they found their forever homes."
One of the things she enjoys most about volunteering at the League is working with the dogs and for Jami, "it's exciting to talk to new owners about the dog they are about to add to their family."  Some of her favorite experiences are "when I run into adopters with their pups and I get to hear how things are going since they left the shelter."  Jami just moved to Maryland so in her spare time when she's not volunteering at the shelter, she's "having fun getting to know my new area with my dogs."
Congratulations again Jami; we can't thank you enough and we appreciate all that you do for the League!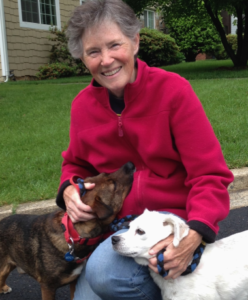 Ann Smith
Congratulations to June 2017 Volunteer of the Month, Ann Smith! Ann has been a wonderful addition to our foster team for almost a year and a half. She is very patient and flexible plus is willing to take on the hardest cases, no matter the issue. An example of this was Cinna-Bon, the pug who was surrendered to us last fall as he required eye removal surgery when an unfortunate accident occurred in his previous home (and his owner was not able to afford the care necessary). Not long after Cinna-Bon came to us, it was discovered that he had an ulcer in his other eye which would require that eye to also be removed. Ann went above and beyond for Cinna-Bon and supported him while he was learning how to live life without sight. Without fosters like Ann, many of these animals would not get the opportunity to show us who they really are or be able to adapt to their very unique needs.
Here's what Ann had to say about volunteering with the League (and how she found out that Cinna-Bon LOVES the water 🙂 .…
"As a long-time Arlington resident I have, of course, been familiar with AWLA for many years, and adopted one of my most wonderful dogs there in 2005. I had volunteered and fostered dogs elsewhere for quite a while but when I needed to find another option for fostering deserving dogs, I headed straight to AWLA—and have been rewarded a thousand times over while providing the bit of extra time or TLC needed to get some awesome, special dogs ready for their forever homes. Not to mention having added the permanent, still-skittish and scared but very sweet little Sophie (formerly, Dori) to the family soon after that day that I walked into AWLA! We're celebrating her two-year adoptaversary this month!!
Not that there haven't been some messy, tiring and challenging parts of fostering. And even quite a few of those 'special' times that make for fond, silly memories, one being turning my back for just ONE SECOND on a newly-blind little foster (Cinna-Bon) and immediately hearing a big splash! Oh, no, he fell into the pond!! How could I let that happen? I rushed over, tried to pull/lift him out of the muck and slime while pretending like it's no big deal—–but I'm totally panicked (not to mention feeling like the worst foster ever!) Whew, he seems fine, startled perhaps but not even scared. We turn to leave……SPLASH! He had somehow walked the other way and fell back into the water. This time I make sure to really get a good hold of him (read: completely slime my clothes and skin), get him some distance from the water before giving him the signal to walk with me……yup, SPLASH!  The small, middle-aged blind dog had run and done a big, exuberant leap right into the water. Turned out he didn't fall in at all, was instead having a great time doing one of his favorite things—–to my surprise, and at the expense of adding even more gray hair for me!
Everyone associated with AWLA—-staff, volunteers, donors, everyone—-is so positive, supportive, inclusive, encouraging and appreciative. It has been a privilege to be part of this group and an organization that does such good work, and I look forward to many more years and many more great dogs and puppies to help."
Congratulations again Ann; we can't thank you enough and we appreciate all that you do for the League!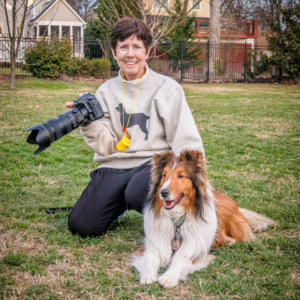 Julie Gould
Congratulations to our May 2017 Volunteer of the Month, Julie Gould! Julie has been volunteering regularly as a photographer on the Pawpurrazzi Team for almost 2 years; however, her support of the League began long before that.  "I first got involved with AWLA 10 years ago with good friend, Dr. Percy Ivy, with whom I co-founded the Woody & Mickey Healthy Pet Fund.  The Healthy Pet Fund is named after our first two Shelties who participated in the Walk for the Animals and Pet Therapy visits at Manor Care."
In 2015, Julie began her encore career by starting up a small business, Bright Eyes Photos, where she specializes in cat and dog photography outdoors in natural light. "Part of the mission of Bright Eyes is helping homeless animals find homes.  That's how I came to be a volunteer photographer for AWLA!  I come once a week plus special projects and events to photograph all the animals to help make them more adoptable with first class photos to show them off!"
Julie says her favorite experiences are coming to the League a week after she has taken photos of an animal and finding them ADOPTED.  "I love photographing dogs in action like at each year's Walk for the Animals.  I always have sore muscles afterwards because I get down to the dog's level to catch their eyes and smiles!  Another favorite was taking photos at the Woofs! Puppy Olympics last year which featured all 11 of Harlie's pups learning agility tricks while being fostered by Woofs! staff.  It was amazing to watch these 8-week old pups strut their stuff!"
When she's not volunteering at the League, Julie enjoys her four dogs, all Shelties—Sammy & Eleanor (9 years old), Teddy (4 years old) and Baxter (almost 2 years old).  "I love my dogs because they keep me on track by herding me, running & walking with me, and keeping great company!  I'm an outdoors gal who loves to hike, bike, run, walk all over the world with friends and family! My next trip is to walk 77 miles of the Portuguese Camino to Santiago de Compostela with my hiking group."
Congratulations again Julie; we can't thank you enough and we appreciate all that you do for the League! Pictured above: Julie and her sheltie, Teddy.  Photo credit: Share Bare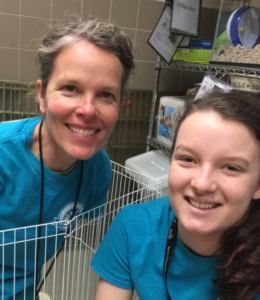 Paula and Katrina Kelso
Congratulations to our April 2017 Volunteers of the Month, Paula and Katrina Kelso! Paula and Katrina Kelso have been mother-daughter volunteers at AWLA since summer 2014, primarily working with the small companion animals but also assisting with wildlife transports.  Their volunteer roles have expanded this year to include assisting as Dog Kennel Assistants were they show dogs to potential adopters.
"We were looking for an opportunity to work together while assisting animals in need. We really enjoy spending time with AWLA's rabbits, guinea pigs, birds and other pint-size friends.  Even better is making a happy match between those animals and their adopters."  One of the things Paula and Katrina enjoy while volunteering is offering fruit treats to the rabbits and guinea pigs.  "We usually bring a banana from home, as it seems to be the favorite!  Even the tiniest mice and hamsters respond well to a sweet snack."
Paula is an editor at The Washington Post and Katrina is a sophomore at Yorktown High School in Arlington.  "Katrina has three birds — parakeets Dublin and Malawi, and a cockatiel named Sammy.  Dublin (formerly Sky) was adopted from AWLA, and Malawi and Sammy are both rescues.  We also have a yard that draws a lot of wildlife, providing much beauty and occasional entertainment.  Gardening is a shared hobby, and we love movies."
"Doing volunteer work at AWLA has been a fun and satisfying activity for us, and we encourage others to support the shelter and advocate for responsible pet ownership."
Congratulations again Paula and Katrina; we can't thank you enough and we appreciate all that you do for the League!
CarolAnne Nargi
CarolAnne has been volunteering at the League for almost 20 years.  She volunteers weekly and helps in multiple areas including Cat Room Scrub, Cat Room Kennel Assistant, Rabies Clinic, Special Events, Animal Transport and is a former Board member.  Last year, CarolAnne volunteered an average of 80 hours per month!
"I began my association with the League more than 20 years ago, when I adopted my cat Muffet in 1996.  The following year I began volunteering as a dog walker and cat socializer (now known as kennel assistant) and helping with adoptions.  Indeed, that's how I met Mickey, who I adopted in 1998.  I enjoyedvolunteering so much, that I wanted to be more involved with life at the League, so I started doing morning cat room scrub, joined the Special Events committee, working the low cost rabies clinic and was a Board member for six years.
Although I love getting to know all the animals, my passion is with the cats.  Every weekend and some weekdays, I'm in the cat room helping prospective adopters find their new family member.  I especially enjoy working with the adult cats and shy cats who need some one-on-one attention to bring them out of their shell.  I also put special effort into finding homes for the older cats.  To some, cat room scrub is "the dirty work" but for me, it's that special time I have getting to know each cat individually.  It's not only about cleaning and making their "living areas" comfortable; it also enables me to learn their unique personalities and helps me find potential adopters a cat that fits their home.  Many find that their best choice is an older cat.  I want to help others experience the same joy I did when I adopted.
I also do all the cat adoption follow up calls to find out how each cat is doing in their new home.  It's so rewarding to hear adopters feedback and to personally experience their gratitude and enthusiasm.  I've kept in touch with numerous adopters over the years and I'm gratified when adopters come back to see me when they're ready to adopt again.
After Muffet and Mickey passed away in 2012, I adopted Oliver, a handsome orange tabby.  He was almost 11 and had lived in three homes prior to me adopting him.  He's now a healthy, happy 15 year old and I can't imagine life without him!
I retired in 2008, as a manager for an International Union, knowing I would find myself spending even more time at the League.  When I'm not volunteering, I enjoy spending time with family and friends and Oliver!
When I began volunteering, I had no idea I'd become so involved.  But I quickly  recognized the deep level of commitment the volunteers and staff feel toward the animals.  There is a strong sense of family among them and I feel a part of that family.  I found my niche here and it makes me feel really good to help the animals.  I get back so much more than I give!"
Congratulations again CarolAnne; we can't thank you enough and we appreciate all that you do for the League!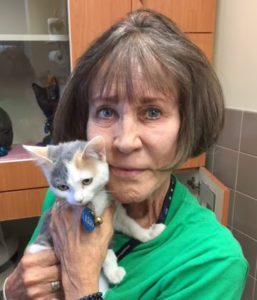 Cynthia Behn-Dawson
Congratulations to our December 2016 AWLA Volunteer of the Month, Cynthia Behn-Dawson!
Cynthia is a regular in the cat room volunteering weekly as a Cat Room Kennel Assistant and by providing Cat Enrichment. She also assists staff in various ways as an Office Helper and Volunteer Orientation Assistant. This past summer, she expanded her role even further by joining the Volunteer Advisory Committee.
Cynthia had wanted to volunteer at AWLA since "forever". She was a CPA by profession, sitting behind computers for hours on end, solving financial and tax problems while craving some other form of stimulation – namely, the interchange between animals and humans who care so much about them. She retired in the spring of 2014 and began volunteering at the League later that winter. Cynthia says that she "has never been happier".
If you ask what she enjoys most about volunteering at the League, she'll tell you that it is the "aforesaid interchange between the volunteers and staff, and the animals.  If we can make an animal's life more comfortable – socially and medically – enough so that adopters discover that same 'bond' upon seeking an animal for adoption, I have had a great day.  Animals can sense the caring nature of the volunteers and staff at AWLA.  The experience of observing the response of the animals to their dedicated caretakers is truly a heart-warming moment.  Additionally, AWLA is a friendly, upbeat, dedicated establishment.  Working with such dedicated staff and volunteers is sincerely a blessing.  Giving back to the community is absolutely a 'super-good' thing!"
She also says that her favorite experiences at AWLA are "without a doubt, assisting in developing a 'connection' between an adopter and a future 4-legged best friend.  The reciprocal relationship between an animal and a human 'parent' is unique, rewarding, and comforting.  When I have succeeded in not merely introducing, but actually connecting an animal to an adopter – and both leave for their futures together – my heart 'smiles'."
Cynthia and her husband have "two fantastic AWLA-adopted cats – both adopted at age 3.  We had lost both of our previous cats 1.5 years apart, and found we just couldn't live 'catless'.  Wilson, our black cat (originally Buffalo Bill) was my husband's choice;  Eyva (originally Orange Blossom) – a buff orange tabby, was my choice.  Both fill our hearts with pleasure every day of their existence!  THANK YOU AWLA!!"
When not volunteering at the League, Cynthia can be found "scouting the countryside for old, beat-up little 'gems' of furniture – in the hopes I can refinish the piece enough to make it shine once again, to bring it back to life to survive another century!  My biggest 'love' would be to find a 100 year old stone home – and renovate the entire structure – as it would have been back in the day!  When I'm not daydreaming about that house I've never found, I continue to hone my gardening skills, and follow my favorite sports team ever, the Washington Nationals!"
Congratulations again Cynthia; we can't thank you enough and we appreciate all that you do for the League!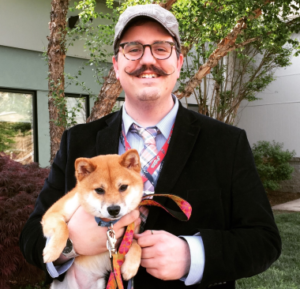 Jeremy Robbin
Congratulations to our November 2016 Volunteer of the Month, Jeremy Robbin!  Jeremy has been volunteering at AWLA for over two years. He supports the League in so many ways donating his professional photography talents. This past summer, he expanded his volunteer role to include serving as a member of the Volunteer Advisory Committee.
When asked what made him want to volunteer at the League, he replied, "I wanted to be able to help pets get adopted in any way I could and I figured that taking nice pics would help get people in the door!" What Jeremy enjoys most about volunteering is the common goal shared by all. "I love how everyone at the shelter is truly there for the right reasons, and just wants the best for the animals. Everyone is great to work with, and makes volunteering fun!"
Jeremy is a proud pet parent to shelter alum, George, a 2 year old Shiba Inu that was surrendered to the League as a puppy last year because his owners, unfortunately, could not afford the medical expenses required for George's deformed leg. One of Jeremy's fondest volunteer experiences was meeting George for the first time. Even after just seeing a picture of George (which Jeremy did before meeting him)……"It was love at first sight". Thanks to the wonderful support of our foster volunteers, George was able to recover from his leg amputation surgery, Jeremy adopted him and the rest is history!
In addition to his love of photography, Jeremy also enjoys Cleveland sports teams and watching movies when not volunteering at the League.
Congratulations again Jeremy; we can't thank you enough and we appreciate all that you do for the League!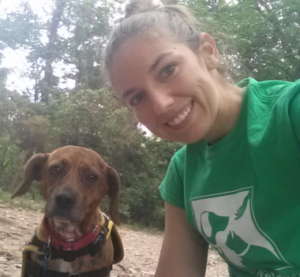 Stacey Simmons
Congratulations to October 2016 Volunteer of the Month, Stacey Simmons!
Stacey has been volunteering at the League for over a year and a half in a variety of roles including Dog Kennel Assistant, Special Events and as dog handler assisting our volunteer photographers on the Pawpurrazzi Team.  She came to the League not long after moving to Arlington.  Although she grew up with dogs, her current schedule does not allow her "the free time a dog deserves".  "Volunteering is a great way to spend time with the animals without the schedule constraints of ownership."
One of her favorite volunteer activities is taking the dogs on long hikes to places like Roosevelt Island or Great Falls.  "The dogs get additional exercise, we both spend some time in nature and seeing the dog's personality outside of the shelter allows me to provide better insight for potential adopters.  One time, a little boy read the "Adopt Me" vest and asked his mom sadly, "Why is that lady trying to get rid of her dog?"  It was a great opportunity to talk about the positive work AWLA does.  Of course, it warmed my heart to see that young animal lover showing compassion for our adoptable dog."
Stacey and her husband are the proud owners of the AWLA 2017 calendar cover girl, Jazzy the kitty.  Stacey enjoys staying active and is currently training for the Marine Corps Marathon.  "My husband and I like to discover new restaurants, events and neighborhoods – there is always something to do in the DC area!"  When she's not volunteering at the League, Stacey also volunteers with Team RWB (Red, White and Blue), Court Appointed Special Advocates and Kiwanis International.
Congratulations again Stacey; we can't thank you enough and we appreciate all that you do for the League!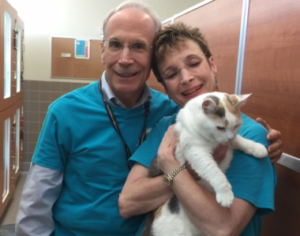 Gayle and Jonathan Kosarin
Congratulations to September 2016 Volunteers of the Month, Gayle and Jonathan Kosarin!
Gayle and Jonathan have been volunteering at the League for almost 2 years as Cat Kennel Assistants and Cat Enrichment volunteers.  They were first drawn to the League by the amazing story of Arrow the cat.  Arrow was brought to the shelter as a stray after an Arlington resident found him.  Staff at the League discovered that Arrow was blind and riddled with more than 30 BB pellets.  After watching the television interviews about Arrow and the League's support, they knew this was the place where they "wanted to devote our time and love to the animals."  For those who don't know what happened to Arrow, he recuperated under the League's care after multiple medical procedures and then was adopted by a loving owner!
Gayle and Jonathan love volunteering in the cat room. "It is extremely gratifying and rewarding for us to help these wonderful little animals on their road to finding families that will give them the love, nurturing and happiness that they deserve. There is no better feeling for us than to see a happy adopting family and their new cat or kitten leave the front desk to begin their lives together. As we see it, our mission is to take the cats and kittens who come into the League, frightened, bewildered and sometimes very angry who want nothing more than to hide away in their little cubbies, but with patience and gentleness we work with these animals and watch their transformation into the wonderful, loving, trusting cats they were meant to be."
The Kosarin family includes three adopted cats, Carly, Samuel and the newest member, Sylvia (who they adopted 6 months after volunteering at the League). "In a perfect world, our fondest dream would be that every animal that comes into the League finds a forever home filled with as much love as the one our own three precious cats live in."
Gayle is a retired special education teacher. When she's not volunteering at the League, she likes nothing better than to be curled up with Sylvia reading a good book. Jonathan works full-time with the Defense Department and when he's not here at the shelter, he volunteers as an information specialist at the Smithsonian's American History Museum and officiates in high school football games.
Congratulations again Gayle and Jonathan, we can't thank you enough and we appreciate all that you do for the League.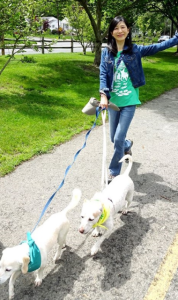 Sachiko Ueno
Congratulations to August 2016 Volunteer of the Month, Sachiko Ueno! Sachiko has been as a Dog Kennel volunteer at the League for over 6 years. She began supporting the League 8 years ago when she adopted Haru (formally Puchy), a Beagle/Dachshund mix. She started volunteering because she wanted to give something back. Sachiko was not healthy when she adopted Haru but she has been "healthier and healthier, walking with my boy every day, rain or shine. I want more people to be happy and healthy like me!"
Sachiko loves being with our shelter resident dogs and taking care of them. It makes her very happy to see the adopter's smile when they are taking their new member of the family home. She also loves "working with the fabulous staff and volunteers!" The only problem for her is that she is always tempted to adopt just one more family member…."I need a BIG HOUSE with a BIG YARD!"
One of her favorite volunteer experiences took place after showing dogs to a family on a summer day. She had spent quite a bit of time in the yard sweating as she showed the family one dog after the other complete with explanations of their personalities, etc. When she finished volunteering that afternoon and was walking through the parking lot, a car horn sounded. It was the family of four that she had spent so much time with. They screamed, "Thank You Sachiko!" The family not only thanked her but they remembered her name. Sachiko remembers that good feeling even now.
Outside of the League, Sachiko spends most of her time with her dogs and walks with them 2 hours a day. When at home, "I am always in my kitchen. I love cooking and baking!"
Congratulations again Sachiko, we can't thank you enough and we appreciate all that you do for the League!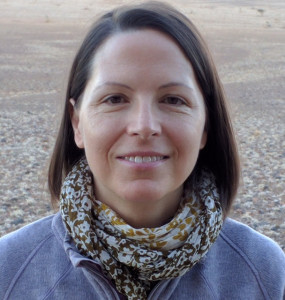 Gillian McPhee
Congratulations to July 2016 AWLA Volunteer of the Month, Gillian McPhee!
Gillian has been as a Dog Kennel Scrub volunteer at the League for over 13 years. She began volunteering because she wanted to do something to help animals in her community and the 7:00 am time slot in the dog kennels was ideal for her.
She loves having the opportunity to spend quality time with the dogs during scrub before the shelter opens for the day. "The dogs are usually very happy to see me since I am the one feeding them! It's nice to get the kennels clean and shiny so potential adopters who visit will see a clean and welcoming space." Her favorite experiences are seeing animals, that have been here for a long time, find their forever homes. "There is an adopter out there for every animal; sometimes it just takes a little longer for some animals to find their people."
Outside of the League, Gillian is a corporate lawyer and is also a member of the Virginia State Council of the Humane Society of the United States where she helps advocate for animals at the local, state and federal levels. "I am particularly passionate about the work HSUS does to end factory farming and improve conditions for farm animals that are raised for food." Gillian and her husband have four white & orange cats, including a "tripawd" and Morris, a senior gentleman they adopted from AWLA last fall.
Congratulations again Gillian, we can't thank you enough and we appreciate all that you do for the League!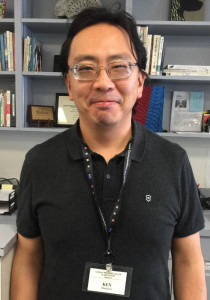 Ken Shirakawa
Congratulations to June 2016 AWLA Volunteer of the Month, Ken Shirakawa!
Ken has been volunteering at the League for almost 5 years. He began volunteering in honor of his dog, Quentin, not too long after he passed away. The majority of his volunteertime is spent helping weekly as a Front Desk/Adoptions Counselor but he also assists the public in the dog kennels, at special events, and he helps the adoptions team by conducting PACs (pre-adoption counseling) sessions as the final step in the dog adoption process.
Ken thinks of the front desk as AWLA's "command center where much of the action happens – wildlife intake, wild Animal Control calls, wild human visitors, and so on." He greatly enjoys the experience of matching long-term shelter residents to the right adopters who can provide a good home for the rest of their lives. Ken has a very unpredictable work schedule, so he can't be a responsible pet owner. Instead, he has come to think of the "many critters passing through the shelter as partially and temporarily mine."
Outside of volunteering at the League, Ken spends a lot of time at the gym "in a losing bid to fight off the many physical indignities from aging, and to make up for overly enjoying my food and drinks :-)"
Congratulations again Ken, we can't thank you enough and we appreciate all that you do for the League!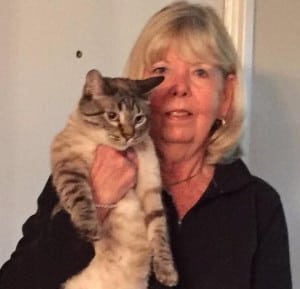 Debra Rose
Congratulations to May 2016 AWLA Volunteer of the Month,   Debra Rose! Debra and her husband, David (also a League volunteer), have had cats as part of their household for many years.  Prior to 1997, Debra had been volunteering with other non-animal organizations but decided she needed a change.  She attended an AWLA volunteer orientation and immediately knew she was in the right place.  Since then she continues to be very active with Special Events (including the Walk for the Animals and fall fundraiser events) and has served on the Board of Directors for six years.
She also continues to serves on multiple committees and volunteers at the Front Desk every Monday evening.  For Debra, "the front desk is a very special place tovolunteer.  It is great to see the interaction when people come in to look at the animals, meet and spend time with them, and then decide they have found their perfect match.  The best yet is when they walk out the door with their new family member."
They adopted their amazing Bengal/Siamese cat, AJ, from AWLA in June 2014.  He was originally transferred to the League from PHAR (Potomac Highlands Animal Rescue).  Debra describes him as more dog than cat, follows them everywhere and has to be the center of attention.  He loves to play fetch and he has never met a stranger that he didn't like.
When she is not volunteering at the League, she and David love going to the Nationals, Caps and Naval Academy football games.  They also enjoy theater and ballet.  Now that she has retired, she has more time to spend exploring the wonderful museums that DC has to offer.
Congratulations again Debra, we can't thank you enough and we appreciate all that you do for the League!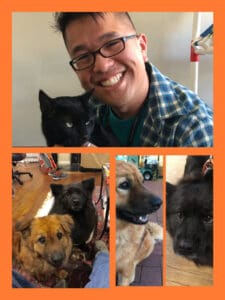 Mike Nguyen
Congratulations to April 2016 AWLA Volunteer of the Month, Mike Nguyen!
Mike has been volunteering with the League since March 2015 and "absolutely enjoys every minute of it." He is a dedicated Front Desk volunteer and donates his time on a weekly basis.
What prompted him to start volunteering was when he lost his beloved Smith ("the most amazing Chow Chow I had ever had up to that point") in 2014. Mike wasn't quite ready to rescue another dog but realized that he missed being around animals. Within a few months, he applied to the League's volunteer program to help at the front desk and become an adoptions counselor….and the rest is history. "Knowing that I am helping find furever homes for our animals makes every minute I spend at AWLA worthwhile."
Mike has had dogs for most of his life and can't imagine a day without them. He currently has two rescue dogs: Hank, a Chow/Shepherd mix who was rescued in April 2015, and Lincoln, a Chow/Spaniel mix who was rescued in March 2016. "They are such a joy to be around."
Other than finding furever homes for the furbabies at AWLA, Mike loves hanging with his dogs, playing competitive volleyball, traveling and spending time with his loved ones.
Congratulations again Mike, we can't thank you enough and we appreciate all that you do for the League!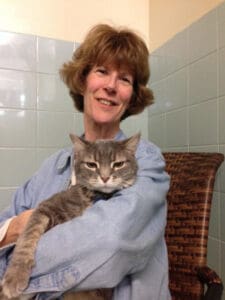 Stephanie Peat
Congratulations to March 2016 AWLA Volunteer of the Month, Stephanie Peat!
Stephanie has been volunteering at the League for 14 years.  She began supporting AWLA when she adopted her first cat over 20 years ago, which was the start of her deep affection for felines as well as her respect for the work done by the League. Years later, when Stephanie retired from the Federal Government, she decided to startvolunteering in the cat room and continues to do twice a week.  After her first cat passed away, she again adopted from the League, a beautiful Bengal cat who is now a very healthy 15 years old.
 Stephanie very much enjoys spending time with the cats, "particularly the older ones who tend to stay with us much longer, waiting for someone to appreciate how much an older pet can contribute to one's life (as well as the other way around)."  She also enjoys being able to help adopters match their wants with cats of appropriate personalities.  Plus she finds it "tremendously rewarding working with shy and frightened cats, watching them become braver and more secure in their shelter surroundings, so that they can be more successful in finding homes."
For her, one of the most touching stories happened just a few weeks ago.  "It is the story of Shelby, a cat rescued by one of our wonderful Animal Control Officers.  After a very rough start in her previous home, Shelby began to settle down here at the shelter and, not long thereafter, was adopted by a kind and caring woman.  Being able to play a part in rescuing her absolutely touched the hearts of all of our cat roomvolunteers.  Tears all around.  What could be better than that?"
In addition, every year Stephanie is able to lay claim to Water Station# 3 at the annual Walk for the Animals.  She enjoys seeing all of the dogs and their owners marching around the park in support of the Shelter.
Stephanie's other interests include attending local theaters and being involved with her Homeowners' Association.
Congratulations again Stephanie, we can't thank you enough and we appreciate all that you do for the League!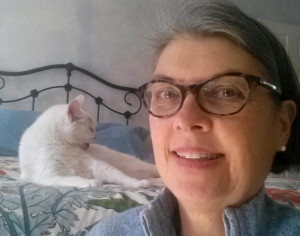 Ann Korzeniewski
Congratulations to February 2016 AWLA Volunteer of the Month, Ann Korzeniewski!
Ann has been volunteering at the League for over 2 years.  She helps the kennel staff every week as a Cat Room Scrub assistant.  Like many volunteers, she began supporting the organization much earlier when she adopted a kitten named Buster 13 years ago (his sister, Stella, was adopted 8 years ago from the Animal Welfare League of Alexandria).
When asked what made her want to volunteer at the League, she replied, "I like taking care of animals and was a working student at a riding school for a few years – mucking stalls & feeding horses."  When she had her own horse for many years, she found that tending to him was just as much fun for her as riding.  Buster has been such a joy that she wanted to help the organization (AWLA) that brought him to her family.
One of the things she likes most about being a Cat Room Scrub volunteer is the immediate gratification she receives.  "Dirty litter box?  I can fix that.  Empty bowl?  I can fix that, too. Messy bedding?  Smeary window?  I can fix all of that.  It doesn't always stay 'fixed' very long, but at least for a while I can bring order to a kitty's universe.  Plus I get to interact with all the cats, and I enjoy learning who has been adopted since I was last at the shelter.  I love to see the Facebook posts of animals and their new families."
A funny and memorable experience for Ann occurred some time ago with a very playful, one-eyed gray and white kitty named Barney who lived in one of the large kennels (part of the previous cat room configuration).  In order for Ann to clean his space properly, she temporarily moved him into a playroom. When she stepped back into the playroom to retrieve Barney, he rushed her, untied her shoes and began playing with her laces before she even had a chance to bend down to pick him up.
Ann is retired and outside of volunteering at the League, she enjoys knitting, bike riding, running and traveling.  She recently began volunteering at the Historic Congressional Cemetery in DC, where she will give tours and help with special events.
Congratulations again Ann, we can't thank you enough and we appreciate all that you do for the League!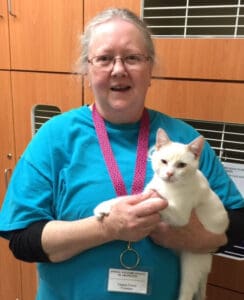 Virginia Forrest
Congratulations to December 2015 AWLA Volunteer of the Month,Virginia Forrest!
Virginia has been volunteering at the League for almost 4 years. She began supporting AWLA years before and has adopted wonderful additions to her family: Lacey and Luke (sibling cats, adopted 8 years ago), Holly the cat (adopted 2 years ago), Addie and J-bird (cockatiels, adopted 3 years ago) and Max (her sweet little Silky Terrier, adopted last year).
When asked what made her want to volunteer at the League, she replied, "I decided to volunteer at AWLA after I adopted Luke and Lacey. I continued to visit the shelter just to look at the cats and dogs. I retired from my full time job in July 2011 and, because I had more free time, I decided the time was right to volunteer. I attended the orientation session with the intention of signing up to walk dogs but it seemed like everyone that attended wanted to walk dogs. When I learned that volunteers were desperately needed to foster orphan kittens, I signed up to help in that area. Since I love cats, I also trained to be a cat room volunteer. My true love is working with the cats. I get a great feeling when one of our cats is adopted and goes home."
Expanding her volunteer role is something that Virginia continues to do. She has helped with gardening and animal transport. This year, she answered a plea for help and now volunteers weekly at the front desk as an adoptions counselor. "I really enjoy talking to potential adopters, explaining and guiding them through the adoption process."
When she isn't volunteering with the League, Virginia enjoys gardening, reading, movies, visiting the zoo and playing with her grandson.
Congratulations again Virginia, we can't thank you enough and we appreciate all that you do for the League!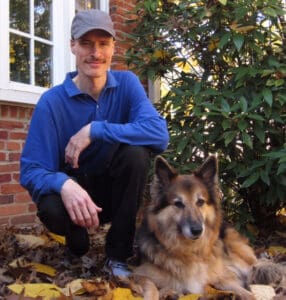 Jeff Miller
Congratulations to November 2015 AWLA Volunteer of the Month, Jeff Miller!  Jeff was unavailable for an interview, so we spoke with several shelter residents to find out more about him….
One comment heard repeatedly in the kennels was about his smell. He usually has the scent of at least 6-8 dogs on his clothes – so that's a lot of fun. One Beagle in particular said that he took advantage of Jeff's visits to the shelter to sniff him from head to toe, thereby allowing him to smell all of the dogs in the kennels in one stop. "It's a real time saver" he said.
He's a high energy volunteer so all the dogs will take turns walking him around the neighborhood to try and burn off some of that extra energy. Even after a good walk though we still have to take him in the back yard and play with his tennis ball. Jeff LOVES tennis balls. Many say he is obsessed. He keeps losing track of his ball in the yard, so we will bring it back to him over and over. He would play that game until he drops.
Many of the puppies in particular will try to help Jeff out by going to the bathroom in their kennels. "It makes him feel useful and gives him a sense of accomplishment" said a 2-month old mixed breed. "Often right after he finishes cleaning the kennel, he'll look bored, so I'll go again just to try and make his day a little brighter" she added.
On some days, Jeff will come into the shelter feeling frightened and not trusting anyone. The dogs in the kennels seem to know that all it takes to slowly earn his trust is to sit with him in their cage and comfort him with their presence. One fluffy Bichon said, "It's always nice to see a volunteer become more trusting and less fearful over time, blossoming into a happy playful one eager to reach his full potential."
Word in the kennels is that Jeff spends his free time chasing his dreams and catching rainbows, some said it was chasing his tail. There was some disagreement on that point.
Why Jeff is still volunteering at the shelter after 11 years is a mystery. Said one Husky, "He only jumps up on people when he gets really excited." Most agreed that it is only a matter of time before he finds the right match. When he does, he will be missed but we will be happy he has found a loving forever home.
Congratulations again Jeff, we can't thank you enough and we appreciate all that you do for the League!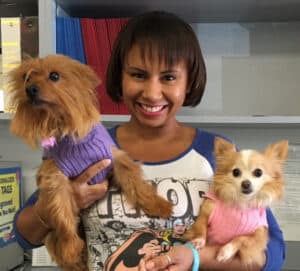 Orquidea Rivera
Congratulations to October 2015 AWLA Volunteer of the Month, Orquidea Rivera!
As an avid humanitarian, Orquidea has spent many years volunteering at homeless shelters in addition to collecting food and clothing donations to send to the needy in Africa. She still felt that locally there was more she could do but didn't have the answer. She worked full time as a manager for a large corporation, was in grad school and didn't know many people here in the DC metro area. However, she knew that someone else out there needed her love and help. It wasn't until a few years later, around 2011, that she began visiting the League frequently. "I would sit in front of the kennels for hours and just speak to the dogs. I fell in love with a retriever named Charlie who gave me the motivation to come spend more time and spread some love with these furry friends." Then in 2013, she eagerly began volunteering in multiple areas. She continues to train and expand her volunteer role and now helps with Special Events, Dog Kennel Assistant, Dog Enrichment and seasonal holiday gift wrapping. She also helps as a dog handler with the Pawpurrazzi Photography volunteer team. "As a part of the team, I enjoy being able to promote AWLA's mission to the general public, capture the best faces of our temporary residents so they can look their best for adoption and witnessing happy endings. AWLA staff does so much to make these residents feel warm, love and cared for the compassion and empathy is so noticeable that it makes my heart smile."
When asked what is her favorite volunteer story, she responded "I came in one day to volunteer for a few hours of dog enrichment, fill up some Kongs and clean some toys. The next thing you know, I walked out adopting a rescued 4-year old long hair Chihuahua whose name I changed from Brinkley to Chiyo-San. She became the companion and little sister of my 8 year old Yorkshire, Sayuri-San. These two and I compose my family, a team of 3, and we are all grateful to have each other; especially the AWLA alumni. She demonstrates her thankfulness with every lick she gives." When not volunteering here at the League, Orquidea enjoys going the gym, traveling to foreign countries and participating in a variety of benefit events. She also spends a lot of time doing research on mental health issues and policies as part of her pursuit of a career in psychological counseling.
Congratulations again Orquidea, we can't thank you enough and we appreciate all that you do for the League!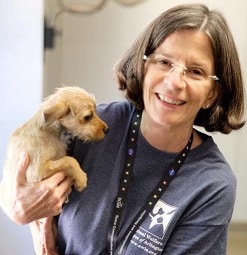 Pat Romano
Congratulations to our September 2015 AWLA Volunteer of the Month, Pat Romano!
Pat is a long-time League volunteer including a former Board member. She began helping as an afternoon Dog Kennel Assistant and a morning Dog Scrub Volunteer. Once she retired from Arlington County, she expanded her volunteer role to include Front Desk/Adoptions Counselor, Special Events and the Pawpurrazzi Photography Team.
"I enjoy everything that I have been involved in at the shelter. The thing that I love the most is the dedication and compassion of the staff for all the animals that come through the front door. Some animals come to the shelter that are sick or that have physical or behavioral challenges. The staff go to the end of the earth to improve the animals condition or behavior so that they can be adopted. So you might say that, I enjoy seeing the animals come in the back door, watching them change (health, physical or behavioral) for the better and walking out the front door to their new forever home. It is a joy to see the smiles on the adopter's faces and the joy in the animal's eyes."
If you ask Pat, she has many stories to share about her volunteer experiences at the League; but one that stands out is the hound mix that could open doors. He was an escape artist. One day she was cleaning kennels and Pat let him out in the back yard so he could do his business. As she was mopping, she felt something behind her. She turned around and there he was sitting there looking at her. She thought "How did you get in here? I just let you out." She let him out again and watched through the window as he opened the door with his paw to let himself in again.
Pat has two Border Collies that she trains to work sheep. She goes to a local farm 2-3 times a week to work sheep and competes in area sheepdogs trials. She has had Border Collies all her life and has been trailing for about 25 years.
Congratulations again Pat, we really appreciate your long-time dedication and all that you do for the League!
Congratulations to August 2015 AWLA Volunteer of the Month, Linda Iseli!  Linda became a volunteer at AWLA in 2013 after she retired. A self-professed cat person, she spends one day a week at the shelter as a cat kennel and scrub assistant and many, many hours fostering kittens. To further help the shelter, Linda generously supplies all the necessary food, litter and sundries for her fosters.
Linda delights in getting kittens to a weight where they can be spayed or neutered and adopted out to loving forever homes. She has albums on her computer of all of her fosters and says that fostering is the best job she has ever had! So far this year Linda has fostered one mother and 14 kittens. Teddy (pictured above) is her one foster failure and a wonderful "Manny" to her foster kittens.
Linda's favorite thing about working at the League is seeing an older cat (or any animal) get adopted and have a second chance at a good home.
In addition to her love of cats, Linda is addicted to quilting. She has made four quilts with cat themes and has plenty more cat fabrics to make lots more cat quilts.
Linda feels fortunate to be at a stage in life where she has time to devote to helping animals and prefers for family to honor her at Christmas with donations to AWLA, rather than gifts.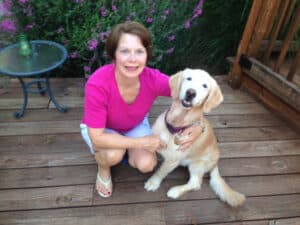 Sally Kaplan
Sally began volunteering at AWLA almost five years ago after retiring from ABC News, where she managed camera crews for 33 years. In her life after work Sally knew she wanted to work with dogs, so she started volunteering at the League in the dog kennel and added dog walking, enrichment and, more recently, doggy play groups (her favorite!) to her assignments.
Sally finds it particularly rewarding to see shy or fearful dogs come into their own through contact with the appropriate furry friend, which many times also increases their comfort level with their human friends. Sally reports that she has learned a great deal from the dedicated staff and other volunteers at the League. She especially appreciates the many training opportunities that are offered because they enable her and her fellow volunteers to better help the dogs at the League become more adoptable.
Sally and her partner Larry share their lives with an 11 year old Golden Retriever named Riley. Together Sally and Riley and a small group of other volunteers and their dogs visit patients at Manor Care in Alexandria once a month through the AWLA Pet Therapy program.
Congratulations again Sally, we really appreciate your dedication to the League! Riley is one lucky dog to be loved by you and Larry.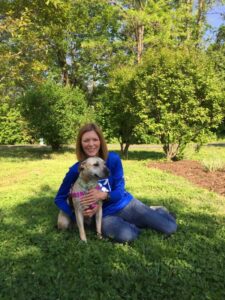 Michele Walter
Congratulations to our May 2015 volunteer of the month, Michele Walter!  Michele adopted her pit-mix, Winnie, from a rescue group on January 25, 2015. She is her number one running and snuggling buddy and together they are doing Levels training at FurGetMeNot.
When she moved to Arlington in 2010, Michele wanted to help the community and its animals, so she looked into AWLA. As a long-time animal advocate and veteran animal rescue volunteer, she was impressed with AWLA's programs, adoption statistics and county outreach and, as a pitbull lover, she was thrilled to discover Pit Crew.
Michele volunteers at AWLA in a variety of capacities. As a Dog Walker, she loves the pure joy and unconditional love the dogs show when they see her and get to do something as simple as go outside. As a special events volunteer, Michele enjoys talking to the public about the amazing work that AWLA does and encouraging people to become involved.
As the founder of Team Rescue Tails, Michele raises money for and awareness of the League by competing in running and triathlon events. It provides the perfect combination of her passions for animals and endurance events. When struggling on the race course, she thinks about the animals at the League, how resilient they are, and how much AWLA has helped them to find happy new lives.
So far, Michele's favorite experience at the League has been spending time with Kera and getting to see her adopted into a wonderful home. In particular, Michele remembers the day she figured out that Kera loved tennis balls, which she would chase and liked to carry with her on their walks with Pit Crew and along the W&OD trails. Michele views Kera's success story as a great testament to the devotion of the League's volunteers and staff.
When not running races or volunteering at the League, Michele is an environmental litigation attorney with the Department of Justice.
Congratulations again Michele, we really appreciate all that you do for the League and for Winnie!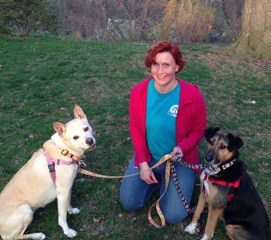 Jami Payne
Congratulations to our April Volunteer of the Month, Jami Payne!  Jami's two dogs, Lexi and Georgi, were both adopted from AWLA. Lexi was brought to the shelter as a stray on Jami's birthday in 2009 and Jami adopted her as soon as her stray hold was up a week later. Georgi had been at AWLA twice and when Jami adopted her she promised Georgi that she would never be up for adoption again.
Over the years Jami met and befriended a number of AWLA volunteers and in 2014 joined the ranks herself to share her gratitude for the care Lexi and Georgi received while at the League.
As a volunteer, Jami especially enjoys helping dogs that need a break from the shelter by taking them for hikes and giving them time away from the kennel environment. She also participates in PitCrew and Team Rescue Tails (TRT). She enjoys learning from the AWLA staff who care for the animals on a daily basis and has great respect for the League.
Outside of AWLA, Jami is a Facilities Manager for a component of the U.S. Department of Homeland Security. It is a demanding job and returning home to her girls is always the best part of her day.
Congratulations again Jami, we really appreciate all that you do for the League and for giving Lexi and Georgi such a great home!"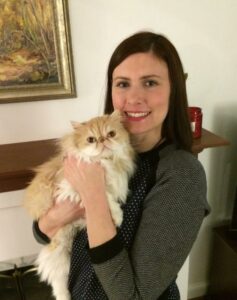 Emily Healy
Congratulations to Emily Healy, our March Volunteer of the Month!
Emily Healy, a lifelong animal lover, grew up with Cocker Spaniels, a Siamese cat and a hamster. When she moved into an apartment that did not allow pets, she became a volunteer at AWLA to spend time with the animals in our care.
Emily has now been an AWLA volunteer for over five years. She is an evening dog walker and kennel assistant and enjoys having one-on-one time with the dogs. She plays with them in the yard, sits with them in the kennel and takes them for walks – whatever she can do to make their stay at the League happy and less stressful.
Of the many dogs with whom Emily has worked at AWLA, Gaston remains a favorite (and is even the screensaver on her phone). As much as she loves seeing League animals go to new homes, she finds it a little heartbreaking when longtime residents leave. That's why she looks forward to receiving news and photos of our adopted animals with their new families.
Emily and her husband have a Persian cat named Winnie (formerly Pasha), whom they adopted from AWLA in November 2013. They adore her (She even has her own Instagram account!), saying that she is the perfect combination of sweet, playful and sassy.
When not at AWLA, Emily is a project coordinator for a contract furniture dealer in Shirlington.
Emily, we really appreciate all that you do for the League and the fairy tale forever home you have given Winnie!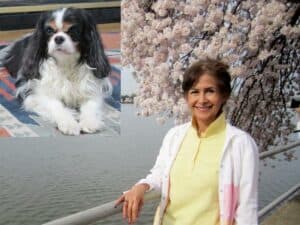 Maria Karlsson
Congratulations to our February volunteer of the month, Maria Karlsson!
Maria doesn't currently have a pet but she did have a Cavalier King Charles, named JB (short for James Bond) pictured above. Unfortunately, he passed away just before turning 11. His loss made Maria very sad and one of her sisters suggested that she volunteer at AWLA.  Maria first started volunteering with AWLA in 2013 as a Dog Kennel Assistant, then Dog Playgroup Assistant and then Dog Walker. Maria says, "I was so proud showing off our dogs and talking to people who are interested in meeting them in our walks."
Maria also participates as a Special Events Volunteer and fondly remembers the Pups & Pilsners event last year in Crystal City. She says, "It was incredible. There were at least 80 dogs with their human parents all having a good time. I should have to pay to have so much fun."
Maria's Spanish language skills have been very helpful to the League as she helps us with translating/maintaining the Spanish portion of our website! Maria was born in Lima, Peru and came to the U.S. at 19 to work.  She then went back to Peru for a few years but says, "I had the taste of life in Washington and I wanted to return. I had the opportunity to get a job at the International Monetary Fund, where I retired from after 25 years."
Maria says, "Besides loving the animals at AWLA, I am very happy to have met the staff and the many volunteers who are so devoted to the animals. We have a very strong connection; we understand how we feel for each of our little friends; how important their well-being is to each of us. I appreciate the training and advice I have received from the staff and the other volunteers."
Maria and her husband, whom she met while working at IMF, live in Arlington and her parents and five siblings and their families live in the Northern Virginia area, which is very nice since she reports that her family is very close.
Maria, we really appreciate all that you do for the League!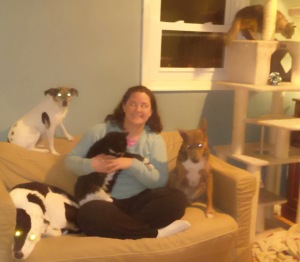 Jessica Highland
Congratulations to our January volunteer of the month, Jessica Highland!
Jessica has been a volunteer at the League since October 2013. She volunteers at the front desk, at our special events, does animal transport and also dog scrub. Jessica is very enthusiastic and wonderful with members of the public. She is the proud "mom" of three beautiful dogs, Bennett, 7, Lola, 6, Maggie,5 and two cats: Moe, 20, and Adelaide, 1. She says that they are her angels and they are the loves of her life.
Jessica got involved with the League because she is a life- long admirer of the animal kingdom and she says has always been concerned about animal welfare. She states that she grew up in a very meat-and-potatoes community, but became a vegetarian at age 9. Jessica says that she loves being around people that share her affinity for all creatures furry, feathered, or scaled.
When asked what she loves most about volunteering with us, Jessica says, "I enjoy the perpetual possibility of gifting someone with the unconditional love of an animal." When asked what her favorite volunteer role is, she says, "I really enjoy making the announcements at the front desk, especially when it's time to send a newly adopted animal home. When an adoption has been completed, it's a moment of hope and excitement for the adopters and, for me, a chance to witness the creation or enhancement of a family with a cat, dog, or small companion animal. This makes every adoption unique and special. The 'go home' announcement allows everyone to join in the celebration for a moment!"
Outside of her volunteer roles at the League, Jessica works for the Department of Justice in Washington, DC and shares her love of American history as a volunteer tour guide at Gadsby's Tavern Museum in Old Town Alexandria.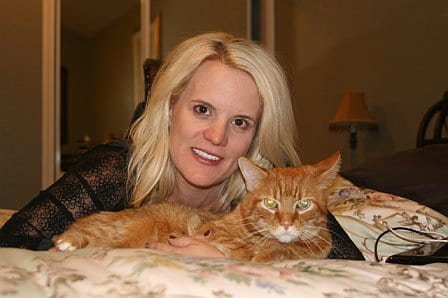 Marnie Russ 
Congratulations to our December volunteer of the month, Marnie Russ!
Marnie Russ has been volunteering with AWLA for nearly 10 years. She had started her own lobbying firm and was working from home, so decided to help out in the cat room during lunch breaks. At the time, AWLA was just starting up our foster program, so Marnie decided to give it a try and fell in love with fostering, especially with the fragile bottle babies! This led to Marnie becoming completely enthralled with sheltering, spay/neuter, and the development of foster programs. She even began working with and befriending vets who could help her with critical neonate cases. While it was hard, and there were some unfortunate losses, she certainly learned a lot.
From there, Marnie began to mold her professional life around helping animals. She started working with the federal relations division of the ASPCA, traveling to developing countries to assist in spay/neuters to under-served areas, as well as joining Feline ORE and traveling to shelters all over teaching about neonatal care. She says that she owes it all to AWLA!
And AWLA owes a lot to Marnie! Marnie completed her 100th foster this November! She has fostered over 60 animals in 2014 alone, including bottle babies and pregnant or nursing mothers. Marnie has been a spectacular member of the AWLA foster team and many animals have thrived and gotten their forever homes because of her care and compassion.
She currently splits her time between Arlington and Montana, working with shelters and rescues in both regions. When home, she loves to spend her time with her pets, a rescue dog named Skeeter, a kitten who was born without back feet named Wobbels, and her first 'foster fail' kitty named Barry.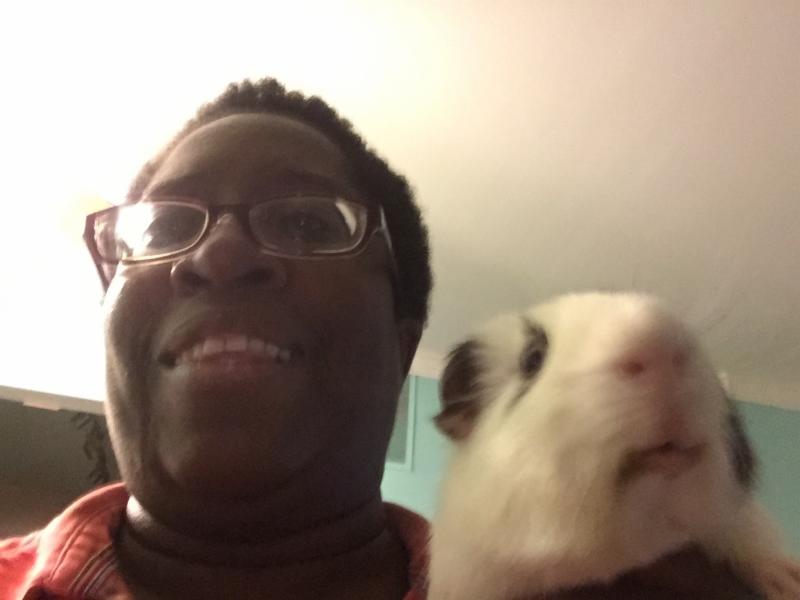 Kimberly Phillip
Congratulations to our November volunteer of the month, Kimberly Phillip!
Kim has been with the League since 2009 as a small companion animal kennel assistant, animal transport volunteer, and special event volunteer. Since then, she has also become a stellar volunteer trainer as well! She originally decided to volunteer because she loves animals, the League, and all we do for our furry friends in the community. She loves volunteering with us, but especially enjoys training new volunteers, helping to find new homes for small companion animals, and meeting rehabilitators and seeing how they work and the great results of their care!
One of her favorite memories here is about a rabbit named Rio. Rio had been adopted, but came back to the shelter when his former owners abandoned him. He was badly overweight, but still retained his loveable nature that Kim remembered and loved. He soon found his forever home… with a staff member! Luckily for Kim (and Rio!), this means she gets lots of updates on how he is doing.
Outside of the League, Kim has a career in public broadcasting and also does a lot of other volunteer work in the community. She especially enjoys showing the cute small companion animal glamour pictures to her coworkers and encouraging them to consider adoption! Though, she can't help but wonder how the photography team manages to get the guinea pigs to sit still in costume. Her own guinea pig, MacIntosh, would never do it!
Thank you, Kim, for all your hard work and dedication to the League! We truly appreciate you, and know that your friendly smile and easy way with people has helped in many small animal adoptions.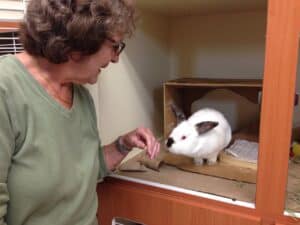 Jackie Borgel
Congratulations to Jackie Borgel, our October Volunteer of the Month!
For years before she retired, Jackie told everyone that she was going to clean cat cages, and that's exactly what she has done for the past 4-5 years. Since the renovation she has been helping out as a Small Companion Animal Scrub volunteer, but looks forward to being with her feline friends again soon.
Jackie is very well trained by her 14-year-old cat named Jazz, adopted from a shelter when he was one year old. While she loves all animals, she tends to be a cat person. Her love for animals certainly shows in the care she gives to all our shelter friends as she goes about cleaning their cages!
Her favorite part of volunteering is being with the animals at the shelter and taking care of them until they find their forever homes. Though, she admits, she is a little bit intimidated by Mable the rabbit. Jackie may be embarrassed about it, "She's a rabbit for goodness sakes!" she says!
When not being a great asset to the shelter, Jackie is also involved in several other volunteer activities. She helps out with Meals on Wheels, the Arlington library, the Red Cross, and other organizations. We appreciate the work Jackie does so that we can open on time!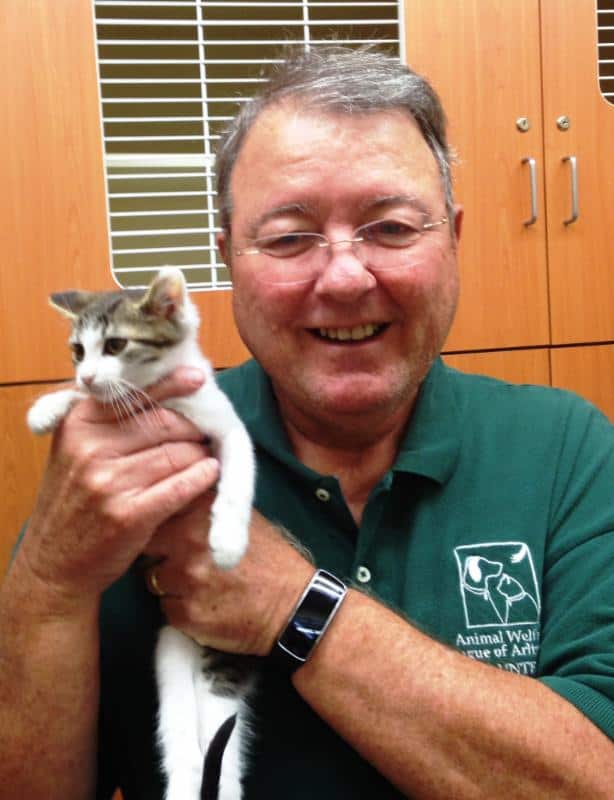 David Rose
Congratulations to David Rose, our September Volunteer of the Month!
David has been volunteering at the League for the past 16 years. His wife, Debra (also an AWLA volunteer) had enlisted him to help out on the Walk for the Animals in 1998. From there David moved to wildlife driver, dog walker, kennel meeting assistant, and then to the front desk and adoptions counselor where he has been for the last 12 years or so. He also serves
has served on the Finance Committee for about 12 years and he just finished six years on the Board
David says that they have always had cats. They currently share their home with AJ, recently adopted from AWLA in July of this year. His most recent predecessor, Tug, was adopted from AWLA in May 2000.
David says that "One of my favorite memories is watching an eight puppy St. Bernard litter put on 20 percent body weight every week. One of those pups walked in my neighborhood for the next 10 years. And, of course, I was always surprised when we gave shelter to the unusual animals, turkeys, chickens, goats, pigs, etc."David retired two years ago from defense contractor consulting after 17 years and from the US Navy after 26 years in 1995.
Thank you so much, David, for your hard work and dedication to the League!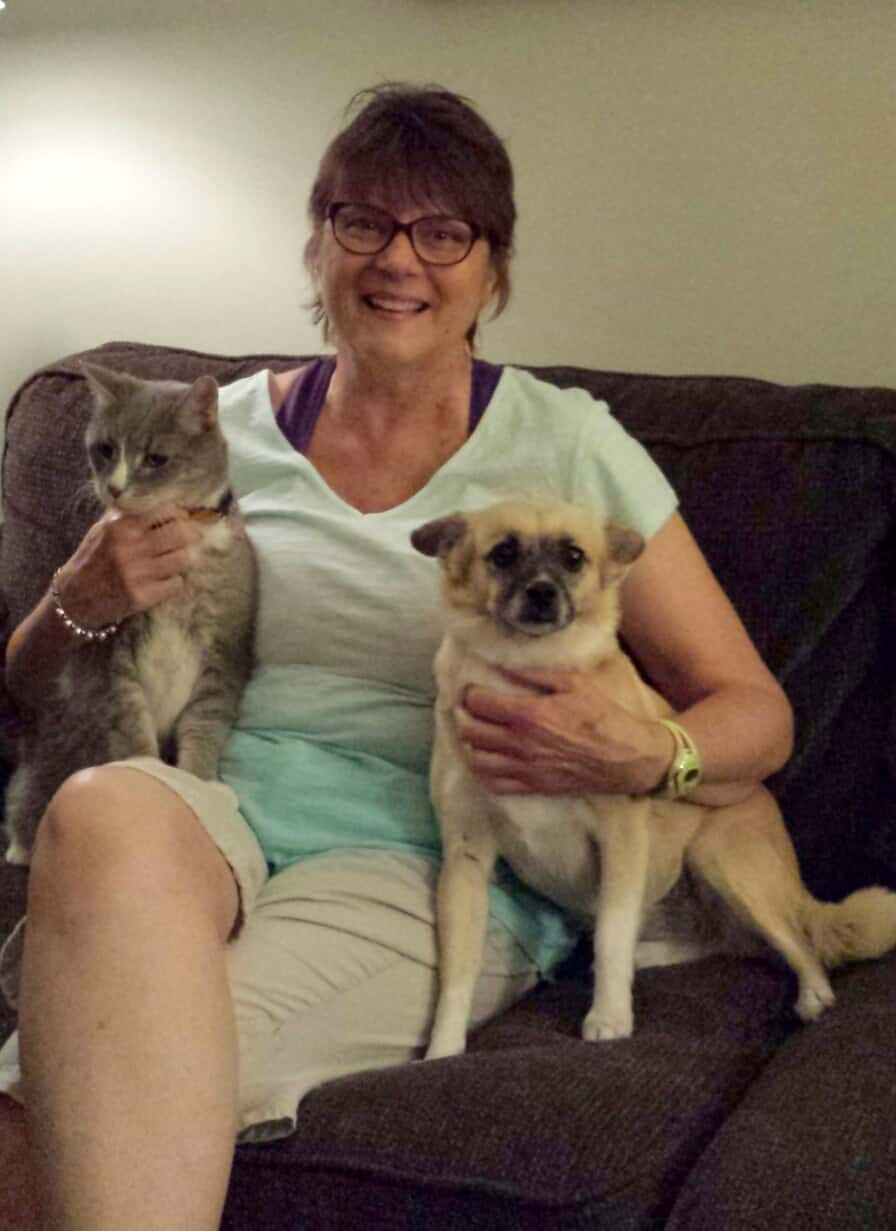 Jan Geiger
Congratulations to Jan Geiger for being July's Volunteer of the Month.  Jan is the proud owner of an adorable 14-year- old cat, Jacob, and a four-year-old dog, JoJo. She recently lost her 17-year-old cat Jessie last month but is hoping to adopt another little girl before the end of the year-I think that we all know where she can find a great cat!.
Jan knew when she retired (five years ago) that she wanted to work with animals.  She loved the atmosphere at AWLA and applied to be a volunteer.  Jan was thrown head first into cat scrub and she worked in scrub all day every Tuesday for about three years and loved it. Jan says that the staff is great and it's always a pleasure to spend time at the shelter. She has been volunteering with us for the past five years!
Apart from cat scrub she has also helped out with special events, dogs, IT, gardening. She says that her favorite job used to be when she worked with the cats, with all their human qualities.  After cleaning, she would brush the cats — especially those who noticeably had never been brushed.   Jan says that the physical transformation and change in personality was great to see.  Jan also loves going to special events and seeing everyone showing off their pets.  She says that she also loves doing creative work for the shelter — gift wrap, flower arranging, etc. She recently arranged the beautiful bouquets for our 70th anniversary that adorned the tables and the front office.
Jan says that her favorite moments at the shelter have been when older cats (some as old as 10 years) are adopted and given a second chance at life-"That feeling can't be beat!"
Before she retired, Jan worked at a DC law firm. Jan is an abstract artist and has a studio in her house, so that's her job now!  Besides volunteering at the shelter, she volunteers and shows her work at the Torpedo Factory in Alexandria.  You can see Jan's artwork here: jangeigerart.com
Congrats Jan and thanks for all of your hard work!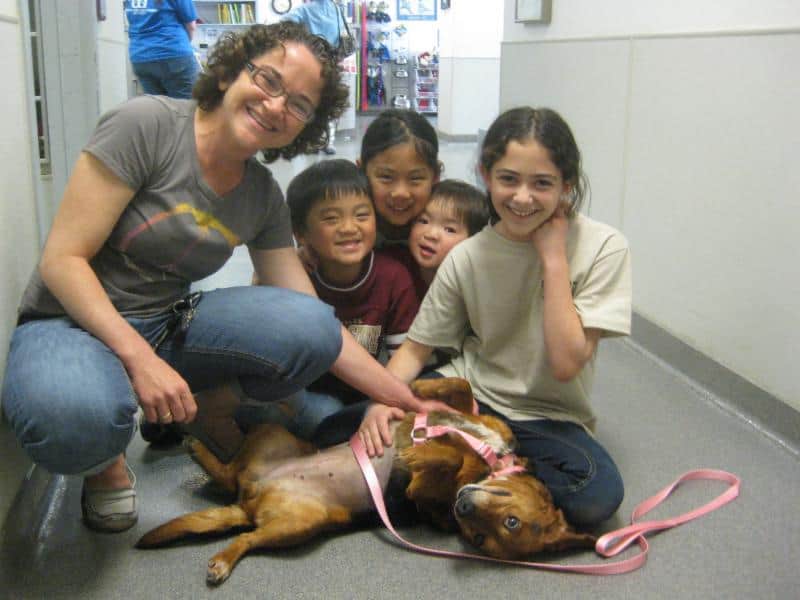 Elisa Rosman
Congratulations to Elisa Rosman for being June's Volunteer of the Month.
Elisa is the proud owner of several adorable dogs and a hamster (surprisingly all like each other).  Elisa and her four children are pictured above with Nessa (formerly known as Cricket when she was here) whom she adopted in 2011.
Elisa started as an office assistant with AWLA right after grad school in 1995 – almost 20 years ago!  After a year working at the shelter, she decided to become a volunteer and has been volunteering with us ever since (except for three years when she lived in NYC)!
Elisa volunteers at the front desk and with special events.  You probably recognize her name from emails asking you to help out with our annual Walk for the Animals in the spring.  During her years as a volunteer, she has also served two terms on the Board of Directors.
Elisa has contributed in many capacities to AWLA. In her words she says,  "I think my absolute favorite is when I'm working on the front desk and go over an application with an individual or a family and just know that they and the animal are a perfect match.  I also love it at the Walk every year when all of the volunteers are at their stations and everyone is out walking and it's not raining and everything is going great!"
Adopting their dogs and her kids' connection to AWLA are among Elisa's favorite experiences with the shelter. Elisa comments, "We adopted our 14-year-old, Scout, when my oldest daughter, Hannah, was 1.  I remember that a tech brought him out to greet us and Hannah literally started clapping for him.  You can't beat that."
When Elisa is not volunteering at the front desk or coordinating volunteers for one of our special events, she works part-time on early childhood research and policy.  She also plays piano and is the Music Director for different theaters around town.  Last, but not least, she is mother of four fantastic kids!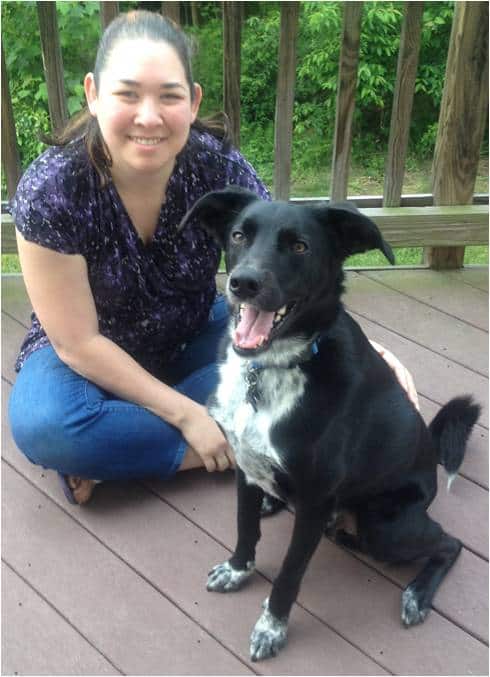 Roberta Rothschild
Roberta has been volunteering with AWLA for almost exactly eight years. A family member was volunteering at their local shelter and Roberta liked the idea, so she looked into getting involved at the League. Roberta loves being able to help our animals in need and educating the public on animal-related issues.
Roberta works at the front desk, as a dog kennel assistant and does pre-adoption counseling sessions (PACs). She says, "My favorite [volunteer job] is probably doing the PACs, because I love to see the families taking their new members home, and the amazing happiness you can just see in both the dog's and the owner's faces.
When asked about her favorite story or experience from AWLA, Roberta responded, "I always like seeing the wildlife that Animal Control brings in, but as far as favorite experiences, personally, I feel that showing dogs to the public and educating people about our dogs is pretty rewarding in and of itself. The best is just in general when you can see a dog come out of its shell over the time that it is at our shelter, and follow the progression from intake to adoption."
Roberta and her family share their home with a dog named Shadow, adopted from the League in 2011.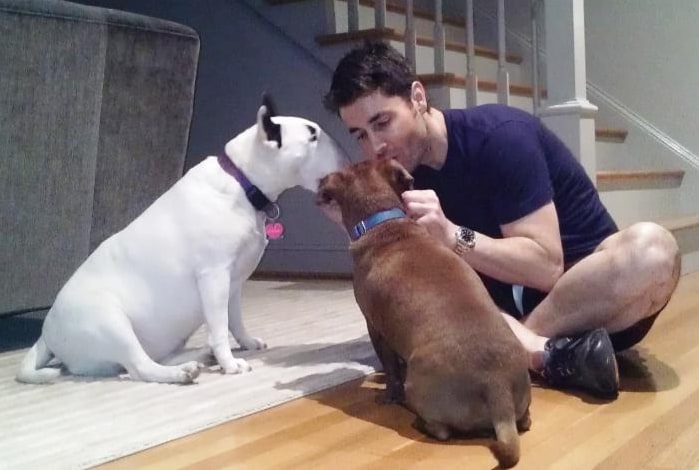 Joey Ontiveros
Congratulations to our April Volunteer of the Month, Joey Ontiveros!
Joey began volunteering at the League three years ago after he needed help with two stray beagles he found at a gas station. He says that the care and kindness AWLA extended him when we helped with the two dogs left a lasting impression, and it made him decide to volunteer here. Joey says, "I have always known that I loved animals and I decided to work with a group such as the AWLA that is dedicated to the rescue, rehabilitation and placement of animals in need in my community."
Joey currently works at the front desk and does pre-adoption counseling sessions (PACs). He likes both jobs, but enjoys doing PACs because he likes connecting families with their newest member and providing them with tips and suggestions to be successful. When asked if he had any favorite stories from AWLA, Joey said, "All of my experiences at AWLA have been positive, but what has made volunteering special are the people who have such dedication to the cause of animal welfare. The AWLA staff inspires me want to come in and do a fine, professional job. They care so much about these animals and want more than anything to find a good home for each of them. The adoption team, or "The Gals" as I call them, have really touched me with their trust and encouragement in doing PACs." He continued to say that he believes the AWLA mission is vital both to the animals and to the community and that he takes his role in this very seriously.
Joey began his career in education which he believes aided him in his current volunteer position doing PACs. He continued his career in health care administration and is a practice administrator for a multi doctor dental practice in Washington, DC. He has two fur babies. Cassie is a 4.5 year old bull terrier, and CJ is a five year old mixed breed, pit bull and dachshund.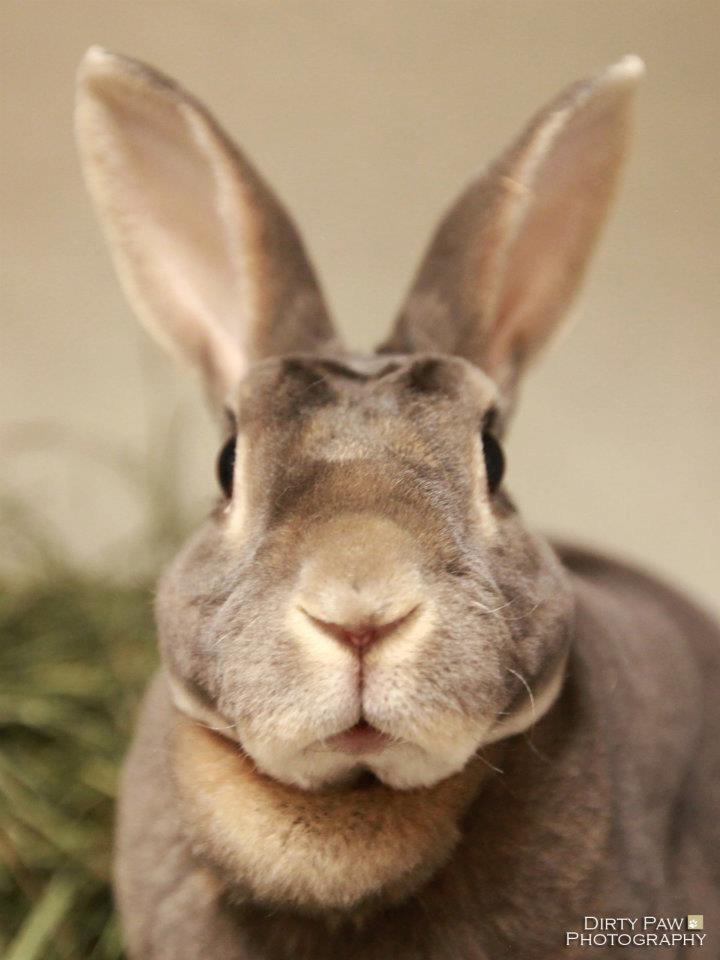 Nicole Roberts
Congratulations to our March Volunteer of the Month, Nicole Roberts! Pictured is a former AWLA bunny representing Nicole's role at the shelter (we're still waiting on a picture from Nicky).   Nicole has been volunteering with our small companion animals for a little over 14 years. She formerly volunteered with House Rabbit Society (HRS). The organization encouraged members to work with their local animal shelters, but Nicole was worried about what going to a shelter would be like. A fellow HRS volunteer – our very own Animal Care Technician Rebecca Kingery – introduced Nicole to AWLA and eased her fears about volunteering at our shelter. Nicole started volunteering here that very same month.
Nicole loves all animals, but rabbits hold a special place in her heart. Many rabbits that come to the shelter have not received the love and attention they need, and Nicole enjoys working with those rabbits. She says, "I find it so rewarding to see a formerly shy, timid or even slightly aggressive bunny just melt when you start to rub their nose or give them a head massage. It makes all the Saturdays I spend sitting on floor, usually surrounded by bunny poop, worth it."
One of Nicole's favorite stories about working at AWLA started when she first began volunteering fourteen years ago. A rabbit named Sunny was the longest bunny resident until a wonderful family finally showed up to adopt Sunny. Years later, that same family came back to visit AWLA. They told us that Sunny lived a long, happy life in their home. Even though it had been years, Nicole remembered them and was thrilled to hear Sunny's story. In 2013, Sunny's family came and adopted Star, a rabbit who had been here for over a year.
Nicole works in Development at the Nature Conservancy, and shares her home with her three rabbits Pebbels, Ty and Jemma.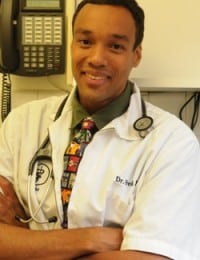 Dr. Fred Jones
Congratulations to February's Volunteer of the Month, Dr. Fred Jones of Arlington Animal Hospital!
Dr. Jones is the veterinarian who staffs our monthly rabies clinics that allow us to provide such a helpful service to the public. He has graciously been donating his services to these clinics for years. Dr. Jones also makes it possible for Arlington Animal Hospital to participate in AWLA's Spay Day outreach this year.
Dr. Jones became the owner of Arlington Animal Hospital in 2009 after working in emergency medicine at a 24-hour hospital in Northern Virginia. Dr. Jones knew at a young age that he wanted to be a veterinarian, having grown up with Labrador Retrievers. When not at Arlington Animal Hospital, Dr. Jones enjoys spending time with his wife, two kids and their cat, Dante. Dr. Jones also enjoys running, reading, photography, travel, and automobiles.
Thank you Dr. Jones for your generosity to AWLA and our community!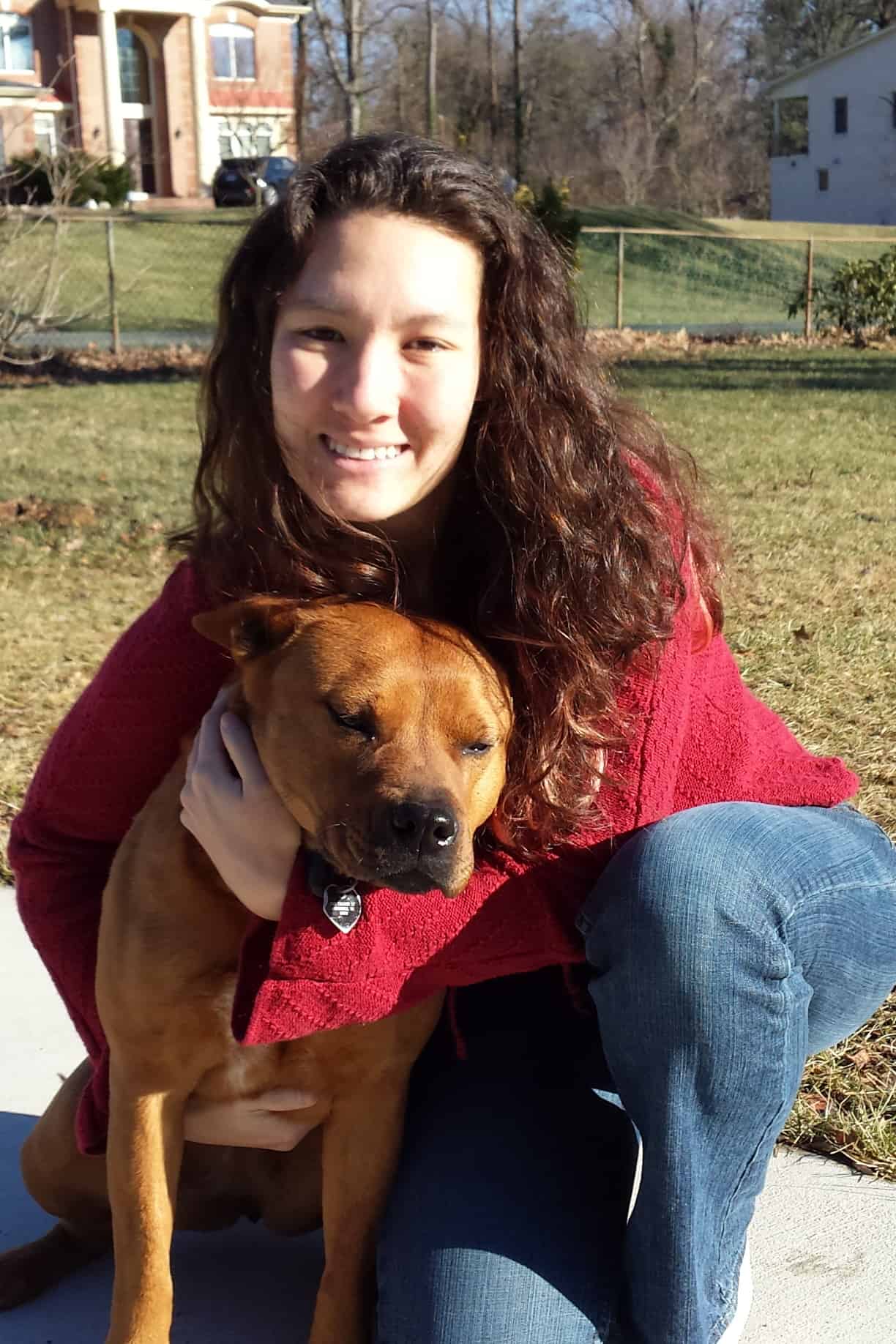 Natalie Wallace
Congratulations to our January Volunteer of the month, Natalie Wallace!
Natalie has been volunteering at AWLA since August 2011. Natalie volunteers at the front desk, as an office helper (data entry) and also helps out at the rabies clinics from time to time.
While she has several volunteer assignments, Natalie says that she really enjoys working at the front desk because she not only gets to send the animals home with their forever families, but she also gets to interact with all of AWLA's wonderful staff, and be "in the know" about all of the shelter's activities.
When she is not volunteering, she works at the Comptroller of the Currency, a bureau of the Dept of Treasury as a Contracting Officer. Which means that she solicits, evaluates, negotiates, awards, and administers contracts on behalf of the Government.
Natalie adopted her dog Autumn (formerly Herah) a six year old Chow Pit mix, from the League four years ago and thought that volunteering at the League would be a great way to get her fix of animals without adopting another pet.
Thank you for all you do for the League, Natalie!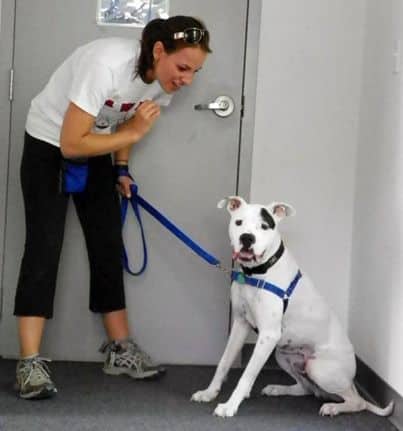 Kirsten Sides

Congratulations to Kirsten Sides our Volunteer of the Month for December!
Kirsten has been at the League since April 2009. She never had pets growing up, and decided to start volunteering to get her dog fix after falling in love with her first adult pet, a yellow lab named Marley. Kirsten was looking forward to learning more about dogs, meeting new people and giving back to the Arlington Community.
Kirsten began as a volunteer in the dog kennel, and has since become a dog walker, special events volunteer and trainer to incoming volunteers. She also helped create the AWLA Pit Crew and Walking Group, which has grown enormously and is now a great resource to dog owners all over Northern Virginia. Kirsten says that working in the kennels is the most rewarding of all her volunteer positions because she loves meeting the shelter dogs and connecting people with the perfect dog for their family. According to her, Thursday evenings in the kennel are a great stress reliever!
Some fond memories that Kirsten has of AWLA include working during the Snowpocalypse of 2010 when AWLA needed local volunteers who could get to the snowed-in shelter, being in Gaston's "flash mob" with her little sister, escorting Apollo to the first annual Golden Paw Gala, and being convinced to adopt her dog Vinnie after months of evening run 'dates'.
Outside of volunteering at the shelter, Kirsten is a defense consultant and she shares her home with her pit bull mix Vinnie, adopted from AWLA in February 2011, and her husband.
Martha Cogdell
Congratulations to Martha Cogdell who has been voted November's Volunteer of the Month!
In Martha's search for volunteer opportunities she looked at many wonderful organizations caring for the needs of animals, but found AWLA to be a very unique, special place.  She says, "The leadership, staff and volunteers generate an especially humane and loving culture that is welcoming and respectful."  As a representative of AWLA, she keeps that in mind during her work at the front desk even though situations can occasionally be sad or stressful.  Special events, however, are always fun for her and a great way to be a part of the team.  She particularly love contributing to the carnival atmosphere at the annual Walk for the Animals!  After three years she continues to learn new things and uses her previous career skills to add some value wherever possible.
Outside of her shelter activities, Martha has been volunteering with the Smithsonian Associates (program activities and bus tours) for over 12 years, supporting WETA weekly membership and occasional children's events, and chairing her condo Landscape Committee.
After saying goodbye to her 15 yr old kitty, Pipa, Martha adopted the 'buff brothers' (aka, Luther and Pickle) from the shelter.  In her words, "They have been her true loves this last year."   Martha says, "AWLA does appreciate the work of all volunteers.  It is an ongoing joy for me.  It's nice to be recognized!"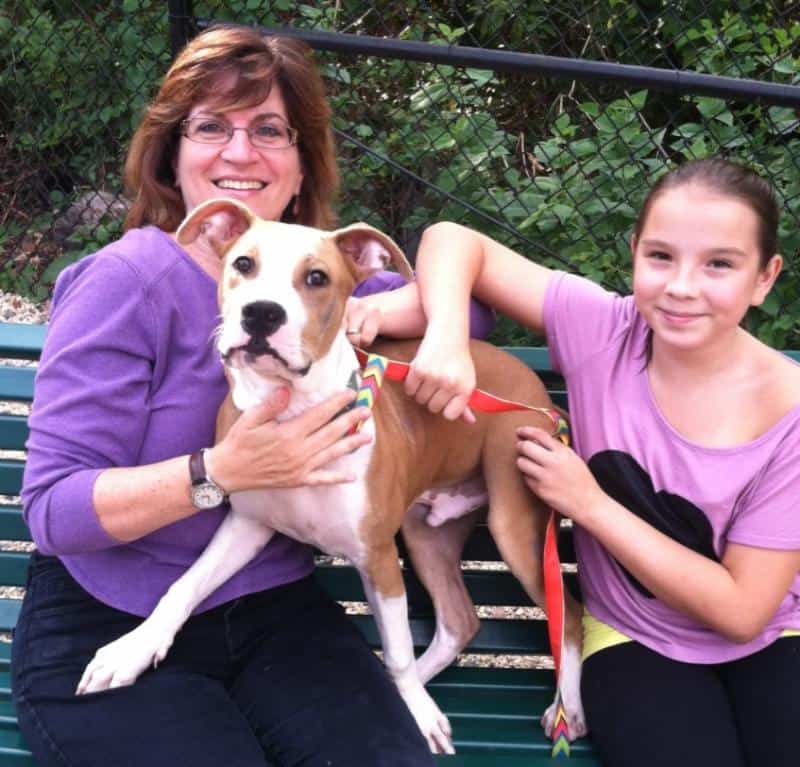 Barbara & Julia Adde
Congratulations to Barbara and Julia Adde – a mother/daughter pair who have been chosen as October's Volunteer of the Month winners!
Julia couldn't wait to turn 10 so she could become a Junior Volunteer at the League; and the two have been volunteering at AWLA together ever since then, two years ago. Julia has a deep love for animals and wanted to spend time with dogs, in particular. She dreams of being a veterinarian one day, and is especially interested in helping the mental states of dogs that have been abused. Both Barbara and Julia enjoy spending time with the dogs and other volunteers in the kennels, playing with the dogs, giving them TLC, and helping them develop good social skills so they can find forever homes. Helping lost wildlife get to some of the wonderful wildlife caregivers in the VA area has also been fun for the pair – they've met baby ducks, a bat, a crow, and even an opossum.
Barbara and Julia also often help at AWLA's special events. They love to hear about animals after they are adopted and see them in their new families. It makes it all worthwhile. A favorite story is from a recent visit; the pair was asked to help bathe four five-week old Border Collie puppies who had just arrived and needed to be taken into the shelter. They were a real stinky mess but Barbara and Julia had a lot of fun and then got to play with the cute little fluff balls afterwards.
Barbara and Julia have nine pet birds currently — two parakeets and two lovebirds from the shelter, and five zebra finches. They would love to have a dog, but Julia's dad is allergic to "everything cute and fluffy," as Julia says. Outside of AWLA, Barbara works for NASA and Julia is a 7th grade student.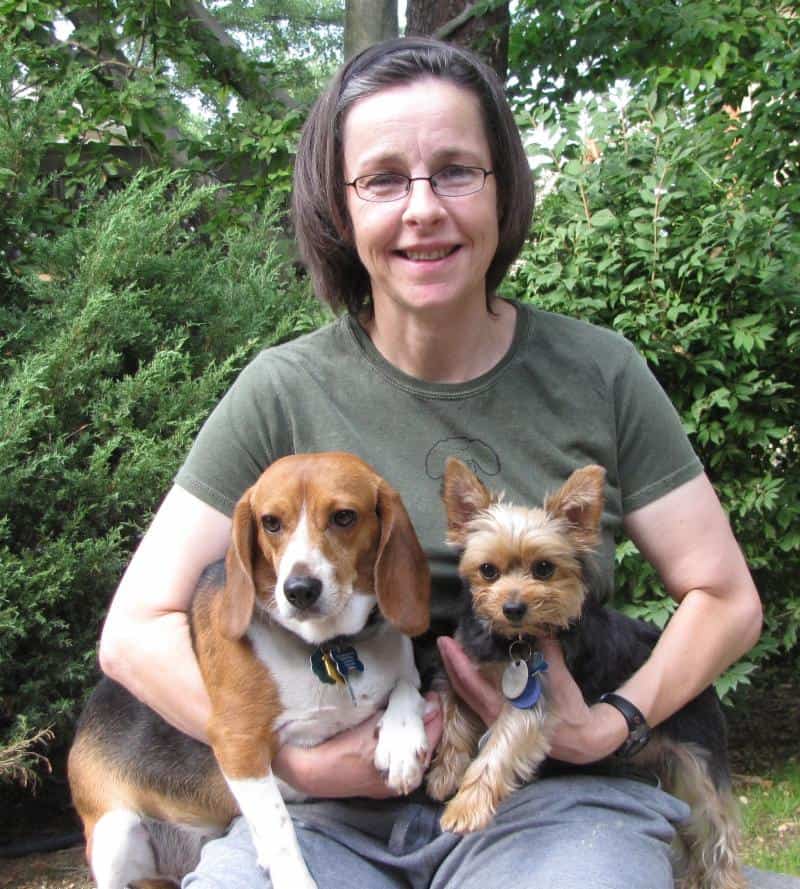 Ann Hinote
Congratulations to Ann Hinote, September's Volunteer of the Month!   Ann has been volunteering with AWLA for 12.5 years! She decided she wanted to be more involved at a shelter and wasn't traveling as much, so she landed at AWLA.
Ann is an enormous help to our employees, as she volunteers in the mornings doing dog scrub, cat scrub and small companion animal scrub. She has been doing dog scrub for the longest amount of time, so she says that is her favorite area – though she does enjoy learning about cats and SCAs! She enjoyed fostering for many years, though for now says that three dogs is enough in their home.
When asked what her favorite part about volunteering at AWLA is, Ann responded with, "It's so great to see how everyone who works here (and the volunteers too) do everything they can to get animals adopted and make their time here as happy and comfortable as possible.  It has been amazing to see all the innovation, creativity, and improvements that have occurred in the past decade."
Ann shares her home with three dogs: two beagles and a yorkie.  She just retired on July 1, 2013 from The United States Air Force Band in Washington, DC.  Thanks for being part of the team, Ann! We appreciate your dedication.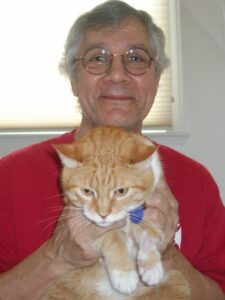 Lance Ludwick
We are happy to announce Lance Ludwick as the August winner of Volunteer of the Month!
Lance has been volunteering with the League since 2008. He began as a front desk and special events volunteer. After about a year and half, Lance moved to volunteering with data input and office work. You can usually find him here in the offices once or twice a week crunching numbers and doing anything else that is asked of him! He enjoys the office work and computer input, saying it helps to keep his mind sharp and challenged.
Lance's favorite part of volunteering at AWLA is the fact that it led him to meet his kitty, Patience. In October of 2008 Patience was found abandoned and badly injured, and she received the name Patience because of how well she tolerated the daily care she needed by the League's medical staff. She had quite a bit of complications with her injuries, but was finally healed enough to go up for adoption in January 2009. Despite being a "dog guy," Lance met her and immediately fell in love, and signed the papers to take her home immediately. Lance says that Patience is how AWLA has changed his life in a large way, and she is now the queen of his castle.
Thank you for all you do for the League, Lance! You are a wonderful asset to the team.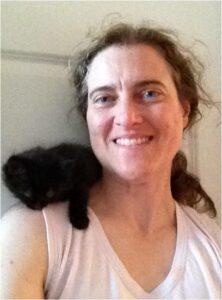 Margaret Pratt
Margaret has been volunteering at AWLA since December 2010. Despite an initial interest in working with the cats, Margaret became trained as a small animal handler after seeing the need for help in that area.
Margaret then went on to begin fostering for the League in an attempt to see what it would be like to have her own pets. She caught the fostering bug and since she started, Margaret has fostered 43 kittens and two cats. She reports that one of the hardest parts of fostering is bringing them back to get adopted, though seeing them grow and come out of their shell is the most rewarding aspect. Margaret has nursed many kittens back to health, and says she loves watching them get their playful personalities back. Margaret has two "foster failures" (meaning she loved them so much that she adopted the pair herself!) named Disco and Reggae who now play foster brother to any new cats she brings home.
In addition to volunteering and fostering, Margaret is also an active wildlife transporter for AWLA.
Thank you for all you do for the League, Margaret! We are lucky to have you on the AWLA team.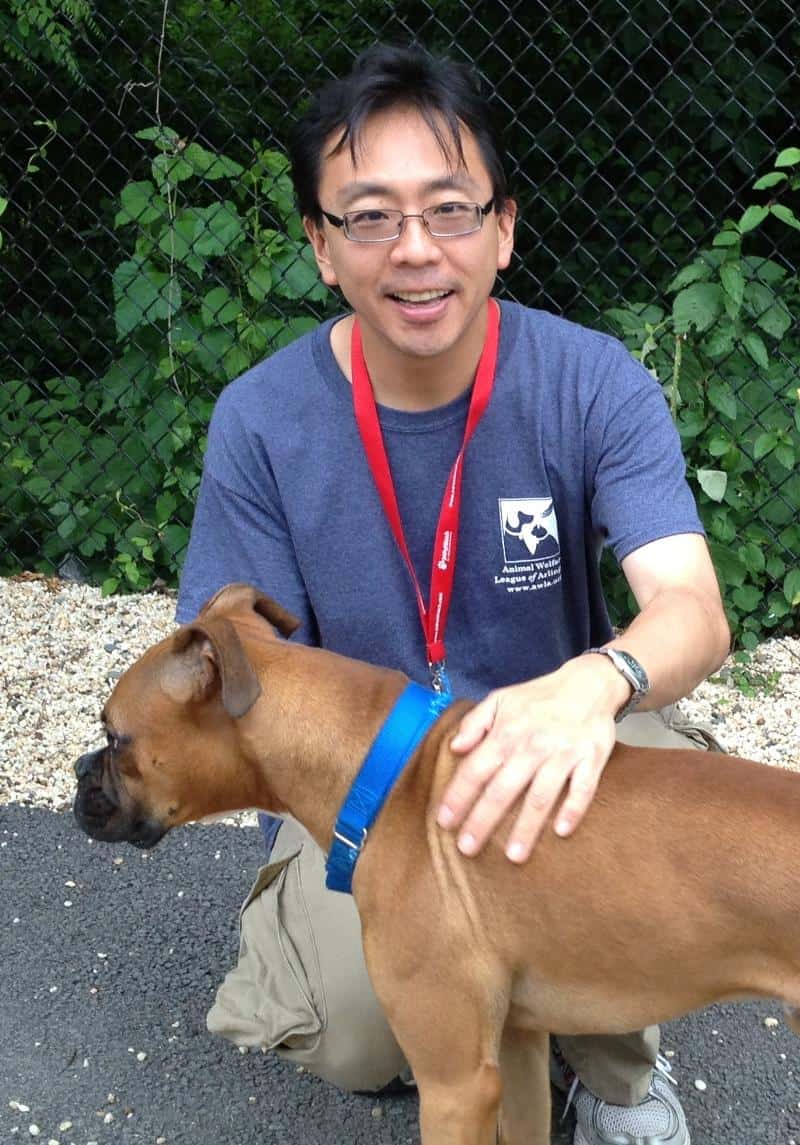 Ken Shirakawa
Ken began volunteering in memory of his late miniature Schnauzer, Quentin. Currently he doesn't have a pet, but is happily fostering Bailey, a sweet lab/shepherd mix.
In addition to fostering, Ken volunteers as a dog walker, kennel assistant and at the front desk. He says, "My favorite activity is dog walking since I can interact closely and familiarize myself with the shelter dogs. However, each area has its own rewards." As a kennel assistant, Ken enjoys watching how potential adopters start developing a bond with their new best friends. At the front desk, he sees many homeless pets transitioning into loving homes.
Ken's favorite experiences are the encounters with some of the unusual animals that sometimes come into the shelter, such as roosters and giant turtles. Ken has volunteered for almost 700 hours during the past 18 months.
Staff nominated Ken in part because he is one of the first to lend a hand without being asked. If he sees a need for showing a dog to a potential adopter, answering the phone or reviewing an adoption application, he steps right in to help. He has a friendly personality that people enjoy. On weekends he also brings in snacks for volunteers and staff!
Thank you Ken for all you do for the Animals!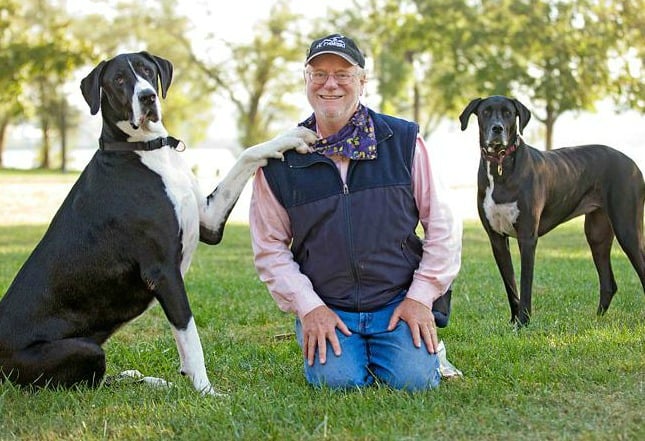 Gary Sturm

Gary shares his home with Ripley and Danny, bonded Great Danes who arrived lacking socialization skills to people or other dogs. Coming from a farm in West Virginia, the dogs had no experience with collars, leashes or indoor home life. Four years later, Gary's great patience turned them around. Working with his dogs inspired Gary's interest in helping the Animal Welfare League of Arlington.Gary visits the shelter to volunteer several days each week. Over the past two years he has accumulated almost 750 hours of time and we do put him to work! Among his many duties are kennel assistant, daytime dog walker, before and after hours dog walker, training new volunteers, Spay Day volunteering and special events.As many of you  know, Gary worked with Gaston, our shelter dog that won a contest for the title of Best in Shelter last summer. Gaston, lead by Gary, was featured in a video that won AWLA $50,000. Gary lists his very favorite volunteer experience as working with Gaston and is in awe of the dog's courage through the difficult training.
Thank you Gary for all you do for the Animals.