Volunteer of the Year
Gillian McPhee
Congratulations to 2017 AWLA Volunteer of the Year, Gillian McPhee!
Gillian has been as a Dog Kennel Scrub volunteer at the League for over 13 years. She began volunteering because she wanted to do something to help animals in her community and the 7:00 am time slot in the dog kennels was ideal for her.
She loves having the opportunity to spend quality time with the dogs during scrub before the shelter opens for the day. "The dogs are usually very happy to see me since I am the one feeding them! It's nice to get the kennels clean and shiny so potential adopters who visit will see a clean and welcoming space." Her favorite experiences are seeing animals, that have been here for a long time, find their forever homes. "There is an adopter out there for every animal; sometimes it just takes a little longer for some animals to find their people."
Outside of the League, Gillian is a corporate lawyer and is also a member of the Virginia State Council of the Humane Society of the United States where she helps advocate for animals at the local, state and federal levels. "I am particularly passionate about the work HSUS does to end factory farming and improve conditions for farm animals that are raised for food." Gillian and her husband have three white and orange cats, including a "tripod."
Congratulations again Gillian, we can't thank you enough and we appreciate all that you do for the League!
Previous Honorees
Pat Romano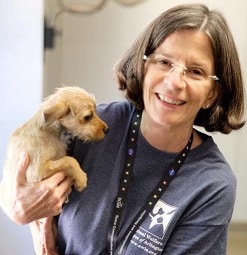 Congratulations to our 2016 AWLA Volunteer of the Year, Pat Romano!
Pat is a long-time League volunteer and a former Board member. She began helping as an afternoon dog kennel assistant and a morning dog scrub volunteer. Once she retired, she expanded her volunteer role to include front desk/adoptions counselor, special events and the Pawpurrazzi photography team.
"I enjoy everything that I have been involved in at the shelter. The thing that I love the most is the dedication and compassion of the staff for all the animals that come through the front door. Some animals come to the shelter that are sick or that have physical or behavioral challenges. The staff goes to the end of the earth to improve the animal's condition or behavior so that they can be adopted. So you might say that, I enjoy seeing the animals come in the back door, watching them change (health, physical or behavioral) for the better and walking out the front door to their new forever home. It is a joy to see the smiles on the adopter's faces and the joy in the animal's eyes."
If you ask Pat, she has many stories to share about her volunteer experiences at the League; but one that stands out is the hound mix that could open doors. He was an escape artist. One day she was cleaning kennels and Pat let him out in the back yard so he could do his business. As she was mopping, she felt something behind her. She turned around and there he was sitting there looking at her. She thought "How did you get in here? I just let you out." She let him out again and watched through the window as he opened the door with his paw to let himself in again.
Pat has two Border Collies that she trains to work sheep. She goes to a local farm to work sheep and competes in area sheepdogs trials. She has had Border Collies all her life and has been training for about 25 years.
Congratulations again Pat, we really appreciate your long-time dedication and all that you do for the League!
Marnie Russ
Marnie Russ has been volunteering with AWLA for nearly 10 years. She had started her own lobbying firm and was working from home, so decided to help out in the cat room during lunch breaks. At the time, AWLA was just starting up our foster program, so Marnie decided to give it a try and fell in love with fostering, especially with the fragile bottle babies! This led to Marnie becoming completely enthralled with sheltering, spay/neuter, and the development of foster programs. She even began working with and befriending vets who could help her with critical neonate cases. While it was hard, and there were some unfortunate losses, she certainly learned a lot.
From there, Marnie began to mold her professional life around helping animals. She started working with the federal relations division of the ASPCA, traveling to developing countries to assist in spay/neuters to under-served areas, as well as joining Feline ORE and traveling to shelters all over teaching about neonatal care. She says that she owes it all to AWLA!
And AWLA owes a lot to Marnie! Marnie completed her 100th foster this November! She has fostered over 60 animals in 2014 alone, including bottle babies and pregnant or nursing mothers. Marnie has been a spectacular member of the AWLA foster team and many animals have thrived and gotten their forever homes because of her care and compassion.
She currently splits her time between Arlington and Montana, working with shelters and rescues in both regions. When home, she loves to spend her time with her pets, a rescue dog named Skeeter, a kitten who was born without back feet named Wobbels, and her first 'foster fail' kitty named Barry.