Check out some awesome AWLA Alumni Updates!
We love getting updates from pets and their families! Do you have an AWLA alumni story to share?
Julie
Adopted August 2020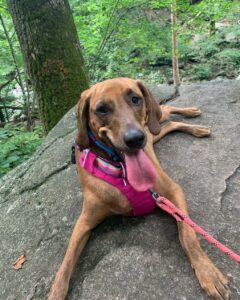 We were told that Julie and her littermates were just transferred from a rescue partner in WV and needed loving forever homes. We were originally there to adopt her brother, Dexter, but once we saw her little face and how she acted towards the both of us she was impossible to resist! Now Julie is a young, sassy, and absolutely adorable 2 yo with an adventurous spirit. We go on hikes almost every weekend and currently are trying to visit all VA state parks.
She is a very beautiful Redbone Coonhound/Plott hound mix and has grown so much over the years. There could not have been a better addition to our family. ~ Lindsey
Star
Adopted January 2022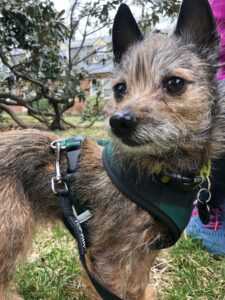 "Idgie (formerly Star) is the BEST! She is a sweet, gentle, loving, affectionate, smart, totally weird, totally funny, trainable little pup, and I adore her. I adopted her knowing that she may not be house-trained, but she has had only ONE accident and that was on her very first day in her new home (which is totally understandable)! I normally wouldn't change a dog's name, especially one who was over 10 years old, but she didn't know her name, so I named her after Idgie Threadgoode from Fried Green Tomatoes, who is also small, scrappy, and spunky. She also didn't know simple commands like sit or stay, and now she does them beautifully. Day by day, little Idgie has become more confident and certainly more at home. She loves to steal my socks and hide them under my sheets or in between my couch cushions. I'm so, so happy that she is now forever in her new home -- her only home -- for the rest of her life. " ~ Katie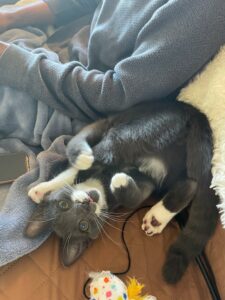 Rafa
Adopted July 2021
"We are so excited to give you an update on our little guy, who is not so little anymore! We walked into the shelter with several kittens in mind for adoption. When I began asking about them, they had all been adopted. But then, our lovely adoption counselor said there was a kitten named Rafa, who had been returned that very day due to "excessive meowing". My husband and I wanted to see him right away. We took him home that same day, and we are happy to report we love him more and more every day! Rapha is so playful, cuddly, and wicked smart! His favorite activities include: birdwatching, fetch, belly rubs, more fetch, biting our toes under the covers, laying on mom's chest in the middle of the night, following mom everywhere, hiding in our Christmas tree, and "playing dead" when we aren't giving him enough attention." ~ Jennifer
Sam
Adopted November 2021
"Sam is doing great! He loves going for walks along Four Mile Run and around the Douglas Park neighborhood. He is becoming known as "Bow Tie Guy" for the fancy plaid bow tie he is always sporting on his collar. At night, Sam loves to burrow in the fleece 'snuggie' blankets on the couch with us while we watch TV. His favorite toy is a long green snake, or our socks if we leave them on the floor by accident. If we are missing a sock, we can always find it in his bed...soggy and hairy! Despite his advanced age (15), he's always ready to go on an adventure. He will never pass on a car ride! It doesn't matter where we are going. He wants to be by our side! We are so lucky to have found Sam at AWLA. It's as if he has been a part of our family forever! We are so happy that we get to spoil him rotten in his golden years!
"
~ Sharon
Blanche
Adopted May 2021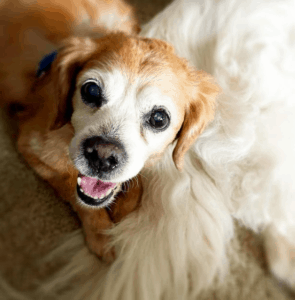 "Blanche came to AWLA sometime in springtime and it was determined she was about 13 years old with Cushing's Disease. For a few weeks I would go on the AWLA page and see that Blanche was still at the shelter. Knowing she had Cushing's Disease broke my heart as my previous dog had that and I didn't want her golden years to be spent in the shelter due to her medical conditions.
We fostered Blanche in May and only had her for two days before calling AWLA and asking to adopt her. When we got the call we were approved, we were at a pet friendly restaurant with Blanche. As soon as we got the great news, we ordered her two chicken breasts on the "fido menu" to celebrate the adoption.
Moving forward a few months now, Blanche is one of the crew with our other dogs. She made her way into the hearts of not only us, but our other dogs very quickly. She enjoys her bed with the blanket. She loves walks with her sister, a Golden Retriever. She loves to eat and we spoil her with pancakes, cupcakes, fruit, peanut butter and whip cream.
She is living her best senior life with us and is always smiling from the time she wakes up to the time she goes to bed. She's a very active dog, you would think she's 5 and not 13 years old. She plays with her sisters and brothers and loves watching them play from the comfort of the couch. Thank you for blessing us with Blanche! She had completed our family.
"
~ Sabrina
Sera
Adopted July 2020
"My brother tagged me in a post about Sera early in July but I figured, she was so cute, she'd get adopted no problem. When I saw another post about 2-3 weeks later with her still looking for her furever home, I reached out about adopting her. Sera is the sweetest cat I've ever met. She's snuggly and silly and playful, and I'm so happy I decided to adopt her. She's kept me company during a very rough year. She's always cracking me up playing with her ball track toy, and then sleeping on my lap in the evenings. She's the best behaved cat I've ever known and steals hearts left and right with her adorable face and cute little chirpy meow.
"
~ Caroline
Maisie
Adopted April 2021
"Last January, we lost one of our beloved cats suddenly. We were so saddened by her passing that we were not sure if we would get another cat. We said that we would wait until June and give us all time to heal. And then the pandemic hit!
We felt it was the right time to find the missing piece to our family. We did meet other cats....but then we "zoomed" with Cherry!
We decided to call her Maisie, since she is aMAISing!
Maisie loves to look out the window and watch birds. She enjoys lasers, cat springy toys, but mostly the boxes they come in! She is the most gentle, kindest, sweetest cat ever who just wants to be near people, squeaks when you come home and purrs all the time (even when she sleeps). 
She completed our little family and makes us smile during a very difficult year!
"
~ Heather
Wesley
Adopted July 2019
"My boyfriend and I adopted Wesley as a kitten from AWLA in the summer of 2019 and since his 2nd birthday is around the corner I just thought I'd share an update. He is the most snuggly, sweet and social fluff ball there ever was. Every time he meets someone new or goes to the vet everybody tells me how tolerant and loving he is. He and his brother Lawrence are best buddies for life and though he is technically no longer a kitten, he certainly still acts like one! He has brought infinite joy to our lives and I cannot thank you all enough for everything you do!" ~ Cynthia
Teddy
Adopted April 2020
"
I must start off with saying Teddy has given me and our family great joy. Teddy developed a heart condition and he had to be rushed to the vet and they were able to stabilize him. I am super excited to say that our Teddy Bear is now safe and healthy.
He has definitely learned to love us and he enjoys when we play with him.
I love the happiness he has brought us. Teddy is not a pet but more like our baby. We have official named him Teddy Bear.
"
~ Lesly
Rachel
Adopted November 2008
"
I adopted Rachel over 12 years ago! Since then we have moved to Vermont and she loves it here. Even though she is the smallest dog in my home she is the first one in line for breakfast and dinner. She's a big dog in a little body.
"
~ Tina
Wren and Ahsoka
Adopted February 2021

"Wren and Ahsoka have adjusted beautifully to their new home and we remark often that they are the perfect additions to our family. They visit each of us in our home offices/virtual learning spaces throughout the day and each of us gloat when our space gets chosen for an extended visit, nap, or cuddle. The girls are growing fast and getting so strong! We enjoy seeing them make new leaps into windows to birdwatch and achieve acrobatic feats chasing their feather toy when it is airborne. They have excellent manners for such feisty kitties and we can't imagine our lives without them. We are forever grateful that they had such excellent early care and a wonderful foster home". ~ Kelly, Dan, James, and Calvin
Tiger
Adopted June 2021
"
Tiger is doing GRRRRRREAT in his new fur-ever home! He's eating, sleeping and playing well.  He's also ridiculously patient with the girls.
It's funny, my husband bonded with him the most and they are best buds. Play all of the time. Tiger especially loves his circus tent and flips it over to roll it around the room.
Thank you for bringing him into our lives.
".
~ Jessica
Thor & Loki
Adopted April 2021
"Thor and Loki are great! They are so sweet and cuddly. Thor loves being held, he is constantly squeaking and licking my face. And Loki loves climbing on my shoulder and being pet. Both of them absolutely love their hay and carrots, whenever I get their food ready they are squeaking and begging at the edge of the cage. Thank you so much for helping me adopt them! They are truly the light of my life!"
~ Olivia
Cali
Adopted December 2019
"Cali was about four months old when we adopted her. Of all the cats my daughter had been trying to play with, Cali was the most sociable. Most of the other cats and kittens were understandably shy. But Cali was happy to play and sit on her lap. So we brought her home that day. Little did we know that by March 2020, the entire country would be in lock-down from COVID-19. So our timing couldn't have been better. For her and for us.
She adjusted to her new life at home really quickly. The first night, Cali hid under the couch. But by the next morning she was out and ready to play. Now Cali is approximately a teenager in human years. She's chilled out from her frantic kitten stage and settled into her lazy stage. But she still likes being close to her humans. She will follow us and sit at our feet while we telework or attend virtual school. She'll remind us when it's time to eat with gentle head nudges. And then sleep in the bed pretty much all night, unless there's a rain storm which makes her anxious. I don't know if cats can feel love like humans can, but it's quite clear to see how much she trusts us with her care, her health, and her safety. And really, isn't that the essence of love?" ~ Dan, Hannah, and Zoe
Cassie
Adopted March 2020
"We brought her home on March 16th, the day our offices went into indefinite telework due to COVID. She has been an absolute delight, bringing us more joy than we could have known! She loves riding around town in her bicycle with her doggles on, hiking in the park with her humans, and attempting to steal butter off of the kitchen counter. We are so thankful to have her in our lives -- we hope she knows how much we love her!! " ~ Vieshnavi & Tim
Thor & Loki
Adopted April 2021
"Thor and Loki are great! They are so sweet and cuddly. Thor loves being held, he is constantly squeaking and licking my face. And Loki loves climbing on my shoulder and being pet. Both of them absolutely love their hay and carrots, whenever I get their food ready they are squeaking and begging at the edge of the cage. Thank you so much for helping me adopt them! They are truly the light of my life!"
~ Olivia
Rocky
Adopted November 2016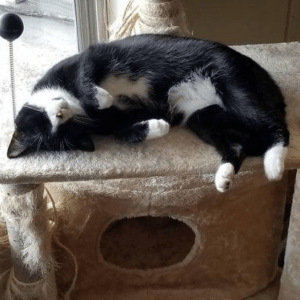 "The Sunday after Thanksgiving my husband showed me a pic of a sad-looking tuxie kitten who was named
Midka
at the time. She was a wee thing who apparently hated other cats (still does!) and was mostly not a fan of humans either due to not having a great first few months of life. She was given to your shelter because she was "not affectionate". Our first meeting was basically us trying to coax her out of the corner. We decided she needed us as much as we needed her and took her home on the spot.
Four years later,
Midka
now goes by Rocky the Flying Wonder Cat, Rocky for short, and has turned into the sweetest and most curious and ornery kitty I've ever met. She is spoiled rotten, follows me room to room, plays nonstop, and lights up my life every day. Her favorite activities are laying in the sun, running up and down our stairs at full speed, screaming for treats. and plotting the demise of the birds and squirrels on the other side of the screen in the backyard.
Thank you so much for saving this little girl and giving me my best friend".
~ Andrea
Jodi
Adopted January 2021
"Jodi is doing great! She's super playful and active, she has made very good use of all the toys we got her, and she loves to go out on long walks and play fetch outside. She is SO smart and curious, always observing and investigating everything! She's also the best cuddle buddy ever! She loves to be around us, and will often fall asleep on your lap (I jokingly rocked her while singing once and she - no kidding - fell asleep right there). We love her so much, and we're so grateful for AWLA for rescuing her and trusting us to be her forever home. She has transformed our home in these few weeks and I can't imagine not having her around!" ~ Talita
Poppy
Adopted April 2021
"Rosario (now Poppy) is doing wonderfully! She is learning all her commands and loves her long walks and playing with her doggy friends. She has grown from 27lbs to 34lbs. Her favorite places are Teddy Roosevelt Island and the birding and wildlife trail down the street. She is a total cuddle-bug and super popular in my apartment building and the neighborhood (I get recognized as "Poppy's mom"). I love her so so much and am so grateful to all of you at AWLA for making the adoption process so easy, for all the resources, and the support!" ~ Lauren
Emma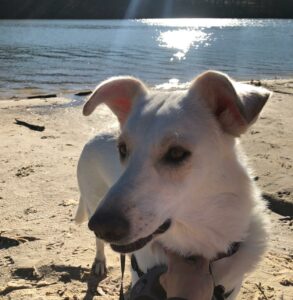 Adopted September 2020
"Emma (formerly Freya) was a dog rescued from the Beirut port explosion.  She and her puppy had also been shot by BB guns and had to undergo surgery before traveling to the US to find a home.
When I first took Emma home, she was understandably timid and anxious. So much so that she needed medication to help her calm down and sleep. When she ate, she wolfed her food down like it may be her last meal. We would reassure her that her food dish would always be there for her and silently my heart broke knowing what she had been through and how hard she must have worked to protect her puppy as well. She was also a jumper - she would try to pounce on every person we passed. We walked her three times a day, and over time, her confidence grew - her tail started to wag. She loves being outside and going on adventures.
Emma doesn't miss a thing. Sometimes, after we've stopped to sniff for what seems to be the hundredth time, it's easy to get annoyed. I quickly learned how helpful that trait was during a hike with her. We were up in the mountains on a new trail, and I became lost. It was getting dark and I tripped on some rocks and fell, dropping her leash. Emma immediately doubled back, sat with me patiently until I got up, and then very confidently led me out of the woods in the dark. All that sniffing had paid off. Even now, she notices every detail of things around her. Her intelligence keeps me on my toes!
Our bond has grown since then, and she is now a completely different dog. She prances and wags her tail as we walk. Neighbors say hello to her when they pass and she greets them with a goofy grin and stands to get her ears scratched. She makes new friends at the dog park and absolutely loves kids. Emma even gets along with our cats. She enjoys the trails, tries to chase the deer, squirrels, and rabbits, and loves playing on the little beach by our lake. She is full of joy. Many heartfelt thanks to everyone who helped her along her journey to find us. She was absolutely worth it and we are so grateful to have her in our family!"
~ Allison
Astro
Adopted February 2020
"Astro is the most loving and affectionate boy with us. He's very shy with strangers, but his food motivation is slowly but surely helping us to bring him out of that shell. Astro has mastered his off-leash skills and loves running around in large fields. He's perfected tricks like paw, high five, crawl, and even the all too entertaining finger gun/play dead. He's made close friends with his dog pals and loves going to dog parks to say hello!
Thank you for giving us the opportunity to welcome him to our home. Our little family is so much happier with him around!"
 ~ Phillip & Emma
Kahlo 
Adopted November 2019
"Tiberius (formerly Kahlo) came from a hoarder's house. The pictures you showed us of his former home, where it seemed he was living in a filthy cage, are unfortunately seared into our memory. Since we brought Tiberius home, his fur has grown into a gorgeous long coat and he has come out of his shell. He is incredibly playful! He has after-dinner zoomies and every night we fall asleep to the sound of him hunting his squeaky toys. As pictured, he especially loves playtime with catnip. When he isn't playing, he spends his days lounging on our guest bed -- which he has made his own."
 ~ Sofia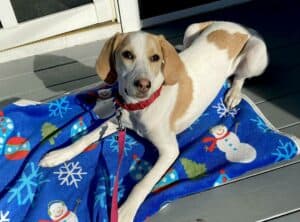 Stevie
Adopted September 2020
"There is nothing that moves that is not of great interest to Sadie...leaves, bugs, Christmas decorations, shoelaces, people, squirrels, birds, deer, cats and dogs. She was 25lbs at adoption and is now closing in on 40lbs, and is a focused student, mastering find it, high five, take a bow, sit, down, and pray."
 ~ Gary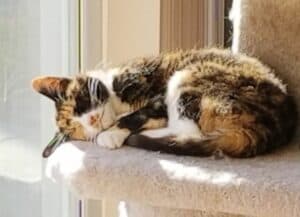 Venus
Adopted March 2003
"I wanted to show what 17.5 years of love and caring looks like. I adopted Venus from you in March 2003. I took this picture last week. She turned 18 a few weeks ago."
~ Phil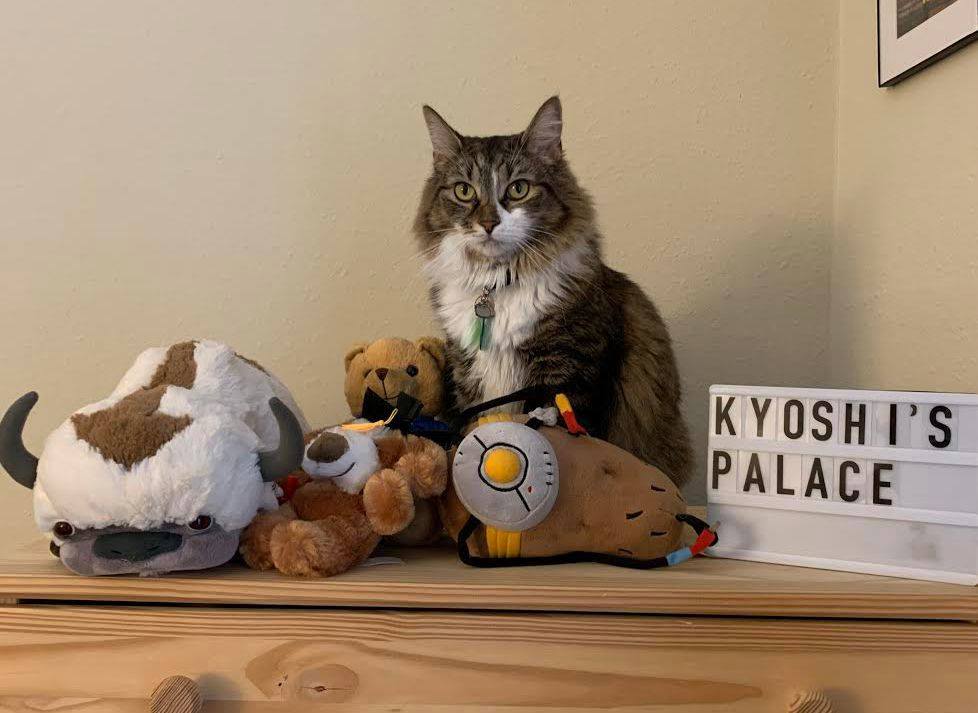 Kyoshi
Adopted May 2020
"I hadn't planned to adopt a cat this year, but when I saw Kyoshi, I couldn't pass up the opportunity of bringing her home...although she was initially a bit anxious, Kyoshi became more confident and playful in just a couple of days as she grew used to her furever home. Then, my brother and I slowly began introducing her to his cat Cersei (formerly Goose, another AWLA Arlington alum) once she became comfortable. It was a long process, but working remotely helped us monitor their progress and give them space when needed. They are now pretty much besties who will chase and wrestle each other, or watch birds and people pass by the window. I've even caught Kyoshi licking Cersei's head a couple of times, particularly to comfort her when there's a thunderstorm.
Kyoshi is a pretty laid-back cat who will fall asleep anywhere, with her fluffy belly up most of the time. She LOVES food and treats and is especially vocal in the mornings, when she'll jump on my bed, start chirping, and lick my hand or nose so that I can wake up and feed her. When I lean down toward her face, she'll often give me a "kiss" by rubbing her nose on mine.
It's safe to say that adopting Kyoshi, particularly during these difficult times with the pandemic, was a great decision. She has no idea how much joy she brings me, and I hope she knows how much she's loved."
~ Kiara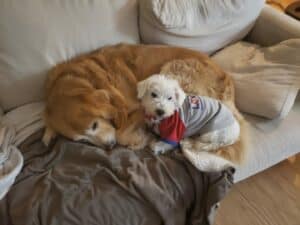 Taffy
Adopted September 2019
"Frankie, aka Taffy, is really taking to his new home and adjusting very well! He is another mommas boy. This is him taking a nap, while his mom washes all of the dog hair out of the couch covers. So glad we were able to take Frankie home and he is able to live out his senior years in peace and happiness!"
Gunther
Adopted January 2019
"My boyfriend and I adopted Gunther from you all earlier this year, and he has been nothing but an absolutely perfect sweetheart. He's snuggly, docile, playful, engaging with treats, just a wonderful spirit that has made our lives better. He's in good hands and we thank you for all you do"
~ Alexandra