Paws & Read at AWLA
Reading to pets is a very rewarding activity for kids and pets alike! Your child can improve their literacy and help shelter pets relax and socialize through our reading programs.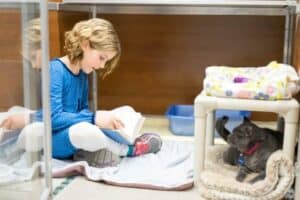 Paws & Read
Children and young teens from kindergarten through eighth grade are invited to "Paws and Read" with our adoptable cats and small companion animals. This is a free program - simply sign up for a session below, check-in when you arrive, and start reading!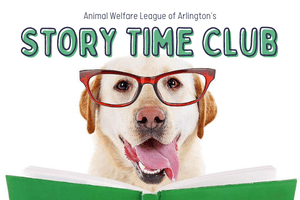 Story Time Club
Children aged 4-6 are invited to join us at the shelter for a very special story time! During each story time, a special guest reader and unique superstar pet will read aloud a couple of fun picture books and provide time for safe interactions! We'll wrap up each club session with a visit to our adoption areas so that each child can read a couple of shelter pets for 15 minutes for one-on-one sessions to work on their own reading skills! Fees are $12 per family.
*There will be no refunds for Story Time Club. In the event that AWLA cancels the event for any reason, we will do our best to reschedule it to a later date. Childrens' parents or guardians must be in attendance at all times.
If you have any questions about the Paws and Read program, please contact Karyn Orth, Youth Programs Coordinator at
(703) 931-9241, ext. 277 or korth@awla.org.