AWLA Hosts Regular Vaccine & Microchip Clinics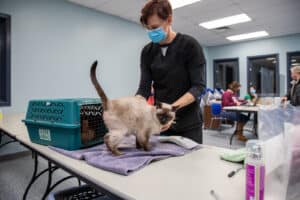 Clinics are held eight times a year for any and all pet owners in need of low-cost vaccines and microchips. We currently offer rabies and distemper (DAPPv and HCPCh) vaccines as well as microchips. These clinics are by reservation only. You must sign up in advance for a designated time. Sign-ups for each date will open a week before the clinic date.
Rabies shots are $15, distemper shots are free, and microchips are $35. Payment for services is due at the clinic.
Additional Information About Rabies Vaccinations
Virginia law requires that all dogs and cats four months of age and older have a current rabies vaccine. Please bring proof of a prior rabies shot (a rabies certificate, not a tag) to get a three-year rabies shot. Without it, your pet will receive a one-year shot. All dogs must be on leashes and cats must be in carriers.
Additional Information about Distemper Vaccinations
The DHPP vaccine - Distemper, Hepatitis, Parainfluenza, and Parvovirus - is commonly referred to as the distemper vaccine. It is a combo vaccine that protects against all four of the diseases in its name.
Additional Information About Microchipping
Give your pet the protection of a 24PetWatch MiniChip. Each year thousands of lost and abandoned animals are taken in by shelters and humane societies across the country. Some of these animals never make it home because they cannot be identified. Microchipping offers the only truly permanent method of identifying your pet and linking the animal back to you, the owner.