AWLA has been selected to be a Partner Organization of the Human Animal Support Services (HASS) project. This international coalition is designed to transform the Arlington County, VA shelter system with innovative solutions and community-based programs.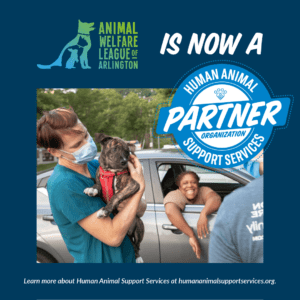 During the COVID-19 pandemic, organizations across the country were embraced by their communities who fostered pets, adopted, helped lost or found animals get back to their homes and identified new resources to keep people and their pets together.  AWLA will provide a range of services and solutions to better support the people and pets of the Arlington community. These include remote services like lost animal return-to-owner initiatives, foster care programs, behavioral and training services and much more.
AWLA is among an elite group of progressive shelters to become partner organizations. Other partner organizations include: LifeLine Animal Project (GA), Cabot Animal Services (AR), Charlotte-Mecklenburg Animal Care and Control (NC), El Paso Animal Services (TX), Fresno Humane Animal Services (CA), Greenville County Animal Care (SC), Humane Rescue Alliance (DC & NJ), Kansas City Pet Project (MO), Los Angeles Animal Services (CA), Oakland Animal Services (CA), Pima Animal Care Center (AZ) and San Diego Humane Society (CA), just to name a few.
"We are honored to be part of this collaboration of innovative shelters having goals so closely aligned with
our community vision," says Sam Wolbert, CEO. "Arlington will join a fantastic roster of elite cities in this initiative that are paving the way for a new model of animal sheltering in the U.S."
"We're bringing thought leaders and experts in fields like human social work and public health alongside animal welfare researchers to create the community animal support centers of the future," says Kristen Hassen, Maddie's® Director of American Pets Alive! and the HASS project. "The impacts of COVID-19 have accelerated many organizations' efforts to modernize animal services and we are excited to see many more animal shelters dedicate their energy to accomplishing this urgent goal."
HASS is led by American Pets Alive! and powered by partners including Maddie's Fund®, the Rachael Ray Foundation, South Fork Foundation, Michelson Found Animals Foundation, and Petfinder. For more information about HASS, go to humananimalsupportservices.org.