Event Details
April 30 / 12:00 am
-
May 7 / 12:00 am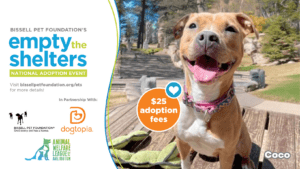 It's time to Empty the Shelters!
From April 30-May 7, AWLA is offering $25 adoption fees for all cats and dogs thanks to Bissell Pet Foundation! Standard adoption policies and procedures apply. Puppies and kittens under 6 months old do not qualify for this promotion.
BISSELL Pet Foundation's "Empty the Shelters" event is the largest funded adoption event in the country. With a goal of encouraging more families to choose adoption, this lifesaving effort has helped nearly 118,000 pets find loving homes since 2016. "Empty the Shelters" is BISSELL Pet Foundation's largest program, partnering with a total of 541 animal welfare organizations in 47 states and Canada to reduce adoption fees.