Event Details
January 28 / 12:00 pm
-
January 29 / 4:00 pm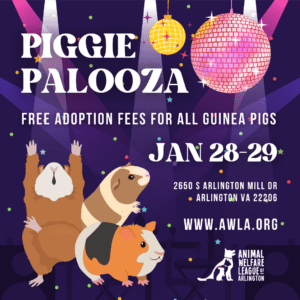 It's a Piggie Palooza at AWLA!
Find your newest fuzzy BFF during our Piggie Palooza party! We are full to the brim with guinea pigs, so AWLA is offering FREE adoption fees for all of our adorable piggies!
When: Saturday, January 28 – Sunday, January 29
Where: 2650 S Arlington Mill Dr, Arlington VA 22206
Standard adoption policies and procedures apply.