Foster Program
AWLA Foster Program
AWLA Foster volunteers have helped thousands of animals over the last 13 years. Temporarily caring for an animal in your home allows our shelter to take in more animals that need help. In-home care by a dedicated foster parent also offers the individual attention that is just what our most vulnerable animals need. Foster parents are special people who selflessly open their homes to give animals a new chance at life.  This is not an easy task, but the impact on animals is incredible.
There are hundreds of kittens, cats, puppies, dogs, and small companion animals each year  who need our help. As a foster volunteer you may host animals with special medical or behavioral needs, mother animals with nursing litters, or orphaned animals who need special feeding and socialization, like puppies or kittens. By fostering animals you are directly preparing them for adoption into loving homes.
If you have room in your home and in your heart, please consider becoming a part of our team. The League provides all supplies, there is no minimum time requirement, and we are happy to help people find their niche. Fostering offers you the opportunity to volunteer in the comfort of your own home as many or as few times throughout the year as you'd like.
To apply to be a foster volunteer, please download and fill out our foster application, and then email to our Foster Program Coordinator at foster@awla.org. If you can't foster right now but want to help, please donate items from our wishlist.
---
Ringworm Kitten Foster Program
Do you have a spare bathroom you never use? Do you LOVE spending time with kittens and cats? We're in special need of foster families to be a part of our new foster program and help us care for kittens and cats with ringworm! Ringworm isn't nearly as scary as it sounds – read on to find out more about our new foster program and how you can help us save lives!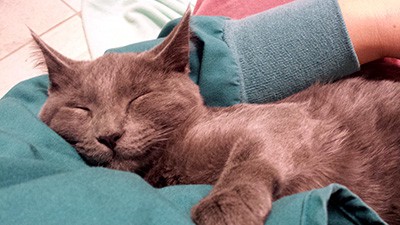 What exactly IS ringworm?
It is NOT a worm, as the name may lead you to believe! Ringworm is a fungal infection that affects the skin, hair, and occasionally nails of animals (and people). It is very closely related to athlete's foot found commonly in humans. It typically manifests itself on kittens (and sometimes adult cats) as areas of hair loss and patchy skin on the head, feet, or tail. While ringworm is a zoonotic infection – meaning it can be passed between species – it most commonly affects young animals and those with suppressed immune systems. Younger kittens' immune systems are not fully mature, and they are notorious for not grooming themselves well, which is why we tend to see ringworm more often in kittens.
Ringworm is not as difficult to handle as it might sound, and our Foster Coordinator and Animal Care Team will be here to support our fosters every step of the way!
Why does AWLA need ringworm fosters?
Our foster families are lifesavers! While ringworm treatment in a home is pretty straightforward, it's not so easy to treat in a shelter environment. Sadly, many shelters across the country euthanize kittens that are diagnosed with ringworm, an easily treatable condition. Well, not here at AWLA!
We have been treating kittens and cats for ringworm for quite a while here at AWLA, but because ringworm can spread quickly in the close quarters of a shelter, the kittens have to be isolated for 3+ months in a special room while they receive treatment. This sadly limits our contact with them since we have to handle so many other animals each day. We know that this lack of attention and socialization for such long periods is difficult for them. The stress of isolation can also cause their immune systems to weaken, meaning it takes their bodies longer to recover from the fungus. We know that these kittens and cats would be so much happier if they were being treated in a warm, loving home – just like yours!
What Do I Need To Foster Ringworm Kittens?
An extra bathroom, utility room, or other space that can be easily cleaned with bleach.
Be able to bring your fosters in once a week (Tuesdays or Fridays) for lyme dips (a topical sulfur treatment).
Be comfortable giving your fosters oral and topical medication.
Household pets must be kept separate from foster kittens and cats.
Patience – you don't have to limit the amount that you handle kittens and cats with ringworm, but you need to take extra precautions when handling them.
Lots of love and affection!  These kittens need just as much love and socialization as the next kitten, they just happen to require a different kind of care.
What Does AWLA Provide?
Food, litter, litterbox, toys, and any other supplies you need!
Medication (oral and topical).
Instructions on the treatment process.
Support from the medical and foster staff every step of the way!
Kittens! Cute, fluffy, adorable felines! (And if you prefer laid-back, grown-up kitties, we occasionally have adult cats with ringworm that need a foster home too!)
I'm Interested! How Do I Sign Up?
Fill out our foster application and email it to foster@awla.org! If you have questions about the program and how you can help, don't hesitate to send us an email!
*Those with compromised or low immune systems or very young children should not participate in the Ringworm Foster Program. However, please let us know if you are interested in being a part of our regular foster program!*
---
"We started fostering in 2006, after losing our 19 year old and 16 year old cats a few months apart. Since then, we have fostered over 200 kittens, quite a few of them being bottle babies. It can be trying, getting up to feed in the middle of the night, running sick ones to the vet, cleaning up messes, and the worst, losing sick kittens. But even after all of that, the rewards of saving the sick ones, getting to see them grow up and go to loving homes, getting "kitten fixes" after a bad day… make it so worth it.  I think it's about the most rewarding thing I have ever done. And yes, a wee bit addictive." —— Jamie N.
"It's been a pleasure being a foster parent to many kittens from AWLA.   I've fostered so many different types of kittens:  older kittens, very young kittens, various colors and different personalities.  All the kittens have one common thread – they are happy to have a safe, fun and loving environment to explore while waiting to move on to their forever homes.  The kittens will reward you each day by purring, sitting on your lap or playing with you whenever you have time for them.  When I return them to AWLA,  I watch for their picture to be added to the adoption website.  It's a better feeling when I see their picture removed because they were adopted!  AWLA provides the support that you need to make fostering kittens an easy task.  They are always available to help in any way."  – Kristina N.
"Fostering has been great for me because I travel so much for work that I'm never sure from one month to the next how many weeks I'll be in the country.  Fostering has been great because I can love a pet for the short time that I have them, but don't have to feel guilty that my own pet isn't getting enough love and attention because I'm gone for so long. " –Katie M.