On Valentine's Day 2020, we received an urgent message from one of our rescue partners...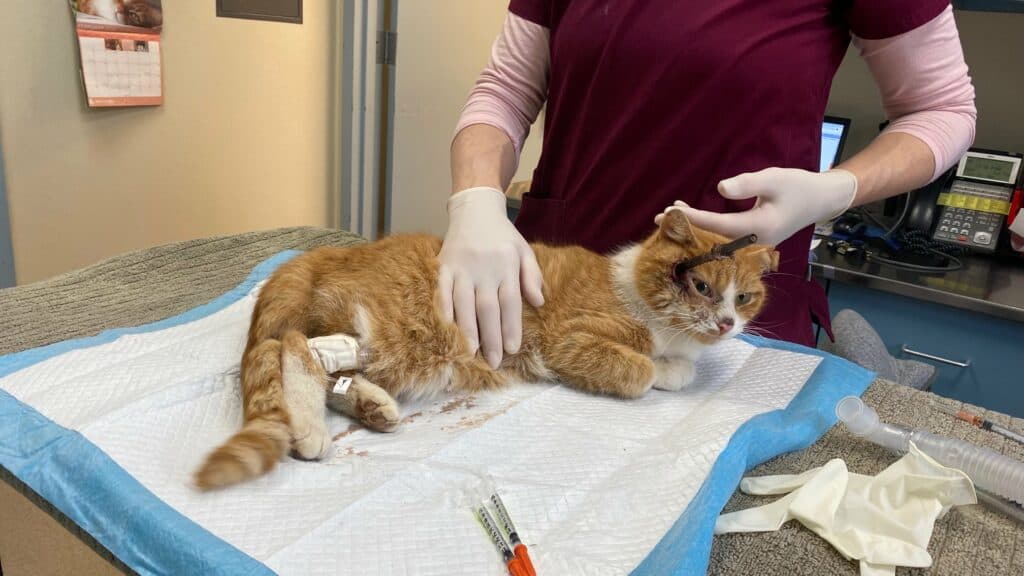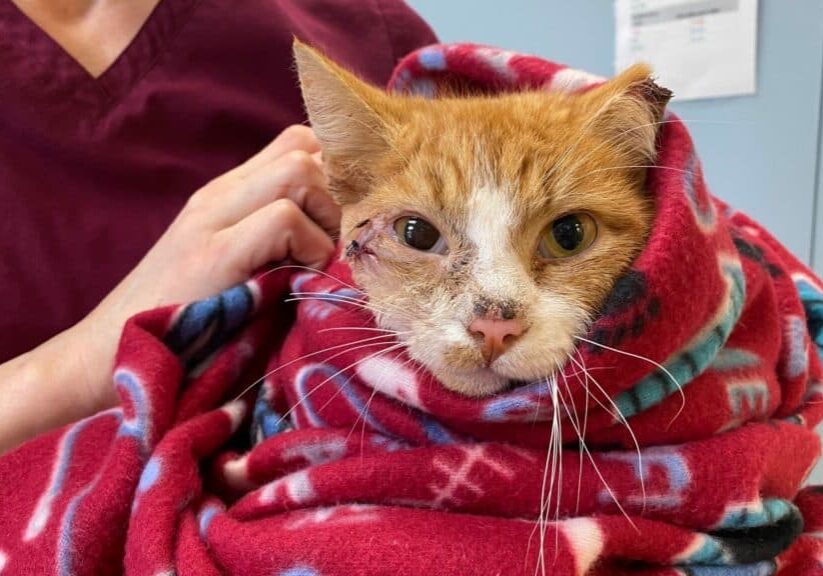 They had just taken in a horrifically injured cat and needed our help.
We learned that the day before, a woman in Hardy County, West Virginia, had opened her door to find a little orange and white cat standing on her porch with an arrow sticking out of his face near his left eye. She immediately called 911 for help and when the local game warden arrived, he turned to our partner, Potomac Highlands Animal Rescue (PHAR), for assistance.The cat was rushed to the local emergency vet where he received pain medication, but neither the animal hospital, nor our rescue partner had the means to provide the extraordinary care the cat needed. So they contacted us.
When we got the message, which was accompanied by a video of the cat, who, despite being in critical condition, was "making biscuits," purring, and rubbing his face on the veterinary staff, we knew that we had to help.
The next day a PHAR volunteer drove two hours to bring the cat to AWLA, and then a staff member rushed him to a waiting emergency vet. In the midst of it all, the cat was still purring and seemed to enjoy the attention. In the few minutes between car rides, we decided his name must be Cupid.
Little did we know that this cat's journey from West Virginia to Arlington would inspire hundreds of people from around the globe to save his life, and the lives of hundreds more animals like him.
Cupid stayed overnight at the emergency vet where they monitored his condition and gave him pain medication and fluids. He also received x-rays, which revealed the exact location of the arrow lodged in his body. It was a judo arrowhead, used for target shooting and  it was pretty clear that someone had deliberately shot Cupid. Thankfully, the x-rays also showed that the arrow hadn't hit any organs or bones.
Our veterinarian, Dr Galati, picked Cupid up the next morning and brought him to the shelter for surgery. Using bolt cutters, he extracted the arrowhead and shaft safely, but discovered that Cupid had a severe infection from the wound - which was likely about a week old - and it had spread from his shoulder down to his abdomen and front leg.
The vet team spent two hours removing infected tissue, resulting in two very impressive sets of stitches along Cupid's face and side. To combat the infection, they placed drains in his incisions and started him on two different types of antibiotics. The surgery had gone well, but even then we had no idea if he would be able to stave off the infection. Turns out, Cupid was a fighter.
Every day, Cupid's condition improved. Despite all he had been through, he remained as friendly and affectionate as ever, wanting nothing but food, chin scratches and belly rubs whenever he saw someone near his kennel. Two days after his surgery, we put out a plea to our supporters asking for help covering his $6,500 medical bill.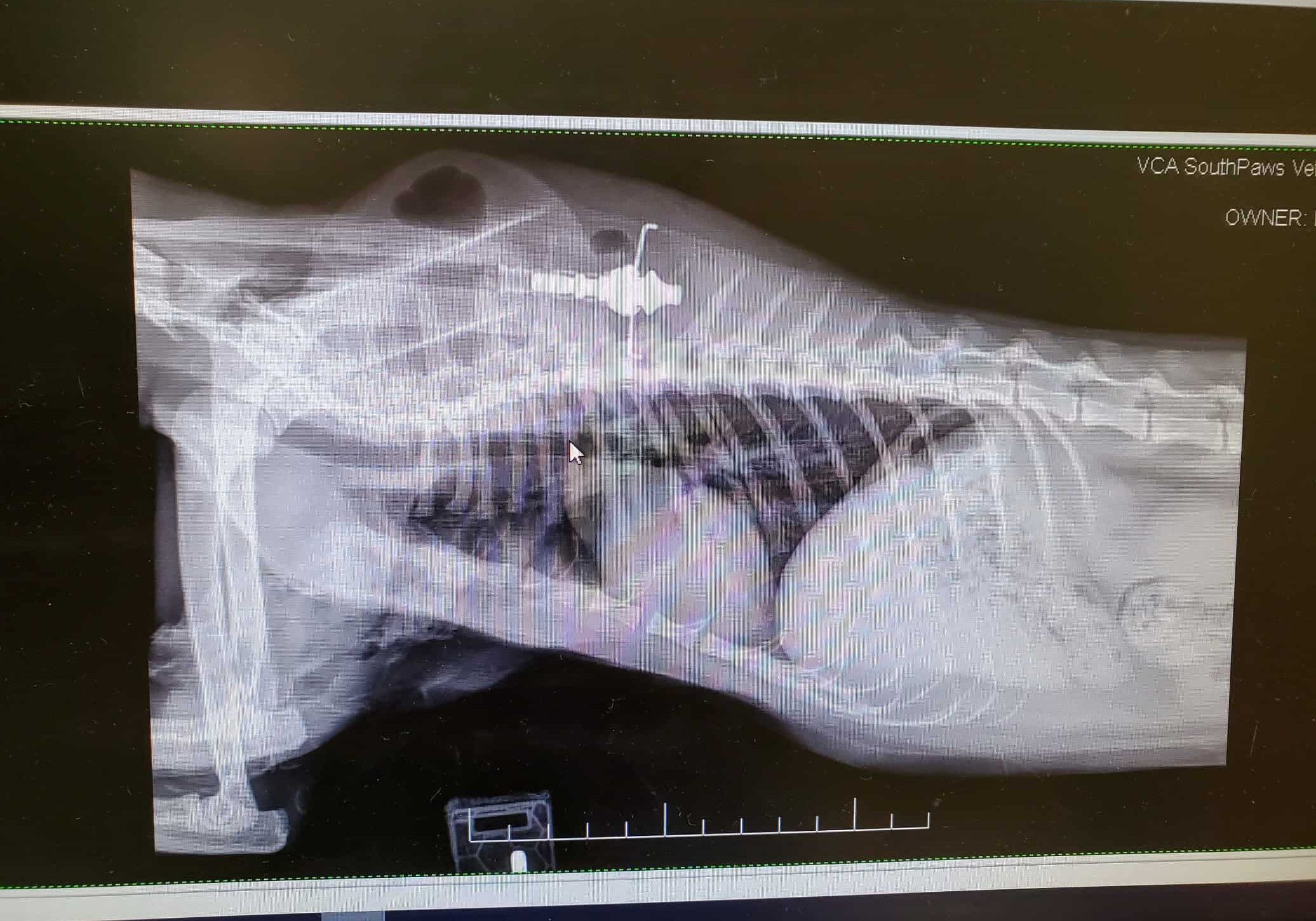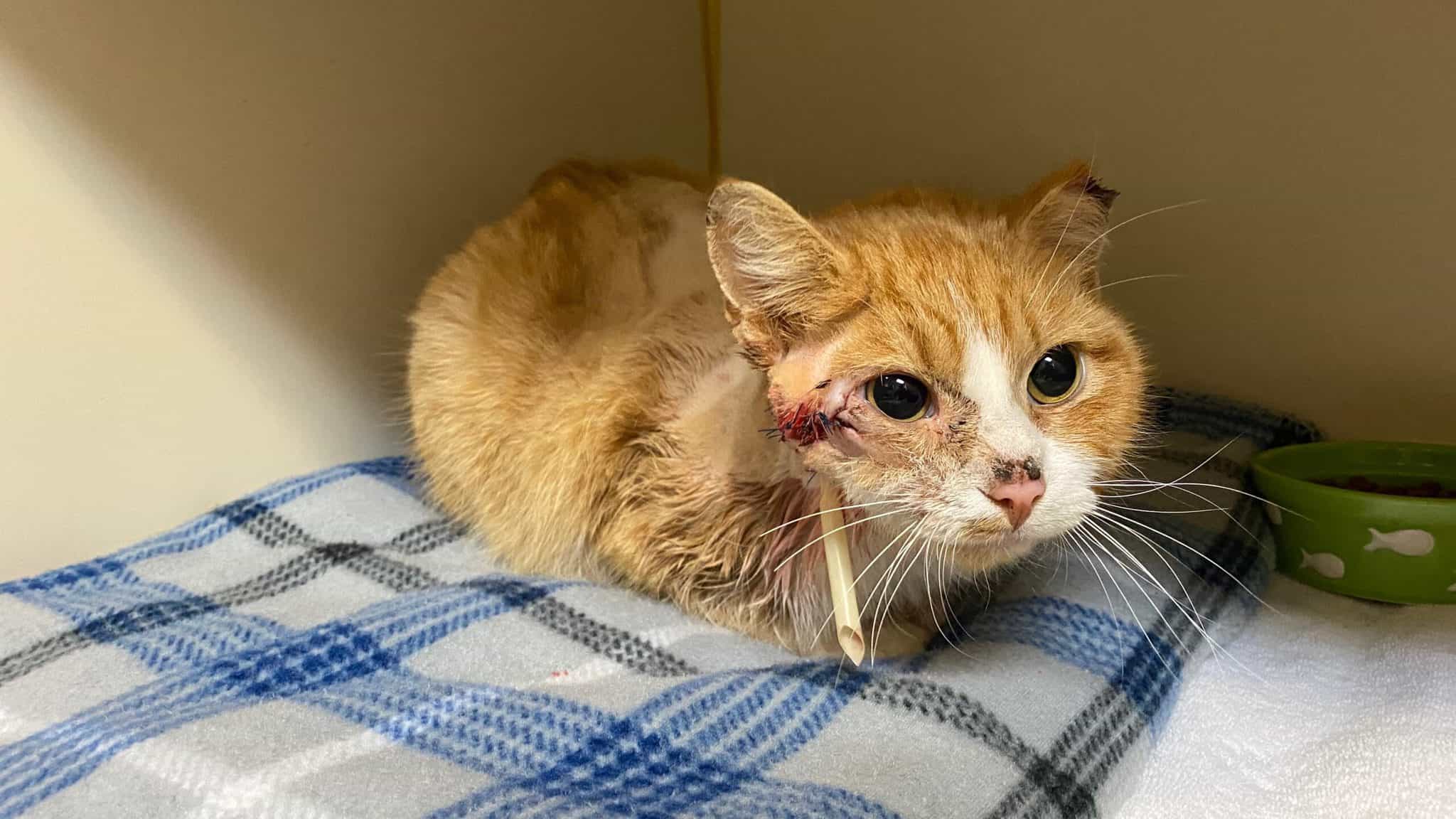 Overnight, we raised $24,000.
Within a week, that number was up to $65,000.
And when Cupid was featured on television news shows across the country (and around the world), it rose to a staggering $87,000!
We received emails every day from people who were rooting for Cupid, hoping that he would be okay. And he was! He surprised all of us by fully recovering in about three weeks. His drains and stitches were removed, his infection cleared, and by then he was a celebrity, with fans near and far following his personal Instagram account.

Cupid was quickly adopted by a local couple who had seen his story on the news during a personally difficult time. When they picked him up, his new mom literally skipped out the door with him.

Cupid's story is a testament to the fact that while it may seem, at times, that the world is very divided, we can all come together to share love with an animal in need.
Though Cupid's journey at AWLA may be over, his legacy will live on through our Healthy Pet Fund which, thanks to the outpouring of support that we received in his honor, will help many, many, many more animals whose medical needs are above and beyond the norm.