It's the beginning of one of the busiest times of the year for AWLA – kitten season!
Kitten seasons refers to the main period of time when female cats are giving birth to litters of kittens, typically from April to October. Longer days, warmer weather, and better access to food all contribute to this season.
Cats giving birth during this time are predominately stray and community cats who have not been spayed or neutered. Cats can begin conceiving at around four months old, and can produce multiple litters a year. So, despite the fact that we have a popular Community Cat Program, our shelter starts filling up with kittens quickly this time of year! But where do these kittens come from?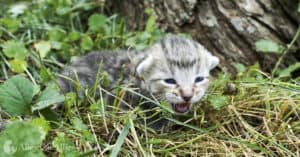 A lot of our kittens are transferred in from other shelters who do not have the resources to care for them. But even more kittens are brought to us by concerned citizens who stumble across litters of kittens during their daily lives. Understandably, people are worried when they find a litter of kittens all alone. Where is their mother? Are they in danger? Do they need help? However, removing kittens from where they were found is usually the last thing we want members of the public to do!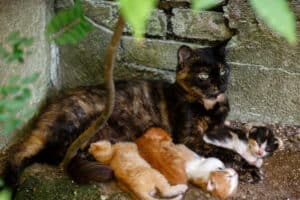 Kittens have the best chance of survival and becoming happy, healthy cats if they are left in the care of their mother. You will almost never see the mother nearby, as she is likely out finding food or watching you from a distance. But there are some circumstances where the kittens may need help. Follow these steps to determine what to do if you find kittens outside:
Do the kittens look sick or injured? Are they meowing loudly or even screaming for a long period of time? Don't touch the kittens, but call AWLA immediately at (703) 931-9241. If they look plump and healthy, and they are sleeping and/or quiet, their mother is taking good care of them and they do not need help.
Is the nest in a safe location? Cats are generally very good at picking nesting spots for their kittens, but occasionally their nests are at risk due to construction, cars, etc. If the location is safe, leave them alone. If it is unsafe or you are unsure, call AWLA for assistance.
Is the mother nearby? If the kittens seem safe and healthy, leave them alone for about 3-4 hours before checking on them again. The mother will not approach the nest if you are close by, so give her time and space to check on her kittens. Call AWLA so that we can monitor mom and kittens – once they are weaned and old enough, we will assist in spaying and neutering the cats and returned them back outside safely (or adopting them to new homes when appropriate).
---
AWLA's Kitten College Program is a robust foster and advocacy program that cares for hundreds of sick or orphaned kittens each year. This work is made possible by the support and generosity of people like you!