Last week was a challenging one for our Animal Control Team as they responded to four alleged animal cruelty/abuse cases in the county. Among the cases were Trella and Taavi, two little dogs who were found confined in cat crates in their owner's bathroom, covered in urine and feces.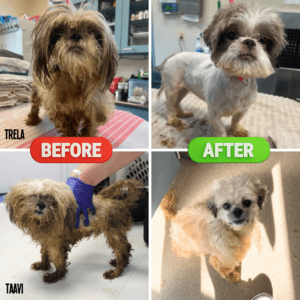 Our officers immediately brought the dogs to AWLA, where our staff worked tirelessly to provide them with much-needed bathing and grooming. Trella and Taavi are now on the road to recovery and receiving the TLC they deserve in foster homes.
The owner has been arrested and charged with animal cruelty. We'll keep you updated on the other cases as more information becomes available.
We're extremely grateful for your unwavering support, and we couldn't continue to care for animals in need without your help. If you'd like to make a donation to support our efforts, please click here. Thank you so much!