As veterinary professionals, we understand that bringing your pet to the vet clinic can be a stressful experience for both you and your pet. Sometimes Fluffy doesn't want to get into her carrier, making you late for your appointment. Or you may be afraid of how Fido will behave during his visit because he can be extremely skittish when meeting new people. However, did you know that there are ways you can help prepare your pet to have a Fear Free visit before even stepping foot into the hospital? Our goal as a certified Fear Free practice is to make your pet's visit as positive and successful as possible, and you can help your veterinary team by taking these steps before your next appointment.
Many of our patient's favorite parts of any vet visit is getting lots and lots of treats from our staff! Reducing your pet's food intake before an appointment is an excellent idea for our treat-motivated companions. By reducing their food intake, they can get more of those tasty treats than they usually would. This allows them to be more focused on their yummy reward for coming to the vet and helps distract them from what is happening during the appointment. Pre-packing some of your pet's favorite treats is also a fantastic idea, especially if they are a picky eater or on a special diet. Reducing the amount of food beforehand can also help prevent nausea from the car ride to the appointment if your pet is prone to car sickness.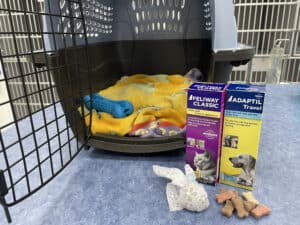 Many pets are not used to traveling or may not tolerate it well, so it is essential to acclimate them to how you will be traveling. Some ideas include getting your companion used to riding in the car or adjusting them to using a car harness or carrier. If using a carrier, a great way to acclimate them is to leave it open and available for use at home. A carrier provides a secure, safe space for cats and dogs to escape. When left with the opportunity to use this at home, it helps disconnect them from the negative association they may already have with it from travel, and they may see it as a more comforting space that they're already comfortable with. Another great way to help your pet adjust to travel is to bring comfort items such as your pet's favorite blanket, a toy, or one of your t-shirts with your scent. Pheromone sprays such as Feliway for felines and Adaptil for canines are also excellent tools that can be used on a blanket or towel. These sprays emit pheromones similar to those from their mothers when they are young kittens and puppies, which can often help send them comforting messages and help them relax. These are also available as diffusers which can be used at home for more consistent use.
Another great way to help keep your pet calm before their appointment is to keep yourself calm and avoid rushing before your visit. As many owners know, your furry best friend knows you very well and can sense when something is off at home. If you are stressed, your pet will be too. Reduce your stress by setting yourself up for success, such as allowing ample time to get everything together for the visit, allotting time for travel, and speaking in a calm tone. It is also important to allow enough time for your pet to relieve themselves before leaving the house because they may not have access to the bathroom during a standard appointment to help prevent accidents while visiting the veterinarian and help your pet be more comfortable during their visit.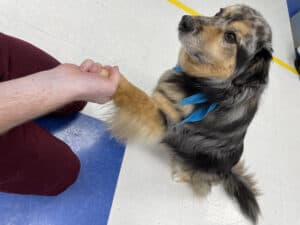 Getting your pet accustomed to the veterinarian's exam is another way to be proactive and teach them not to fear the exam portion of the visit. A great way to do this at home is to frequently play with areas such as their ears, mouth, and feet. It is beneficial when started at a young age but can be introduced at any point in your pet's life. When started at home, the doctor's exam becomes a much less scary experience for them because having these areas touched is something they are already comfortable with. This is something that can help prevent potential issues down the line with things such as nail trims, ear cleanings, and dental exams.
These steps are a great way to help alleviate stress for you and your pet before your next vet appointment. Making these small changes can be incredibly beneficial and will prepare your pet to have a Fear Free experience. However, when in doubt, do not hesitate to contact your veterinarian! Some pets may need additional training or time to adjust to these changes, and you and your vet can come up with the best plan for your pet. You can also discuss using anti-anxiety or anti-nausea medications with your veterinarian if you think this would help your pet have a more pleasant experience. With this knowledge, you have the ability to help your pet conquer their veterinary fears. Try a few different steps, and let your veterinary team know what works best for your pet! We are always here to help. By making these minor adjustments at home, we can help Fluffy and Fido have the best experience possible once they arrive!
~ Shelly Barber, Caring Hands Animal Hospital