My name is Marnie Russ and I am the Kitten College Coordinator here at AWLA. Although neonatal kittens are my passion, helping all animals in need is what fills my soul.
This year, Thanksgiving took on a new meaning for me and our shelter veterinarian, Dr. Matt Galati. We volunteered to participate in a 'spay-cation' in Cotacachi, Ecuador, where a dedicated group of local animal advocates have been diligently working to manage the street dog population in that area. Caring Hands Animal Support and Education – International Advocacy answered a call for help by putting together a team of 35 veterinarians, technicians and specialized volunteers to assist the small indigenous villages around Cotacachi in an effort to slow the infusion of dogs to that area.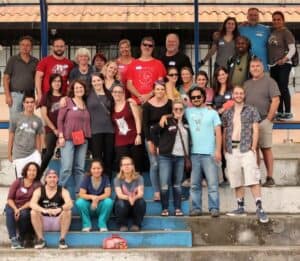 We arrived in Cotacachi the weekend before Thanksgiving to set up and prepare for the clinic. In anticipation of our arrival, the local team had arranged for us to visit the villages where we would be pulling the dogs and cats for sterilization. We brought some small gifts for the children and had a great time getting to know the families. We also took the opportunity to talk to the families about the importance and benefits of spaying and neutering their community animals.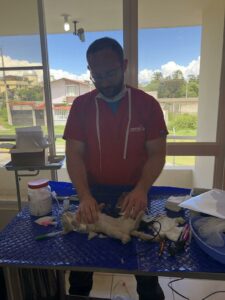 The sterilization clinic was three full days of surgery, with four surgical tables in use at any given time. Every animal that came through our clinic was sterilized, vaccinated, and dewormed. We also had specialized surgeons on hand to address any issues that were noticed and were able to do dental cleanings for those animals that needed them. In total, we were able to treat 151 animals during the clinic!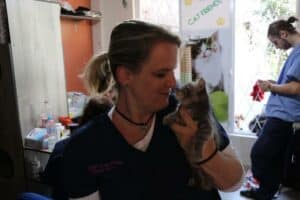 Dr. Galati and I have returned to Arlington and have been sharing our experiences with colleagues and friends. We are grateful that AWLA was supportive of us taking part in this volunteer opportunity to help animals so far away from our own neighborhoods, and look forward to helping more animals in need in the future! We both also want to make sure that our own community knows about the spay/neuter services that AWLA offers to the public here at home. AWLA's Low-Cost Spay/Neuter Program helps those in need in our community to get their pets sterilized at partnering veterinary hospitals for a significantly reduced fee. Click here for more information on this program!
Marnie Russ
Kitten College Coordinator