It was March 20, 2018 – the first day of spring and the unofficial start of kitten season – and local meteorologists were abuzz: DC was expecting to get one of the heaviest, latest March snowstorms on record, with forecasts ranging from 8 to 12 inches of snow.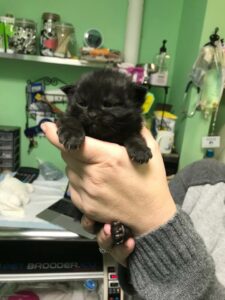 At AWLA, Kitten College Coordinator Marnie Russ was busy prepping for the kitten nursery's second year in operation when Animal Control Officers White and Swetnam brought in three tiny, ice-cold kittens. The Officers found the young orphans barely breathing and almost frozen in a window well, motherless and barely clinging to life. Luckily, the experienced team at AWLA knew exactly what to do.
The kittens spent a few hours under constant supervision in AWLA's incubator before they warmed up enough to eat and then went immediately into foster care. Those kittens – eventually named after characters from the movie Frozen – were some of the first of the 2018 kitten season and now are each happily living in their forever home.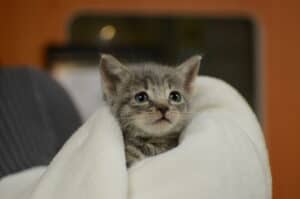 We are now at the beginning of December. Kitten season should be over, but a call for help came in from one of our shelter partners that doesn't have the resources needed to care for unweaned kittens. And, just like that, a litter of three, one-month old kittens were transferred to us from Prince George's County.
In the group is tiny little Prancer. The runt of the litter, Prancer had to be taken from his siblings because they were suckling on him to the point of injury, which is not altogether uncommon. The story may not be unique, but he is: Prancer is the 1,000th kitten rescued in 2018 through our Kitten College. The first kitten nursery in the area, AWLA went from saving 92 kittens in 2016 to 365 in the nursery's inaugural year in 2017. As the 1,000th kitten rescued in 2018, Prancer marks a 175% increase in lives saved in just over one year.
All of this success, and those thousand lives saved, is made possible through generous donations from people like you. Whether its kittens rescued from a blizzard in Arlington County, or helping out a neighboring shelter partner, AWLA's Kitten College has been a lifesaving resource for our community and our region. Your commitment and support of our nursery – and the shelter as a whole – is critical to our mission. We hope you will consider making a year-end contribution to help us ensure we are able to save even more lives in 2019 and beyond.
Thank you, and happy holidays.
Sam Wolbert, AWLA President & CEO