At the end of each fiscal and calendar year, we like to celebrate the many successes that were made possible by our amazing staff, volunteers, fosters, donors, and supporters.
In other words…YOU!
We will expand on these statistics in our 2022 Annual Report (coming out in early October), but for now, we've picked out a few of the statistics that encapsulate the life-saving work you made possible over the past 12 months.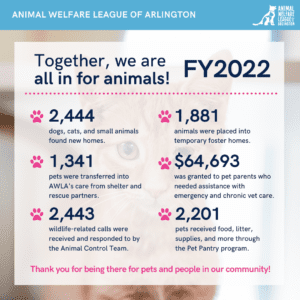 Thank you for your continued support!