Hi everyone!
When I began working at AWLA two years ago, I quickly discovered that the best part of my job is that no two days are alike. I work with an amazing team of people who have my back and I am beyond grateful for their dedication and commitment to our mission of "improving the lives of animals and people by providing resources, care, and protection." What's more, I work with the most incredible fosters in the world. From parking lot pickups, to virtual meetings with adopters, our fosters roll with the punches and do whatever it takes to care for and find homes for our animals.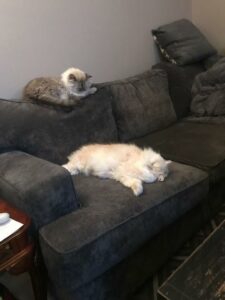 Take Chase and Mari, for example. They volunteered to foster Tamarind, one of a pair of three-year-old cats who were surrendered to AWLA when their owner had to move to California unexpectedly. Both Tamarind and his roommate, Sassafras, arrived at the shelter very fearful and nervous but with time, treats, and lots of positive interactions with our Behavior Team, they became trusting enough to go to foster. It was unclear whether the two cats were bonded to one another, so I lined up fosters for each of them. However, as fate would have it, when I was getting Tamarind settled in his carrier, the foster for Sassasfrass fell through. Without hesitation, Chase and Mari said they would take them both (I told you our fosters are incredible!).
Better yet, within a week Chase and Mari emailed to say that they had fallen in love with both cats and wanted to adopt them. Well, having a smoosh-faced kitty of my own at home – also fostered and adopted from AWLA – my eyes immediately welled up with tears of joy as two more homeless animals found homes.
Thank you fosters for opening your hearts and homes to animals in need.
Sincerely,
Veronica Wheeler