Hi AWLA Family,
How are you doing in self-isolation? Like many of you, I'm a working parent of humans and pets trying to figure out what pandemic life looks like for us.
My house is SO full right now. Two adults working from home, a two-year-old human, two dogs, a cat, and a leopard gecko. My new "coworkers" watch Paw Patrol loudly, leave dirty dishes in the sink, and demand to go outside repeatedly, even after they just came in. But they also provide snuggles, wet kisses, and sometimes they offer to share their PopTarts.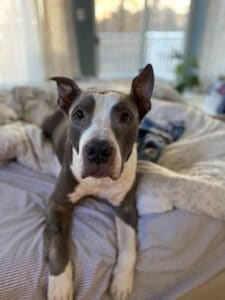 The dog love of my life, Hamilton, turned 12-years-old over the weekend. He was recently diagnosed with cancer, and we are treasuring whatever days we have left with him. It's a not-so-hidden blessing to be home more with him at this time.
My Community Support team at AWLA engages and supports the community through our volunteer program, humane education programs, Animal Services desk, and community assistance programs, including our Safekeeping program, low cost clinics, and Ross-Roberts veterinary assistance grants. At this time members of my team are still going to the shelter daily to check messages, take in strays or surrendered animals, stock the food bank, and answer critical emails.
Does your family need any support from us at this time? How can we help you? If you have a pet with a health concern like my Hamilton, but are worried about paying the vet bills, we have resources to help. Are you running low on dog or cat food? We have a pet food pantry available at no cost to you.
Please do not hesitate to reach out. We are still doing our best to serve the animals (and their humans) in Arlington County, even if we aren't in the shelter.
Stay healthy,
Ashley Hay
Director of Community Support
ahay@awla.org