CUPID UPDATE: 3/6/2020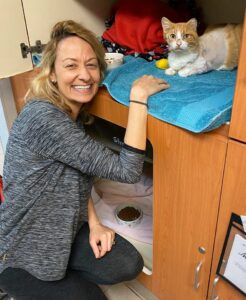 Today was a very special day – Cupid found his new home! His new mom and dad were SO excited to meet Cupid and make him a part of the family. He was purring and giving them head-butts right away, and we wish him all the best in his new home. They will be taking over his @savingcupid Instagram account and keeping you all updated on his adventures! We need to give another HUGE thank you to every single person who has supported Cupid in his recovery and ensured that we'll be able to save the lives of other animals in need, too. We are so grateful to be a part of this community ❤️
CUPID UPDATE: 3/2/2020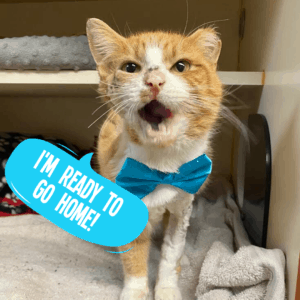 We are thrilled to announce that our veterinary director has cleared Cupid to be adopted! His infection is cleared up, his incisions are healing very well, and he's ready to move on to the next chapter of his story – a home! We have had so many inquiries about adopting Cupid that we created a special adoption process for him that we feel is fair yet also creates a match made in heaven for him and his new family. If you are interested in adopting Cupid, here's what you need to do:
– Be a resident of Virginia, Maryland or DC. Due to our adoption policies, we cannot consider applications from outside these areas.
– Drop off your completed adoption application in person at the shelter on Wednesday, March 4th or Thursday, March 5th. You can find our cat adoption application here: http://bit.ly/2VBxc5g. We would also like interested adopters to tell us a little more about themselves on the back of the application – let us know why you would like to adopt Cupid, tell us about your home, etc. Our adoptions team will also chat with you briefly about your application. Please bring a valid I.D. that shows your current address with you to submit your application.
– Your application will be given a number (we will give you a copy of this number) for your potential inclusion in the lottery.
– Once the application period has ended, our adoptions team will carefully go over all the applications and choose 14 applicants for a lottery (in honor of Cupid being found on Valentine's Day). The numbers drawn from the lottery will signify which applicant is first in line to meet and officially apply to adopt Cupid.
– On Thursday, March 5th at 7:30PM, we will draw the first number (we will post a video on our social media pages). Being drawn first does not guarantee adoption. Our adoptions team will call the person chosen and they will have until the end of the next business day to come in, meet Cupid, and officially apply to adopt him. If the first person in line is approved, he will go home at that time. If it does not work out with the first person, we will draw for the second person in line, and so on.
We realize that this process is very different from our normal adoption process, but we want to do our best to be fair while also identifying the homes we think might fit Cupid best. If you have any questions, please send us a direct message or email mail@awla.org.
Since only one lucky family will be able to adopt Cupid, we are also offering $14 adoption fees on 'Cupid's Cuties' all week long! 'Cupid Cuties' are pets that have been at the shelter a little longer, or need a little extra TLC. We hope that some of you have been inspired by Cupid's story and will adopt another animal that needs a home just as much as he does!
***
CUPID UPDATE: 2/18/2020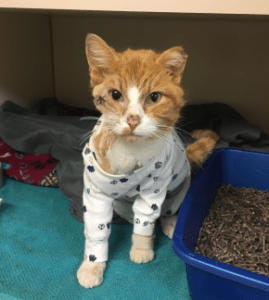 We can't quite believe it – when we sent out an urgent request for $6,500 to save Cupid's life, you delivered! After a few days, multiple interviews, and Cupid's story reaching across the country, we are able to share that we not only exceeded our goal, but raised more than $80,000!
We are completely overwhelmed by the generosity of everyone who donated, and could not be happier to be a part of this incredible community. With the outpouring of support, we were able to give Cupid the care he urgently needed and will be able to say yes when other animals need critical care.
Cupid is a fighter and continues to recover well, switching between naps, snacks, and lots of snuggles. You can follow his continuing story on his new Instgram account, @savingcupid, but we will also post weekly updates here.
Thank you for giving love and saving Cupid's life.
***
WARNING: GRAPHIC IMAGES
We know we've been asking for your help a lot recently, but today we urgently need your support for a young orange tabby with a horrific injury. On Valentine's Day, we received a call from one of our rescue partners in West Virginia who had just taken in a cat who had been shot in the head with an arrow. They rushed him to the hospital, where he was given pain medication, and the veterinarian believed that the arrow had been there for at least a week. Unfortunately, the rescue was financially unable to have the surgery performed to remove the arrow, and called us for help.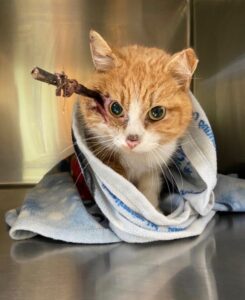 How could we say no? As soon as we saw his photos, we knew we had to step up and see if we could save his life. He was transported to AWLA yesterday, and then rushed over to an emergency vet for pain medication, x-rays, and overnight care. This morning, our vet team picked him up and prepped him for surgery right away. Despite the immense amount of discomfort and pain he must have been in, he started to purr every time someone talked to him, making biscuits and asking for chin scratches. It was then that we decided to name him Cupid.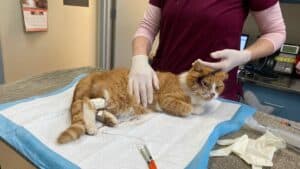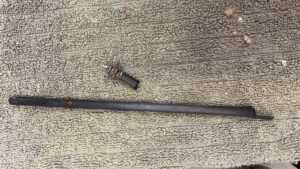 Amazingly, during the surgery they discovered that the arrow had not penetrated any major organs or arteries, despite passing through the right side of his head to his shoulder blade. He did however, have a very serious infection that had spread from the tip of the arrowhead to the underside of his left arm. Our vet team worked for two hours to remove the arrow (using bolt cutters to cut off the arrowhead) clean out the infection and insert drains, sew up his large wounds, and neuter him. Cupid just woke up from surgery about an hour ago and so far is doing well.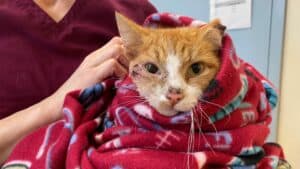 But he still has a long road ahead. His infection was very severe, so we are treating him with two types of antibiotics and waiting for a culture to come back for more information on what type of infection we are dealing with. This was a very intense surgery for a young, underweight cat, so we will be monitoring him carefully. At this point we cannot 100% guarantee he will make it through this ordeal, but we are doing everything we can to save his life, and this little guy is a fighter.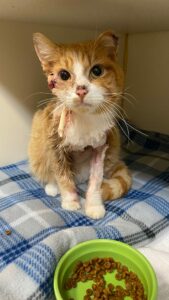 This is where we need your help. The total bill for his hospital visit, surgery, and continuing care will be at least $6,500.