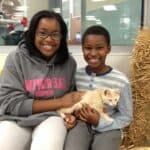 Receive special incentives for adoption Black Friday through Dec. 23
The Animal Welfare League of Arlington  will offer special incentives for anyone who adopts a new best friend from Friday, November 27 through Wednesday, December 23, 2015. Also, adoptions on December 19, 20, 21, and 23 will be eligible to have their new pets delivered to their homes by shelter elves on Christmas Eve or Christmas morning. (Adopters must meet all normal adoption requirements and must live within an eight-mile radius of the shelter.)
"We have more than 100 cats, kittens, dogs, rabbits, guinea pigs, and gerbils currently at the shelter or in foster care and we expect many more to arrive throughout the month. We encourage people who want a new best friend to bring love and joy into your home by adopting instead of shopping, " said Neil Trent, President/CEO of AWLA.
When you adopt instead of shop you:
Take a stand against inhumane commercial breeders who supply pet stores and online pet shopping.
Save money: adoption fees include vaccinations, microchipping, and spay or neuter surgery.
Find your perfect match: our adoption counselors can help you select an animal that suits your lifestyle and expectations.
Get post-adoption advice and support from our trained adoption counselors.
Save a Life: Thousands of animals are waiting in shelters in our area for adoption.
As an extra incentive to adopt, AWLA is offering a spin of our prize wheel for every animal adopted between Nov. 27- Dec. 23. Prizes include discounts from 10 to 50 percent on adoption fees, as well as discounted and free items from our retail store.
To view adoptable animals visit www.awla.org, download the free Arlington Pets App, or visit the Animal Welfare League of Arlington, 2650 S. Arlington Mill Drive, Arlington, VA.
The Animal Welfare League of Arlington (AWLA) provides animal adoption and community programs to the northern Virginia and D.C. metropolitan area, as well as animal rescue and control services within Arlington County. For over 70 years AWLA has remained committed to its mission to improve the lives of animals through sheltering, community services and humane education.
Please follow us on Facebook, Twitter, YouTube and Instagram
###