I never believed in love at first sight until it came to me in the form of a stocky, green-eyed pup with a goofy overbite and no name.
She had been picked up as a stray by our Animal Control team, and without even realizing it I found myself walking to her kennel multiple times a day just to see her and watch that tail wag. She had a calm disposition and seemed to trust me right away, even though I'm sure she was scared and confused. Despite our best efforts, no one came forward to claim her, and something gnawed at my insides…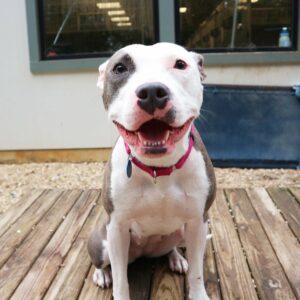 As an Adoptions Counselor, seeing so many animals come and go every day, I was determined to keep my work and emotions separate. But something about that face broke through all of my defenses. I already had two dogs at home, and it wasn't lost on me that I may have been biting off more than I could chew. But as the saying goes — when you know, you know!
I'm pleased to say that she now has a name, Perla, and she made herself right at home the very first night. She immediately staked her claim in the house (and on the couch….and in our beds…and in our hearts) and her two new brothers couldn't have been more accepting.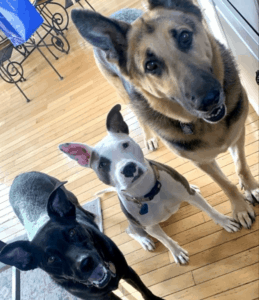 Perla's puppy energy has lit a fire under them and they have become the best of friends. Being together with my pets this year, and especially during the holidays, is better than I could have imagined. I hope that everyone who adopts a pet from AWLA feels the unconditional love I felt when Perla came home.
Thank you for giving thousands of animals, just like Perla, a chance to become part of a loving family.
Happy Holidays,
Sam Snow, Adoptions Counselor