If someone asked me three years ago what I saw myself doing in the future, rescuing deer from fences and nursing baby squirrels back to health was not on my radar.
But being an Animal Control officer has changed my life.
Since joining AWLA, I have been able to find a new passion for helping members of the community with not just dogs and cats, but all kinds of different animals that I never could have imagined. I have gained experience with deer, raccoons, foxes, owls, opossums, bats, squirrels, and so many more! This year especially has given me the opportunity to increase my knowledge about local wildlife and my love for baby squirrels.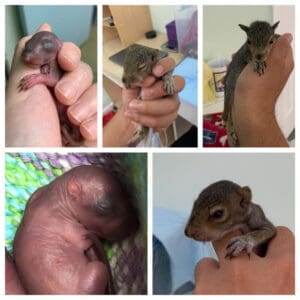 I worked to earn my wildlife rehabilitator license so I could help out our wildlife rehab partners. Those two little ones pictured (whom I named Bubbles and Pablo) showed me the time commitment and intense work it really takes to care for baby squirrels. I will never forget the sleepless nights, waking up every four hours to warm up milk and feed them. But watching them open their eyes for the first time, grow big and strong, and eventually release them, were some of the most rewarding times of my life!
With support from you, and the incredible work by wildlife rehabbers across the state of Virginia, local wildlife who have been injured or orphaned will get the chance they deserve.
Spring will be here before we know it (a scary thought, I know), and with that comes a lot of orphaned and injured wildlife who need intensive or round-the-clock care. You might have even found yourself calling AWLA asking, "I found a baby squirrel (…or an injured bird…or a stuck deer), what do I do?" You can rest assured that everyone here at AWLA will jump in to help any animal in need, no matter how big or small. 
With your help, I know that we will be ready to handle all of the calls and care for all of the animals that come our way.
Thank you for being a part of the AWLA family!
Sincerely,
Cliff Ballena, Sergeant of Animal Control