One of the best things about my job with AWLA's Kitten College is the opportunity to teach other shelters about saving the tiniest of lives – neonatal kittens!
Last year, we helped six regional shelters establish Kitten College programs based on AWLA's model. One of these shelters is the Middleburg Humane Foundation (MHF). I was visiting MHF recently when a local realtor brought in four tiny, cold kittens. She had found them in a vacant home and feared they might not make it.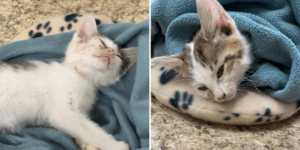 The MHF team and I assessed the kittens and confirmed that they were all in bad shape. One, in particular, was in severe distress. So 
we
 sprang to action. 
We
used warming pads to increase his body temperature, administered fluids and gave him a warm bath. Then 
we
watched, and waited, willing this tiny kitten to live,
We
 decided to call him Virgil.
Virgil turned out to be a fighter.
Once his temperature stabilized, we tube fed him and let him rest. Since he needed round-the-clock intensive care, I brought him home with me. He thankfully made it through that first night, but soon I noticed that he couldn't control the left half of his body and was only able to move his head. His organs were shutting down, and I knew I would need reinforcements to help little Virgil keep fighting. Thankfully, I knew just where to turn.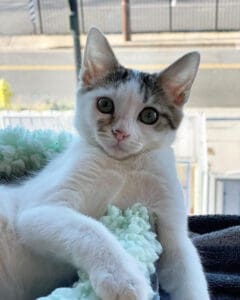 Our Kitten College sponsor, 
NOVA Cat Clinic
, responded right away to my call for help, and it wasn't long before Virgil was eating on his own and learning to walk again. With their help, Virgil made a full recovery and has no long-term effects from his rough start. After nursing him back to health, his foster mom adopted him.
Virgil needed all of us to survive.
Our work in animal sheltering is all about collaboration and
we
 are so grateful to have a generous community and network of organizations that step up to help all animals 
thrive
 without hesitation.
Your support today, and every day, allows us to collaborate with other shelters and care for all the animals that come through our doors — no matter how big or small. Thank you for making that possible.

Sincerely,
Marnie Russ, Kitten College Administrator