In a world where kindness and compassion can make a profound difference, AWLA strives to make a difference every day for pets and their families in our community. In addition to vaccine clinics, low-cost spay and neuter vouchers, emergency medical grants, and a pet food pantry, AWLA offers free grooming services to community members whose dogs are in need of a spa day. However, these spa days wouldn't be possible without Ann, one of our dedicated Animal Care Technicians. She has spent the past five years providing free grooming services to shelter pets and local families. Her journey, fueled by a genuine desire to help animals and their owners, has touched the lives of numerous pets and created lasting bonds within the community.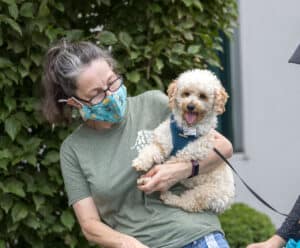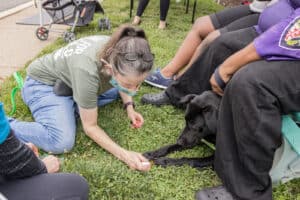 Ann's path to becoming a dog groomer was born out of her love for animals and a desire to make a positive impact. Ann started as a volunteer at our shelter in 1999, dedicating her Saturday mornings to cleaning kennels and feeding dogs. During this time, she witnessed countless animals in need of grooming assistance come into the shelter but was unable to help. After retiring as a Chief Master Sgt in the Air Force Band in 2013, Ann joined the AWLA as an employee. Driven by her passion, Ann seized an opportunity to attend grooming school, utilizing her GI Bill benefits to fund her education. Following four months of intensive training, she worked at a grooming salon for two years, honing her skills and nurturing her talent.
From Shelter to Community
Though her original intention was to groom animals within the shelter, Ann recognized the immense need for her services beyond our walls. When we introduced our Community Care Clinics, Ann embraced the chance to participate. Initially offering basic nail trims and other small grooming services, she soon realized the potential for a more comprehensive program.
Ann started distributing vouchers for free full grooms, inviting pet owners to bring their pets to AWLA for complete grooming experiences. Ann's dedication and expertise quickly garnered attention, and her clientele expanded through referrals and repeat clients who appreciated her exceptional care.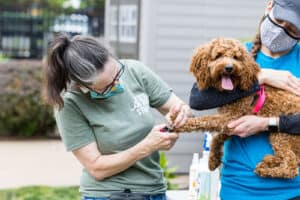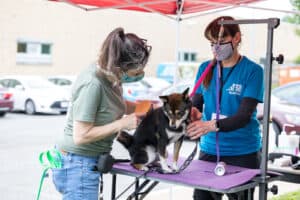 Ann now grooms up to eight clients a week, as well as the dogs in our shelter. To date, she has performed 289 free grooms. These appointments encompass a range of repeat and new clients, each receiving the utmost attention and care. Ann believes in empowering pet owners with knowledge, providing grooming tips for at-home maintenance, and offering essential supplies like brushes, harnesses, and shampoo. During the grooming process, Ann ensures that her clients receive a comprehensive experience, including a bath, conditioning treatment, blow dry, nail trim, ear cleaning, and haircuts appropriate for each breed. Moreover, she utilizes these opportunities to discuss topics such as the benefits of spaying/neutering and vaccinating pets, and the benefit of a holistic approach to pet care.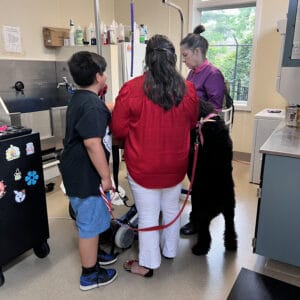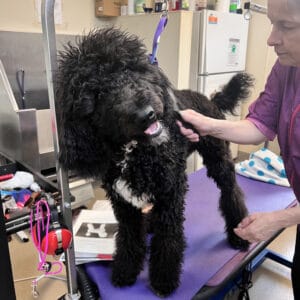 Beyond the Grooming Table
Ann's impact reaches far beyond the grooming table. Building deep relationships with her clients, she has become a trusted resource for both pets and their people. One of these relationships is with Rosa and her dog Doodles, who is a therapy dog for her son on the autism spectrum. During a recent visit to one of our clinics, our team noticed that Doodles was in dire need of grooming services. Rosa had been unable to get him groomed because she did not have a car. Our team worked together to arrange special care for Doodles – every eight weeks, one of our team members picks Doodles up at home and drives him to the shelter for his spa appointment. This act of kindness not only ensures Doodles' well-being but also allows Rosa and her family to provide other needed care and supplies for their beloved furry family member.
Jandira also discovered our program during one of our community clinics, and it was a turning point for her and her beloved companion, Scooby. Scooby had always been fearful of going to the groomer, causing distress for both him and Jandira, but everything changed when they met Ann. As a single mother of three, Jandira greatly appreciates the financial relief provided by the free grooming services, allowing her to invest in healthy pet food and other supplies to fulfill Scooby's needs. After each grooming session with Ann, Scooby not only looks fantastic but also feels great, his spirits lifted by Ann's exceptional care and attention.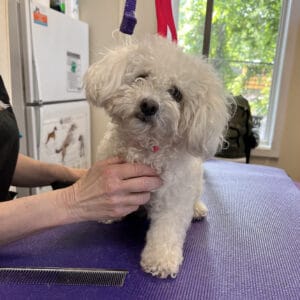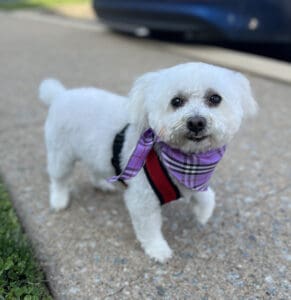 As Ann's journey of compassion and transformation continues, she remains committed to expanding her program and reaching more individuals in need. Her selflessness, expertise, and love for animals have touched the lives of many, making a profound difference in the well-being of pets and their owners. Through her free grooming program, Ann exemplifies the power of kindness, demonstrating that a simple act of care can create a ripple effect of love and compassion throughout the community.