Neighbors and Friends,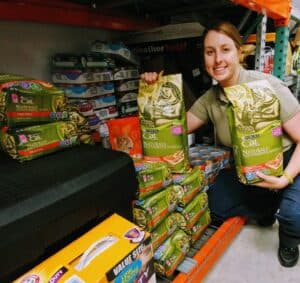 When I became your Chief of Animal Control in 2016, I also assumed the role of Incident Commander of the Arlington County Community Animal Response Team (CART) and have dedicated myself to learning as much as possible about emergency preparedness and disaster response. Although I did it in preparation for a natural disaster, never has my training been so utilized as during this global health crisis.
In the midst of everything, Animal Control operations continue as usual–they just look a little different. Officers are dropping off food and supplies to homes where people can't get out, and retrieving pets from homes when their person needs to be hospitalized. We follow recommended decontamination procedures, wearing Personal Protective Equipment (PPE), keeping a safe distance from members of the public, and washing our hands so much that they are raw. We were fortunate to have purchased our PPE several months ago thanks to the generosity of donor Dr. Stephen Roberts. We thought we would need it to conduct large-scale animal seizures and execute search warrants. Never did we think this PPE would be used to protect animal control officers during a global pandemic.
No matter the circumstance–whether flooding or pandemic–we are here for YOU. Our love and support for this community has never, and will never waiver. You are our neighbors, friends, and family. I have witnessed so much kindness, selflessness, grace, and care throughout our community, and I could not be more proud and honored to serve you all.
I have watched people come down to our Pet Support Pantry for the first time with tears in their eyes, thinking that they need to explain to us why.
I've sat talking through the door with someone who was in self-isolation and needed to express their fear and anxiety.
I've driven past long lines of children and families picking up meals at Arlington Public School food pick-up locations.
I have seen our epidemiological and Department of Human Services staff working around the clock.
I've watched other first responders, whom I've served alongside for years, risking their lives and safety to help others.
I was personally touched last week when an overwhelming 30+ packages of supplies arrived from all of you to restock our Pet Support Pantry. And when we needed fosters, so many amazing people stepped up to take a shelter animal into their homes that we have an extensive wait list! Anytime we have identified a need – you have filled it. There are no words to say how lucky, grateful, and loved your support makes us feel.
I also know that some of you may feel like you have no one to talk to during this time. We are here for you, whether to provide supplies for your pet, or to listen to your concerns. We are just a phone call away.
With love and gratitude, Chief Jennifer Toussaint
jtoussaint@awla.org