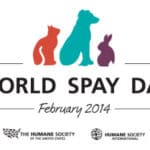 In conjunction with World Spay Day, the Animal Welfare League of Arlington and designated animal hospitals/clinics will be offering the lowest spay/neuter prices of the year for pets of low-income clients in the Washington DC metro area. AWLA will sell vouchers throughout February (or until we run out) and the surgeries will take place at area veterinary facilities in Northern Virginia. Participating vet clinics include Potomac Spay/Neuter Clinic, NOVA Cat Clinic, Caring Hands Animal Hospital (Alexandria Location), and Arlington Animal Hospital.
Pet owners must meet the annual household income requirement of $60,000 or less (proof of household income is required) plus they must be available to drop off their animals the morning of the surgery and pick up their animals late afternoon/early evening of the same day.
Our special Spay Day pricing will be: $25 for male cats, $50 for female cats and $75 for dogs (male or female). The League and vets will be subsidizing the rest of the cost of the surgeries per animal. Discounted vaccines will also be available on the day of surgery. Owners are required to purchase their voucher at our shelter and schedule their pet's surgery directly with the animal hospital/clinic.
We will have a limited number of vouchers available, and they will be sold in person on a first-come, first-served basis. Please bring the proof-of-income (i.e. signed copy of most current tax return, W-2 statement(s) or social security/disability documentation) when purchasing your voucher with cash or credit card only (no checks). If you have any questions, please call the front desk at (703) 931-9241 for immediate assistance or email amintz@awla.org .