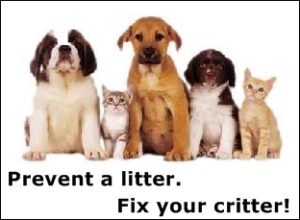 Vouchers on sale at AWLA January 21 through February in honor of National Spay/Neuter Awareness Month
ARLINGTON, Va. (January 20, 2015)—Animal Welfare League of Arlington (AWLA) is partnering with animal clinics and hospitals throughout the D.C. metro area from January 21 through February to offer extremely low-cost spay and neuter services for cats, dogs and rabbits to low-income residents. The service is subsidized through AWLA's low-cost spay/neuter fund. Vouchers are available for purchase through AWLA and surgeries will take place at one of the participating vet clinics including: Anicira Vet Center, Arlington Animal Hospital, Clarendon Animal Care, Fairfax Animal Hospital and NOVA Cat Clinic.
""In general, only 10 percent of the animals received by shelters have been spayed or neutered. Spay and neuter is a proven way to reduce pet overpopulation," said Neil Trent, President and CEO of AWLA. "We are encouraging citizens to not only consider the health benefits of spaying or neutering their pet, but to also be a part of the solution of reducing the population of unwanted pets in our community."
Special promotional pricing will include $25 for male cats, $50 for female cats and $75 for dogs. Pit Bulls will be spayed or neutered for $25. A limited number of rabbit spay and neuter appointments are available for $50 per rabbit. Pet owners who purchase a spay or neuter voucher will also receive a $15 microchip coupon for their pet, good at one of the League's low-cost microchipping clinics. Discounted vaccines will also be available on the day of surgery (prices vary by vet).
"Through our Low-Cost Spay/Neuter Fund, supported entirely by donations, we are able to assist with pet overpopulation in northern Virginia by providing low-cost spay and neuter surgery to pets whose owners cannot afford them. Over the years, hundreds of animals have been spayed or neutered thanks to financial support from this fund," said Trent.
Pet owners are required to purchase their voucher in-person at AWLA and schedule their pet's surgery directly with the one of the participating vet clinics. Interested D.C. metro residents must meet the annual household income requirement of $60,000 or less (proof of household income is required at purchase) Low-cost spay and neuter vouchers are limited and available on a first-come, first-serve basis. For more information call (703) 931-9241, ext. 200 or email Adrienne Mintz at amintz@awla.org. The Animal Welfare League of Arlington is located at 2650 S. Arlington Mill Drive, Arlington, VA 22206.
This year resolve to save a life by spaying or neutering your pet. To learn more about AWLA's community services, programs, or diverse selection of companion animals including cats, dogs, rabbits, birds, and hamsters, download Arlington Pets App; or visit www.awla.org .