AWLA hopes to send home 100 pets in December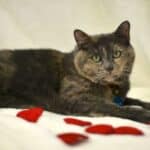 The Animal Welfare League of Arlington (AWLA) seeks to find homes for 100 animals this month as part of its "Homes for the Holidays" campaign.  Special half-price adoption fees will be available for cats and kittens—$50 for adult cats (over five months) and $75 for kittens (less than five months). The adoption fee includes: a certificate for a free exam with a participating veterinarian, spay or neuter surgery, a feline leukemia and feline AIDS test, age-appropriate vaccinations, a personalized I.D. tag, a microchip, an information packet and an emergency sticker.
"The best gift a shelter pet can get is a loving and permanent home," said Neil Trent, president & CEO of Animal Welfare League of Arlington. "Even though we work hard to make the shelter a loving environment, it's no substitute for the warmth and joy a family's home can provide," Trent said.
The shelter has no time limit for how long animals can stay. Jewels, for instance, a 5yr-old, female domestic shorthair, has been patiently waiting for her new home for almost a year. Jewels was originally transferred to AWLA from the Prince George's County Animal Services Facility when they were running short on space.  She was adopted from AWLA in June 2008, but then returned in January 2013, because her owner was moving. 

If you can't adopt right now, you can still give joy to shelter pets in these ways:
Spread the word—Follow us on Facebook, Twitter and YouTube and share stories of our adoptable animals through social media to increase awareness and help find them homes.
Give a shelter animal a gift—Bring a little joy and enrichment to a shelter animal this holiday season by purchasing an item from our Amazon wish list.
Give the gift of time—In the spirit of the season consider "gifting" your time as a foster guardian. The shelter can be a stressful environment and some animals just need a break. AWLA is seeking individuals or families that can temporarily open their home to an animal in need of fostering. AWLA provides foster training and covers all expenses associated with caring for a foster animal, including feeding and medical expenses.
To learn more about becoming a foster, donor or to see AWLA's diverse selection of companion animals including dogs, cats, rabbits, birds, and hamsters visit www.awla.org or download the free Arlington Pets App. AWLA is located at 2650 S. Arlington Mill Drive Arlington, VA.