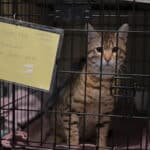 Kashmir is among 23 other animals so far that have participated in our low-cost spay & neuter event as part of World Spay Day.
Arlington and D.C. Metro Area Residents Urged to Save Lives through Spay & Neuter
Spaying or neutering an animal is the most effective way to eliminate unwanted litters and to reduce the pet overpopulation crisis in our society. So why then do animal shelters across the country, including The Animal Welfare League of Arlington (AWLA), continue to see an influx of kittens and puppies? If this is a manageable issue, why aren't more people heeding the advice to spay and neuter their pet?
According to a national survey conducted by PetSmart Charities, more than 1 in 3 recently acquired dog and cat owners have not spayed or neutered their pet. The biggest barriers to spay and neuter appears to be a lack of motivation, understanding of the importance and cost. Perhaps these national trends are reflected locally. In 2012, nearly 25 percent of cats and dogs that entered AWLA were from litters.
AWLA is working to reduce the number of unwanted pets and remove spay and neuter barriers by offering a low-cost spay and neuter service, trap-neuter-return (TNR) program for feral cats and public education on the positive impact of pet sterilization. In 2012, AWLA provided low-cost spay and neuter services for approximately 250 animals of low-income residents; through TNR, spayed or neutered 140 feral cats from the Nauck and Columbia Heights West neighborhoods and conducted 62 community presentations on responsible pet stewardship. Through these initiatives AWLA remains committed to improving the quality of life for animals in our community thereby by helping to decrease the pet overpopulation crisis in the United States.
"Spay and neuter is a proven way to reduce pet overpopulation," said Neil Trent, President and CEO of AWLA. "We are encouraging citizens to not only consider the health benefits of spaying or neutering their pet, but to also be a part of the solution of reducing the population of unwanted pets in our community."
"Spaying and neutering not only prevents unwanted litters and may reduce many behavioral problems associated with the mating instinct (e.g, marking territory, mounting, roaming), but enhances the pet's quality of life by reducing or eliminating the risk of conditions such as testicular cancer, prostatic hyperplasia, ovarian cancer, mammary cancer, uterine cancer and uterine infection." said Dr. Christine Cottey, DVM and AWLA Veterinary Director. "In addition, spaying or neutering your dog may reduce their desire to roam, which may lower the risks of your dog being hit by a car, fighting, or biting people or other dogs."
Throughout February, AWLA is celebrating World Spay Day (February 26), an international campaign of The Humane Society of the United States and Humane Society International. AWLA encourages all citizens to share in the life-saving benefits of spay/neuter and is offering drastically reduced World Spay Day pricing for its already low-cost spay and neuter services for cats, dogs and rabbits of low income residents in the Arlington and D.C. metro area.
Special World Spay Day pricing includes $25 for male cats, and $50 for female cats and male/female dogs. New this year, AWLA is also offering a limited number of rabbit spay/neuters for $60 per rabbit. World Spay Day participants will also be offered a rabies vaccination and microchip for $10 each (a mini-microchip for rabbits is $15 each). Interested Arlington and D.C. metro residents must meet the annual household income requirement of $50,000 or less (proof of household income is required) and must be available to drop their animal off at AWLA the morning of their appointment and pick them up in the early evening the same day.
Special World Spay Day appointments are limited and available on a first-come, first-serve basis. Contact Adrienne Mintz at amintz@awla.org or call 703/931-9241 ext. 246 to register your pet.
"The [low-cost spay and neuter] program worked well for me because, it calmed down my Husky allowing me to feel more confident that I can maintain him and not have to give him up. Further, it was beneficial because I am unemployed at the moment, so I was putting off the procedure," said Gary Heald of Crystal City. "It's not something that should be prolonged."
Geraldine Carbajal of Shirlington explained, "As you know times are hard for many and this program insures safety for our pets and our wallets—which these days seem to be half empty."
"It helped me a lot. Many vets charge minimum $400 and I saved so much money, which I can now put toward toys and food for my cat," said Carbajal.
Since Spay Day's inception in 1995, it is conservatively estimated that participants have spayed or neutered more than one million animals. As a participant, through its low-cost spay and neuter program, it has been a proud achievement that AWLA has been able to assist with reducing the number of homeless cats and dogs euthanized in the U.S. from approximately 13.5 million in 1973 to fewer than four million currently.
You can help to reduce the number of homeless and unwanted pets in our community. Resolve to save a life by spaying or neutering your pet, sharing the message with a friend or donating to AWLA's low-cost spay and neuter restricted fund to help AWLA continue its efforts to assist low-income pet owners in our community  with spaying or neutering their pets.