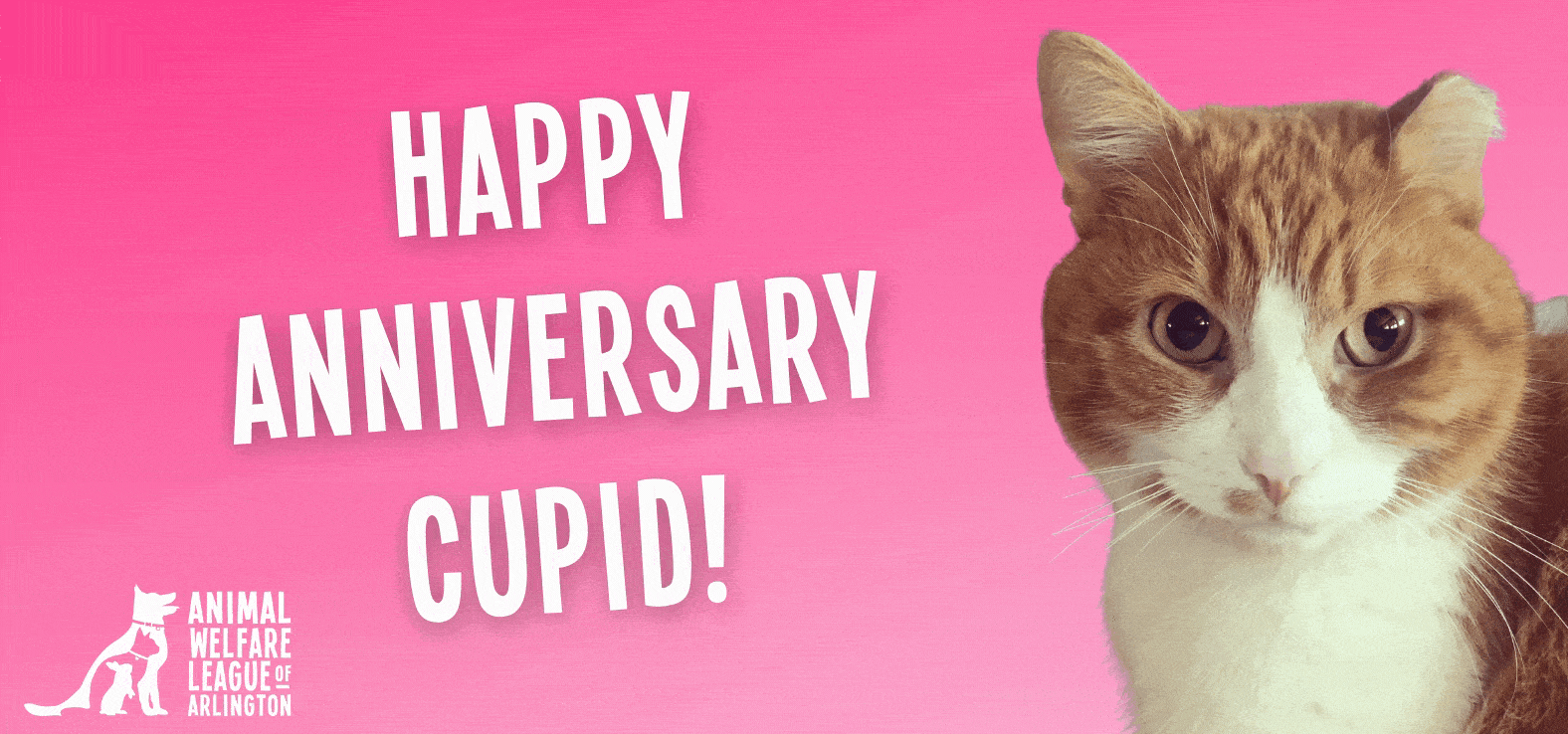 Roses are red, violets are blue…
Cupid called with an update for YOU!
It's hard to believe that one year ago today, we reached out to you with a desperate request for help: a fluffy orange cat had been shot in the head with an arrow and he needed urgent care to survive.
You answered our plea with overwhelming support and Cupid became an overnight sensation (and an international celebrity!)
Thanks to your support, Cupid got the life-saving surgery he needed and left a lasting impact. And with your generous donations, not only did Cupid get the life-saving care he needed, but hundreds of other animals were able to receive above and beyond care over the last year.
All thanks to you.
So on this day that we have declared "Cupid-versary", we wanted to share an update from Cupid and his mom Lauryn!
"We won the lottery in so many ways after being the lucky ones picked to adopt Cupid. After bringing him home on March 6th, it took him just one afternoon of hiding before he was just any regular curious cat. We separated him and our other adopted cat Puffy for about two weeks before they got used to each other and we let them both roam the house freely. They have done fantastically cohabitating together and it's getting better each day. Over the last few months, they've really started to play together and it's been heartwarming to see.
As for Cupid, he has healed nicely. Most of his scars were covered within 2/3 months of living with us. He has the fluffiest and softest orange hair I've ever felt on any cat. Also, I've never seen a cat like food SO MUCH (he will wake up from a dead sleep from three rooms away if he even hears you open the fridge). He is ALWAYS around when we are eating, waiting for food to fall for the table, counter, etc. You have to watch any food you have out and left unattended because he will find it and eat it (he stole chicken nuggets from me one time with just a quick turn of my head). However, when we do feed him his regular cat food, he will pause from eating several times during his meal to come over to us, brush up against our legs, almost as a "thank you". It's the cutest!
We are so blessed and fortunate to have Cupid in our lives.
Cupid is also the most vocal cat I have ever come across. He will talk and make little sounds and he continuously chatters to any animals outside. Outside of that, his favorite activities are headbutting, exploring (especially under covers and blankets), being brushed, and PLAYING! This cat could play ALL. DAY. LONG and thanks to the pandemic, we have been able to play all day long! His favorite toy, by far, has been his feather wand. We have gone through about 25+ feather attachments since we discovered this was his favorite toy. He plays and runs until he pants so hard he has to take a short break. He loves various tunnels and obstacles we have as he is chasing the feather.
All in all, we are so blessed and fortunate to have Cupid in our lives. He was by far the best thing that came out of 2020 for us. I honestly feel he was meant to be our cat and we were meant to be his family."