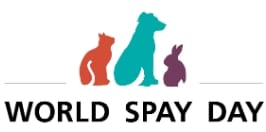 The Animal Welfare League of Arlington is pleased to support The Humane Society's annual World Spay Day initiative by offering significantly discounted (the lowest prices of the year) spay/neuter vouchers during the month of February to residents of the Washington, D.C. Metro area who have an annual household income of $60,000 or less.
Last year, thanks to generous donations to the League's Low-cost Spay/Neuter Fund and participation of partner veterinary clinics, AWLA helped 80 pets (cats, dogs and rabbits) receive spay/neuter surgeries. This year we look forward to working with Anicira Veterinary Clinic, Arlington Animal Hospital, Clarendon Animal Care, and NOVA Cat Clinic to help pet owners in our community get their animals spayed and neutered.
Qualified applicants may purchase vouchers in person at the Animal Welfare League of Arlington during regular business hours. Vouchers cost: $25 for a Male Cat; $50 for a Female Cat; $75 for Male & Female Dogs; $50 for Male & Female Rabbits. Payment may be made by cash or credit card, and clients must provide proof of household income. (Acceptable forms of proof are: three Pay Stubs/W2/Signed Tax Return/Unemployment, Social Security, Worker's Comp, Veteran's Benefit Stub.) Clients may schedule their pets' spay/neuter surgery directly with the participating animal hospitals. Vouchers are non-transferable and good for three (3) months from the date of purchase. Pets must be at least three months old at the time of surgery, and owners must bring their pets' medical records with them to the surgery appointment. There may be added charges for animals with certain conditions.
The League has demonstrated its commitment to reducing pet overpopulation and individual animal suffering over the years by offering subsidized surgeries to animals whose owners need financial assistance. In addition, every cat, dog, and rabbit adopted from the League is spayed or neutered before going to its new home.
Every year in the United States, cats and dogs of all ages and breeds are euthanized or suffer as strays, as a result of unplanned litters that could have been prevented by spaying or neutering. That is why one of the most important health decisions pet owners can make is to spay or neuter their animals. Spaying—removing the ovaries and uterus of a female pet—is a veterinary procedure that requires minimal hospitalization and offers lifelong health benefits (like preventing uterine infections and cancer). Neutering—removing the testicles of a male animal—improves the pet's behavior and diminishes his desire to dig, jump and roam in search of a mate, risking injury or death due to traffic and encounters with other animals.