Volunteer Program
The League began as an all-volunteer organization in 1944. The League's mission is supported by the continued use of volunteers to amplify the efforts of the professional staff that it now employs. Volunteers from across the DC metro area contribute valuable resources—time, knowledge, skills and leadership—that infuse the organization with the energy and passion to improve the lives of animals in our care and also in the surrounding community. Volunteers are trained to partner with us at all levels within the organization where their contributions are valued and recognized. The Animal Welfare League of Arlington is enriched by the large network of volunteers who are energized and empowered to help the League fulfill its mission to improve the lives of animals.
We are extremely lucky to have such a large group of talented volunteers. New volunteer recruitment is based upon the League's needs, which means that not every person who applies to volunteer can be accepted. Please understand that not being accepted into the volunteer program does not mean that we do not appreciate or want your support but rather that your current skills and/or availability are not a match for the shelter's current needs. Some volunteer assignments are in need of new energy and talents while other assignments are at capacity with volunteers.
How do I become a volunteer at AWLA?
There are a few simple steps to complete before becoming a volunteer
1. Sign up for and attend a Volunteer Information Session (approximately 90 minutes).
Our next volunteer information session sign-up link will be posted here once we schedule the next session, please sign up here to be notified when the link is available.   
When the link is available, please sign up for the information session ONLY if  you are interested/available for the currently offered volunteer opportunities:
Note: We last recruited for the below positions at our 5/24/16 volunteer information session.  Our recruitment is based on our need so these may/may not be the volunteer assignments that we have open at the next volunteer information session.  
Once a date for the next sign-up session has been scheduled, we will update our volunteer openings below to reflect our current need and a sign-up link for the volunteer information session will be listed above.
Small Animal Scrub Volunteers
Assists with the cleaning of the small animal cages– must have 7 AM-Noon availability for any day of the week for 1 shift per month.  Must be available to train 1 day every other week (or every week, if schedule allows) for at least 1-2 months initially.
Cat Scrub Volunteers
Assists with the cleaning of the cat room– must have 7 AM-Noon availability for any day of the week for 1 shift per month.  Must be available to train 1 week day per week for at least 1 month initially.
Dog Scrub Volunteers
Assists with the cleaning of the dog kennels– must have 7 AM-Noon availability for at least 1 day between Mon- Fri.  Must be available to train 1 week day per week for at least 1 month initially.
Laundry Assistant
Assists with the laundry– must have 9-11 AM or 11 AM- 1 PM availability any day of the week.
Animal Transport Volunteer (Currently, this is the ONLY assignment for which junior volunteers are eligible.  Junior volunteers must be from 10-17 years old and volunteer with a parent or legal guardian)
Transports wildlife to rehabilitators and/or shelter animals to off-site appointments. The self-scheduled shifts are in 2-hour increments from 9 AM- 9 PM daily OR you can request to be called anytime a shift is unfilled(those with flexible schedule are a great fit for this assignment)
We will AWLAYS accept new FOSTER volunteers!  

If you are interested in fostering, please contact Joanna McElfish, our Foster Coordinator at jmcelfish@awla.org or (703) 931-9241, ext 245.

  
Note: the volunteer info session is not required for those ONLY interested in the foster assignment.
2. Fill out the volunteer application (the link will be sent to you only after you have attended the volunteer info session).
3. If you are selected to move forward in the application process, you will be given the dates and times to attend additional orientation/training for your volunteer assignment.
4. Work with our staff and/or volunteer mentors to progressively add skills needed to volunteer in your assignment.
5. Graduate from training and get set up to officially join the volunteer program so you can volunteer independently and schedule your regular times to volunteer!
Frequently Asked Questions about the Volunteer Program at AWLA:
What do volunteers do at the League?
Our volunteers are committed to the League's mission of improving the lives of animals.  They work closely with the public, educating future pet owners and providing customer service.  They also help to match our available animals to adoptive families and make sure that our animals are happy during their stay with the League.
Some volunteers train to work with dogs, cats, or small companion animals while other volunteers may work more directly with the public or our staff.   Note: Almost every role that involves working with animals also involves working with the public.
There are many other volunteer assignments that may not have hands-on time with the animals but are still essential in supporting the League's mission such as:
General office support (data entry, making copies, putting together adoption folders)
General shelter support (doing dishes, laundry, sorting donations)
Special events assistance (fundraisers, friend-raisers, community events, Yappy Hours, etc.)
Animal transport (transporting League animals to/from vet appointments, driving injured wildlife to rehabilitators)
Adoptions Counselors (review adoptions applications and give information to prospective pet owners)
How old do I have to be to volunteer?
Volunteers must be 18 years old to volunteer on their own. The League does have a junior volunteer program where children/youth aged 10-18 years old can sign up to volunteer with a parent or legal guardian. The League also has a Paws and Read Program where children in grades K-5th can sign up with a parent or legal guardian up for 20-minute sessions to read to shelter cats. Click Here to Learn More about Paws and Read.
Can I volunteer to do my community service project for my school or volunteer to meet my court-ordered community service hours?
No, the League's volunteer program does not accept volunteers into our program for these purposes.
For court-ordered community services, please contact our Director of Animal Care and Vet Services. Ed Maher at (703) 931-9241 ext. 215  or emaher@awla.org (may sometimes have projects and/or availability for court-ordered community services hours project assignments).
For school projects, please contact our Director of Community Programs, Jennifer Newman at (703) 931-9241, ext 213 or jnewman@awla.org  (may be able to provide ideas for community projects that you are able to do off-site to meet your hours)
What is the time commitment to volunteer with the League?
We ask that you commit to at least 4 hours per month and 1 year of service.  Volunteers who fail to meet time requirements may be dismissed from the volunteer program.
What times are available for me to volunteer?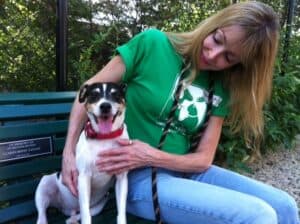 Volunteer shift availability will depend on which assignment you are matched to.  Many of the available hands-on volunteer opportunities with the animals are week-day and day-time opportunities.  Other opportunities, such as special events and animal transport often have evening and weekend availability.  Almost all volunteer assignments are scheduled in 2-hour shifts.
 Junior Volunteers
Being a Junior Volunteer is a great way to develop respect and compassion for living creatures. Children between 10 and 18 years old may volunteer for certain assignments, as specified on the application, if they are accompanied by a parent or legal guardian. The parent/legal guardian must complete all volunteer requirements.  The parent/legal guardian and child must also complete any additional required training. Parent/legal guardian and child must volunteer together and stay together in the shelter at all times.   Some volunteer assignments do not allow jr. volunteer participation.
What are the physical, mental and emotional requirements of AWLA volunteers?
Please see our Essential Capabilities of AWLA Volunteers
Volunteer Foster Parent Program
We often have a special need for foster volunteers.  Find out more about the volunteer foster program.