News
Written on September 30, 2014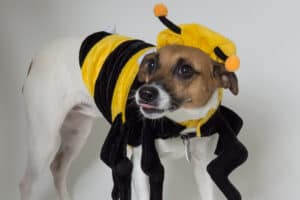 No tricks, just treats for dog adopters throughout October
Throughout October the Animal Welfare League of Arlington is celebrating "Howl-O-Ween" doling out treats to every dog adopter in honor of national Adopt-A-Shelter-Dog month. Spooktacular goodies include reduced adoption fees, free training services from Dog Latin, complimentary doggie daycare from Fur-Get-Me-Not, and free gifts from our pet supplies retail inventory. Each adopter will receive a commemorative digital photo and treat bag for their new dog.
"If you are considering adding a dog to your family, now is the time. We have adults and puppies, all shapes, sizes and breeds that are in need of permanent homes," said Neil Trent, president/CEO, AWLA. "We hope that everyone will think first of their local shelter to find their new best friend."
AWLA takes in hundreds of adoptable dogs each year that have often come to the League through no fault of their own—just through unfortunate circumstance. At AWLA, each dog is medically evaluated and a behavior assessment is done to determine the dog's unique attributes and characteristics. These profiles help potential adopters determine which dog best suits their personality and lifestyle.
"At AWLA our adoptions counselors work with individuals and families to help them decide which of our shelter dogs best fits their expectations and way of life," said Kevin Simpson, director of behavior and adoptions. "We try to learn as much as we can about each of our dogs, so that we are setting both the dog and the family or individual up for a successful adoption."
To learn more about AWLA's adoptable dogs, cats, and  other companion animals, visit www.awla.org, download a free Arlington Pets App or stop by and visit the shelter—2650 S. Arlington Mill Drive, Arlington, Virginia.

Written on September 2, 2014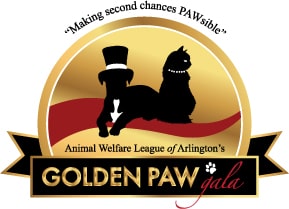 Paws prance the red carpet to make second chances PAWsible
The Animal Welfare League of Arlington will roll out the red carpet to honor shelter animals during its 2nd Annual Golden Paw Gala on Saturday, November 1 at 6p.m. at the Westin Arlington Gateway, Ballston. Pawparazzi and guests alike will mix and mingle with VIPs (Very Important Pooch) shelter celebrities as they strut and pose on the red carpet to represent the hundreds of animals that will benefit from the event. Proceeds will directly support shelter animals, as well as community programs and services supported by The Animal Welfare League of Arlington—the County's only humane society.
The 2nd Annual Golden Paw Gala coincides with Arlington's Animal Shelter Appreciation Month and will shine a spotlight on animal welfare in Arlington County. "Over 3,000 companion animals benefit from the League each year with 94 percent of sheltered animals in 2013 being adopted, reunited with their owner, or transferred to one of many of AWLA's network of rescue and rehabilitation partners," said Neil Trent, president and CEO of AWLA. "The Golden Paw Gala is not only a benefit event to help advance our mission to improve the lives of animals, but also serves to generate awareness for the many adoptable animals in our care that are in need of a home."
AWLA's Animal Welfare Achievement Award, granted to individuals or organizations that have made remarkable strides to improve the lives of animals, will be presented to Jim Moran, U.S. Representative from Virginia's 8th District. As Co-Chair of the Congressional Animal Protection Caucus, Moran has championed and contributed both locally and nationally to animal welfare advancement. Special guest Wayne Pacelle, president and CEO of the Humane Society of the United States, will deliver remarks.
This glitzy benefit event will be co-hosted by Dr. Katy Nelson of The Pet Show with Dr. Katy on News Channel 8, as well as Joan Jones, morning anchor on WTOP. The evening will include a cocktail reception, dinner, dancing, silent and live auctions, as well as musical entertainment by Odyssey Band. Individual tickets are $150 and VIP tickets are $200, which includes a pre-event reception at 5:30p.m.with Wayne Pacelle and other special guests. For more information and to purchase tickets visit www.awla.org.
Sponsored in part by: United Bank and Segue Technologies
Promotional Support by: WJLA/News Channel 8, WTOP, Arlington Magazine, NOVADog Magazine, Pet Lovers Companion Magazine and Arlington Connection
Written on August 12, 2014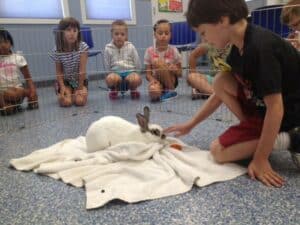 Pets stimulate and enrich children's learning experience
 ARLINGTON, Va. (August 12, 2014)—Pets make great teachers; benefiting both children's' cognitive and social development. As back-to-school approaches, the Animal Welfare League of Arlington offers lessons that can be learned from shelter animals, whether it is through adopting a new study buddy, fostering shelter animals, or becoming a junior volunteer with the League.
"There are enormous opportunities for learning through the process of caring for a pet," said Jennifer Pickar, director of community programs at the Animal Welfare League of Arlington. "By interacting with animals children not only learn about traditional school subjects like science (how and when the animal moves, what it eats, where it sleeps) and literacy (develop confidence with reading out loud to a nonjudgmental audience), but they also learn valuable life skills.
Pets help to teach and enrich children's life-lesson experience by:
 Building Confidence: Caring for a pet can give a child a sense of pride and accomplishment. Studies conducted by the Waltham Centre have shown that children with pets have higher levels of self-esteem than those without pets. The bond children develop with their pet can help to strengthen their social skills and improve attention spans, giving them the potential to do better in a school.
 Teaching Responsibility: Whether it is filling the dog bowl with food or scooping the litter box, it is never too early for kids to learn proper animal care and what it means to be responsible for another living being. According to the American Pet Product Association's 2011-2012 National Pet Owners Survey, 58 percent of pet owners said their pets helped to teach their kids to be responsible.
Encouraging Empathy: Caring for an animal can create awareness of the feelings and needs of others—both animal and humans. According to the American Academy of Child & Adolescent Psychiatry, "A child, who learns to care for an animal, and treat it kindly and patiently, may get invaluable training in learning to treat people the same way."
"Adopting, fostering or becoming a Junior Volunteer with AWLA is a great way to develop respect and compassion for living creatures," said Pickar. "Children between 10 and 18-years-old may volunteer for certain assignments, if they are accompanied by a parent."
Lessons in responsible pet care and respect for animals can also be a part of the classroom experience without a live, classroom pet.  Animal welfare experts and humane educators at the Animal Welfare League of Arlington are available to visit Arlington classrooms and give students valuable information about animals and their care. School groups from the D.C. metro area are also encouraged to visit AWLA for an information session and a tour.
To learn more about becoming a junior volunteer or to view AWLA's diverse selection of adoptable "study buddies," visit www.awla.org. To arrange an information session or tour of AWLA contact, Jennifer Pickar, jpickar@awla.org or 703/931-9241 ext. 213.
Written on August 4, 2014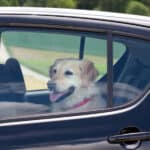 Every summer the Animal Welfare League of Arlington receives reports of pets left alone in hot cars. We created the video below to inform residents of the extreme danger posed by leaving animals in cars even in mild weather.

Written on July 8, 2014

Charity Navigator, America's  premier, independent evaluator of non-profit organizations and charities, has awarded the Animal Welfare League of Arlington the prestigious 4-star rating for good governance, sound fiscal management, and commitment to accountability and transparency. AWLA is one of only three companion animal shelters in the greater metropolitan D.C. area that has received the distinction this year, and the only one in Northern Virginia.
"We are honored to have received top rating from Charity Navigator," said Neil Trent, president and CEO. "This award reflects our accountability to all our stakeholders and our dedication to our mission to improve the lives of animals."
Charity Navigator is the gold standard in providing donors the essential information needed for the charitable choices they make. Charity Navigator provides information on more than five thousand charities nationwide by evaluating their financial health. Their rating system examines two broad areas of a charity's performance; financial health and accountability and transparency. Ratings show donors how efficiently a charity uses their support; how well it has sustained its programs and services over time and its level of commitment to good governance, best practices and openness with information. Charity Navigator then assigns a rating from one to four, with four being the best rating.
"Receiving the highest rating from Charity Navigator underscores our commitment to good stewardship of charitable contributions and our devotion to maintaining the trust we have built with our donors and supporters," said Pat Ragan, AWLA Board Chair.
Written on June 12, 2014
A classical concert for the public and their pooches will feature animal-related classics
The Arlington Philharmonic will perform their first-ever Pops for Pets concert at Lubber Run Amphitheater on Sunday, June 29 at 6p.m. to celebrate the 70th anniversary of the Animal Welfare League of Arlington. Conducted by A. Scott Wood, the concert will include patriotic, animals of the orchestra and classical creatures sets.
"Supporters of the Philharmonic and AWLA are joining together to promote this extraordinary community concert," said Pat Ragan, AWLA board of directors chair. "We hope this will become a popular annual event celebrating the work of the Arlington Philharmonic and the AWLA."
The marches and animal-related classics will include a variety of pieces by Aaron Copland, John Philip Sousa, Leroy Anderson, Johann Strauss, J.S. Bach, F.J. Haydn and Camille Saint-Saens.
"The Philharmonic's goal is to make classical music accessible to every Arlington citizen," said John Ratigan, president of the Arlington Philharmonic. "We want to promote the value of classical music in our civic life and ensure that young people have access to it. "
The public is invited to pack a picnic or purchase a boxed dinner onsite from La Cote d'Or. The event is open to the public. Well-mannered dogs are welcome—please no retractable leashes. Donations will benefit AWLA and Arlington Philharmonic. A rain date has been set for Tuesday, July 1 at 6 p.m.
AWLA marked its 70th anniversary of improving the lives of animals on June 7, 2014. "Over 3,000 companion animals benefit from AWLA each year with 92 percent of sheltered animals adopted into loving homes, reunited with their owner or transferred to one of our rescue partners," said Neil Trent, AWLA president & CEO. "Celebrating with Arlington Philharmonic is an exciting opportunity to bring our community together to revel in the special joy that only music and the companionship of a pet can bring."
Written on May 29, 2014
New cat and small companion animal facility renovation to be unveiled
The Animal Welfare League of Arlington will mark 70 years of improving the lives of animals on Saturday, June 7, 2014. This milestone will be commemorated with the official unveiling of the newly renovated, state-of-the-art cat and small companion animal residence during a Sunset Soiree from 5p.m. to 8p.m. at AWLA.
Started from a humble beginning in 1944 with a small group of 12 volunteers, AWLA has evolved into one of Northern Virginia's premier animal shelters with over 400 dedicated staff and volunteers, a modern veterinary surgical suite, a formal humane education program and community services.
"For seven decades the mission to improve the lives of animals has remained steadfast," said Neil Trent, president/CEO, AWLA. "Over 3,000 companion animals benefit from the League each year with 92 percent of sheltered animals in 2013 either being placed for adoption, reunited with their owner or transferred to our network of rescue and rehabilitation partners. Additionally, more than 9,000 residents in Arlington county and neighboring communities benefit from AWLA programs, services and events each year."
AWLA continues to progressively improve the intake and quality of life for shelter animals. Annually, AWLA receives approximately 900 cats with an average length of stay of 35 days. With no time limit for any of its animals, some cats may live at the shelter for as long as a year prior to finding permanent homes. The renovated feline and small companion residence is designed to enhance the animals' quality of life and facilitate quicker adoptions.
"I can't think of a better way to celebrate our 70 years of existence than by unveiling our latest improvement for the animals in our care," said Trent. "Our commitment to providing animals with the best standards of care is exemplified through this renovation."
The new facility, designed by Animal Arts, a nationally recognized architecture firm specializing in animal shelter and veterinary clinic design, includes cageless cat colonies; larger cat cages with spaces for hiding, perching and stretching; enlarged windows to provide more natural light; private "get acquainted" rooms; new cat receiving and isolation rooms; and a high-tech HVAC system to promote animal health.
On Saturday, June 7th, AWLA will be closed for adoptions, but the public is invited to share in AWLA's 70th anniversary celebration during a Sunset Soiree from 5p.m.to 8p.m. at the Animal Welfare League of Arlington. Attendees will be able to take a tour of the renovated space and meet some adoptable animals along the way. The outdoor, tented event will include drinks, hors d'oeuvres and live music by Smithsonian Masterworks Orchestra Quintet. Tickets are $70 and available for purchase at the League or www.awla.org.
Written on May 22, 2014
Arlington's business community celebrated the best in business at the Arlington Chamber of Commerce's 28th Annual Arlington Best Business Awards, held on May 20, 2014, at the Sheraton Pentagon City Hotel. This annual event recognizes the most illustrious and accomplished businesses that have made significant contributions to the Arlington community. Included in those honored was the Animal Welfare League of Arlington, winner of the 2014 Nonprofit Small Business of the Year Award.
"It is an honor to be recognized by the Arlington Chamber of Commerce for the service AWLA provides to both animals and humans," said Neil Trent, president/CEO, AWLA. "For 70 years we have remained steadfast in our mission to improve the lives of animals in our community. It is satisfying to be acknowledged among Arlington businesses for our efforts."
Arlington Best Business Award recipients are nominated by the Chamber membership and chosen by a committee of past award winners. Criteria for this prestigious award are as follows:
• Must be a viable, on-going, full-time business, which has experienced significant growth or stability over its business life.
• Must be well known and thought of by its customers or clients for consistently delivering exceptional quality or service.
• Must be a leader in the industry in Arlington OR must have a significantly unique approach to delivery of its goods or services.
• Must have displayed an interest in and concern for the Arlington community – Either corporately or through its employees backed by the company.
"The Animal Welfare League of Arlington has proven that it meets the tough criteria for winning this coveted award," said Rich Doud, Arlington Chamber President. "The Chamber is pleased to present this award to them, and our community is fortunate to have such a quality organization operating in Arlington."
Written on May 15, 2014
This week AWLA has the pleasure of hosting Richard Ssuna—our Humane Society International Veterinarian intern from Malawi, Africa. At home Dr. Ssuna is the project manager for Lilongwe Society for the Protection and Care of Animals and still maintains his veterinary consultancy duties at the Wildlife Center. Ssuna runs various programs including education, free spay/neuter, rescue and rehoming progam, as well as veterinary clinics. This week Ssuna has learned about our shelter operations and observed surgery with our shelter veterinarian, Dr. Christine Cottey. Shelter staff have had the fortunate opportunity to receive some insight into animal welfare in Malawi.
Written on May 2, 2014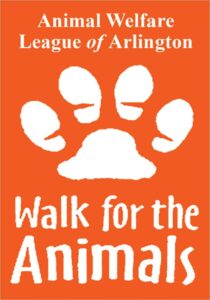 Paws and pedestrians will pound the pavement to support shelter animals at Arlington's largest pet-centered event—19th Annual Walk for the Animals on Saturday, May 10, 2014 (rain or shine) at Bluemont Park from 9:30 a.m. to 12:30p.m. This Fido fest unifies the Arlington community and celebrates the human-animal bond, while raising awareness and funds to directly benefit the hundreds of adoptable animals and community programs supported by The Animal Welfare League of Arlington (AWLA)—the County's only humane society.
"Our mission is to improve the lives of animals. The Walk for the Animals demonstrates the way pets enrich our lives and generates funds to help us sustain community programs and services offered through the League, such as our low-cost spay & neuter clinics," said Neil Trent, president/CEO of AWLA.
Participants will leash-up Fido, strap on their walking shoes for a three-mile walk or one-mile stroll through the park followed by a festival of entertainment, including music by Washington Talent, an agility demonstration by WOOFS! Dog Training Center, as well as a working-dog demonstration by The Arlington County Sheriff's Office K9 Unit. Many of AWLA's adoptable dogs will also be onsite to meet potential new families. Event attendees will receive valuable pet information, have an opportunity to engage with pet-friendly businesses and learn about animal resources in the Arlington community.
"The Walk not only supports the thousands of animals the League cares for each year, but it is also a way for people to be a part of the solution for improving the lives of animals in our community," said Trent. "We encourage people to walk with or without a dog, in memory of a beloved pet or in honor of their cat or other companion animal."
Pre-register now for $30 or register event day for $40. All pre-registered walkers will receive a free 2014 Walk t-shirt and participating dogs will receive a free bandana.
Sponsors include: Segue Technologies, Caring Hands Animal Hospital, VCA Alexandria, Regional Veterinary Referral Center, Unleashed by PetCo, AWLA Board, Pro Feed Pet Nutrition, Ballston Animal Hospital, CVCA-Cardiac Care for Pets, WOOFS!, Fur-Get Me Not, Pet Lovers Companion, NOVA Dog Magazine, Arlington Community Federal Credit Union, NOVA Cat Clinic, Buck & Associates Real Estate and The Board Hound.